"Why do we need digital transformation?", FPT Software Chairman Hoang Nam Tien addressed 600 people at Japan ICT Day 2019 in Vietnam's coastal city Da Nang.
"Digital transformation is the core of Industry Revolution 4.0", he explained. "Vietnam has missed the past three Industry Revolutions, we can't afford missing this one. It would be a rare opportunity for us to catch up with developed economies".
Being one of the largest IT firms in Vietnam, FPT Software is committed to becoming a digital transformation pioneer in the country, setting to achieve revenue of 1 billion USD.
Earlier at the ICT Summit 2019, the company also pledged to help the Vietnamese Government and businesses to cut 30-50 per cent of time needed for digital transformation. FPT Software has developed a series of digital products, including akaBot, akaDoc, akaCoola, etc., helping its worldwide clients achieve operational excellence, enhance customer experiences, and create new business models.
"You may wonder why all of our products start with aka. In Japanese, 'aka' means a child. In this business (digital transformation), we are still very young, but we hope to grow into adolescents in the next few years", he said.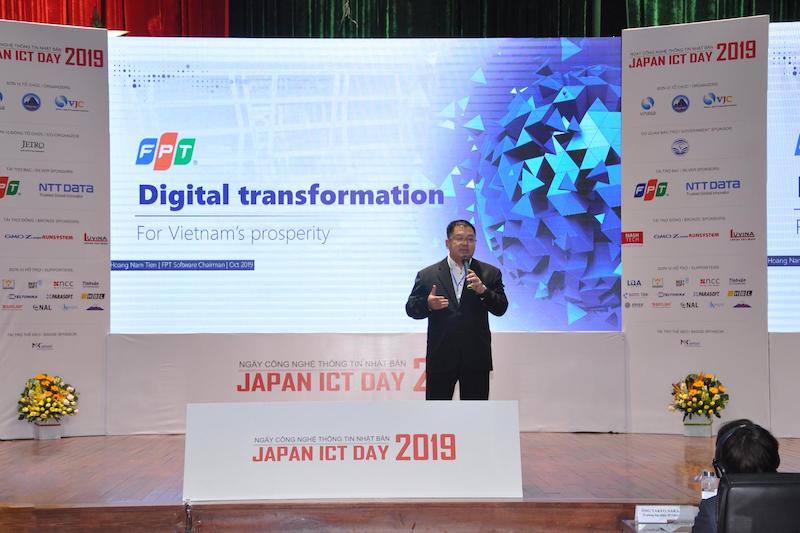 "16 per cent of Vietnam GDP comes from manufacturing. In Japan, it is 21 per cent. However, as we partner with leading Japanese manufacturers, we found that they haven't had a smart factory solution".
"Although factories in Japan are equipped with a high level of automation technology, there isn't a management system that focuses on real-time data and traceability", Tien noted. "Hence, FPT Software has developed a MES solution to directly address these pain points".
According to a VINASA report, Artificial Intelligence (AI), Big Data, and IoT are expected to be the fastest-growing technologies. For the past three years, FPT Software has leveraged these digital technologies to transform itself internally. "Digital transformation can be seen in various aspects of our business, from automating work processes to assisting employees' daily lives".