FPT Software has recently bagged a deal with total value of more than $100 million with innogy SE, a subsidiary of the German energy company RWE. According to the newly signed contract, FPT Software will provide technology solutions related to SAP, Internet of Things (IoT) as well as other digital transformation platforms for innogy SE in the period from 2018 to 2024.
The mega deal does not only prove FPT's strong technology capability after four years of cooperating with the German-based utility firm but also bring an opportunity for the company to increase its contribution to RWE and further develop its business in Europe. Prior to this, in 2014, FPT Software did acquire RWE IT Slovakia to form FPT Slovakia and start provide technology service for RWE AG/innogy SE, which was the first M&A throughout the history of Vietnam's IT industry.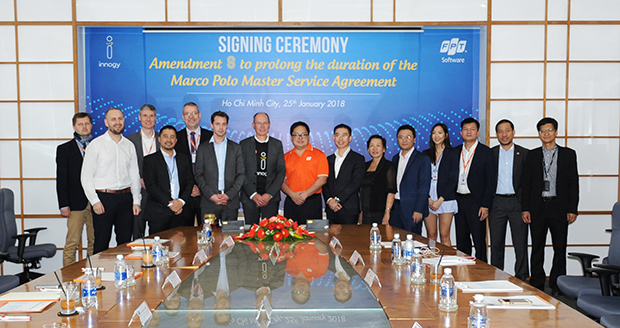 Mr. Hoang Nam Tien, Chairman of FPT Software emphasized that this has been one of the most valuable software contract throughout the development history of FPT. In addition, being a long-term partner of RWE would make a great contribution to the revenue of FPT in Europe and open up opportunities for the company to access RWE's big customers.
From innogy side, Mr. Frank Wendiggensen, Vendor & Contract Manager has shared about the cooperation with FPT Software: "We are thoroughly aware of the challenges that enterprises in utility industry have to tackle when cooperating with technology solution providers. However, we consider FPT a reliable partner of RWE/innogy."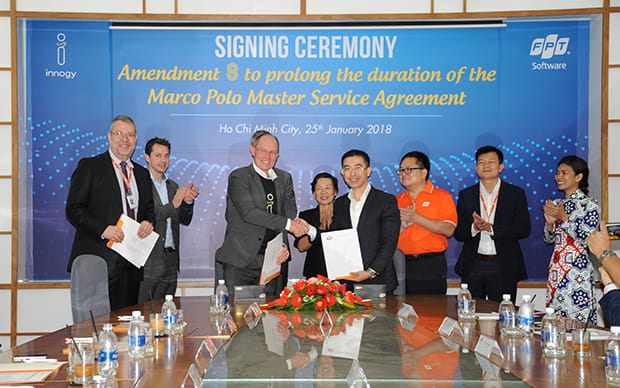 "The successful cooperation between innogy and FPT is based on our best shore model, which ensures the high quality and flexibility in delivering our services from Germany, Slovak Republic, Czech Republik, the Philippines and Vietnam. The client will be benefited by working with a dynamic, innovative and experienced team", said Mr. Heiko Bergmann FPTs Key Account Manager for innogy SE.
Mr. Fabian Andreas, innogy's Procurement Manager also reaffirmed: "Our company is growing fast so we need to assure the access to knowledge, resources and most importantly, the ability to adapt to new technology trends and innovations to win the ever changing game in the utility market."