On June 29th and 30th, 2017 FPT Chairman Truong Gia Binh together with FSOFT's representatives did participate in World Materials Forum in Nancy, France. At this event, Dr. Binh presented about FPT's Digital Transformation capability which targeted the IoT application to reduce energy consumption.
World Materials Forum is an international meeting bringing together the use of materials and solutions that reduce energy consumption while creating value for a sustainable living. This year, World Materials Forum, which focused on 3 keywords "use less; use longer; use smart", has attracted many top leaders from billions of dollar corporations in materials industry. "Use less" means reducing the buy to use ratio (the 70 kgs for 100g in the smartphone) and increasing end of life recycling and use recycled materials into new products. "Use longer" implies lengthening a product's life span and gives more value to second hand products through easy retrofits. Last but not least, "use smart" means increasing the product performance per kilo of incoming materials or the full product usage: where aircraft are in service 50 to 70% of the time, cars are only 5 to 7%.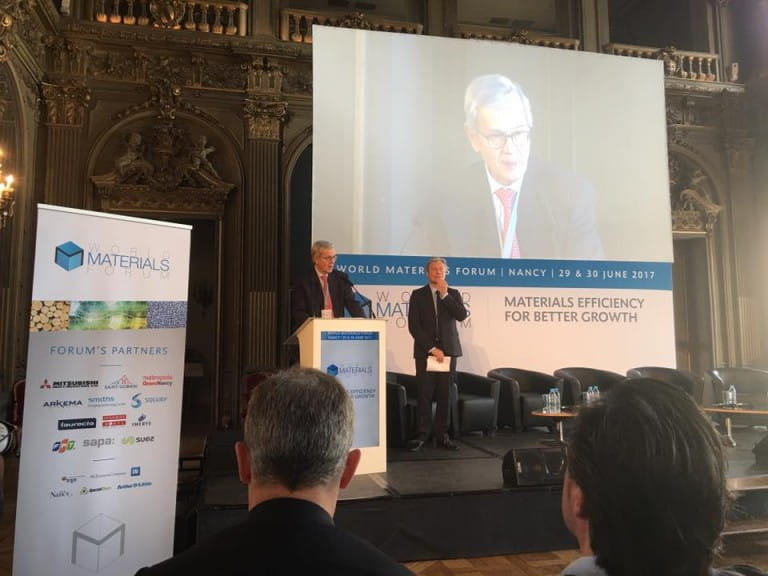 At the forum, FPT Chairman – Truong Gia Binh had a keynote of "FPT Industrial IoT for Material Efficiency". The keynote specifically emphasized on the application of IoT to reduce energy consumption. The solutions for material efficiency include Paperless to save fuel costs (well-known as Digital Flight Map for pilot); Predictive Maintenance for Robot Arm; Digital Twin to increase in production with Digital Wind Farm.
In addition, Dr. Binh also discussed with top leaders in material industry about future partnerships and came to a wrap up of "IoT & data analytics for new materials solutions" session. Regarding this event, Mr. Le Hung Cuong (Vice Director of the Corporate Strategic Technology Unit) said: "Although it was a discussion about materials, we could see a major transformation from raw material mining to the process of adopting new technology to reduce energy consumption".