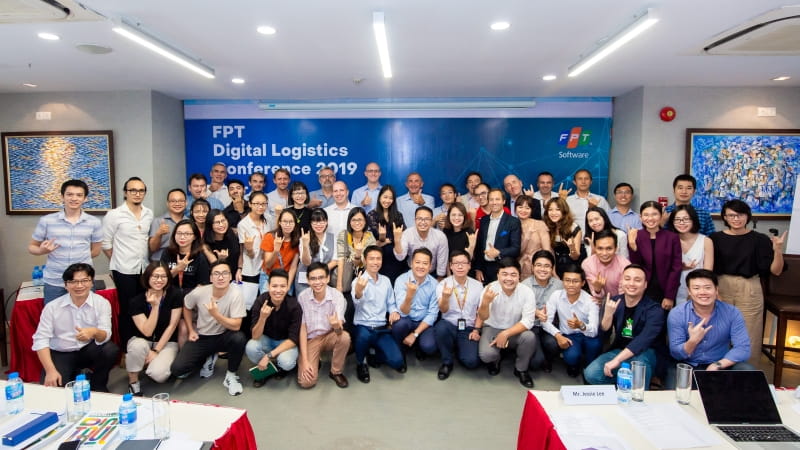 Last week FPT brought together global logistics companies from Europe and Southeast Asia in Hanoi to discuss digital solutions for the sector. Experts from GrabExpress, Ninja Van, and GeoPost were among the ones that shared insights at FPT's first-of-its kind event.
"From the business point of view, technology not only benefits you but also help you resolve issues", said Jessie Lee, Advisor of FPT's Digital Logistics Group and former Asia-Pacific CIO of UPS, one of the largest parcel delivery companies in the world.
To stay ahead of the game, according to Mr. Lee, top leaders at logistics companies really need to go into real-life, work hand in hand with workers in the field and understand the entire life cycle operations. "Then you can come out with solutions that address their true pain points".
Le Van Quoc Khanh, Ninja Van's Chief Operating Officer, shared how theSingapore-based startup has grown to become one of Southeast Asia leading logistics providers through technologies and more importantly, a global-local mindset.
"Southeast Asia is a very unique region of the world. It has its own challenges. If you look at the Philippines or Indonesia, they are full of islands, which makes it very challenging for logistics. Versus Vietnam is a long country, highly dense in Ho Chi Minh City and Hanoi but the connecting infrastructure in between isn't so good", he said, adding that identification of home addresses and unskilled labor force are additional challenges for logistics in the region.
"The approach that Ninja Van used when we try to build our technology platform is automated intuition approach. When our warehouse workers sort a parcel, they just need to scan the parcel and the system will tell them exactly where to place the parcel. It reduces the local know-how in the equation, which allows us to scale faster and more efficiently down the road".
GrabExpress, the courier arm of Grab, shared the same view when it comes to parcel delivery services. "We always think how the end users will feel when they receive the delivery, what kind of notification we should give them, and how we can make sure they have the best delivery experience", said Jack Nguyen, Head of GrabExpress Vietnam.
Jack, who lived 20 years in the US, shared his personal story as a customer of Amazon delivery services where he had no clue what time the order would come or how he could reach out to the driver when an order was missed. "Think about it. Southeast Asia is a developing economy, but if you compare the delivery experience and the options we have in Southeast Asia, it is way better than what we have in the US or may be other developed countries", he said.
"I think there are a lot of innovations here in Southeast Asia that other logistics businesses from elsewhere can learn from", Jack added.
"It is our duty to be open to new things. There are new initiatives emerging every day, part of them will be significant for the future. So the role of managers, CEO, CIO, etc. is to feel what could be the driver for the future and of course, we need to do what we have done today to get that feeling", GeoPost Chairman Paul-Marie Chavanne noted. GeoPost is the holding company of DPDgroup, Europe's second largest parcel delivery network.
FPT established Digital Logistics Group (DLG), a task force of nearly 100 people to research and implement digital transformation solutions for logistics, in January 2019. The group has provided sensor, IoT, and blockchain solutions that are changing the face of global logistics, from Warehouse Operation Improvement, Refrigerated Truck to Last Mile Delivery. To learn about FPT digital logistics solutions, visit: https://www.fpt-software.com/industries/digital-logistics/