The race for driver-less cars in Southeast Asia gets intense as its autonomous pioneer FPT has planned to kick off a new autonomous project next Thursday in Hanoi. It seems that the global IT firm has kept itself busy since its made-in-Vietnam autonomous solutions were introduced for the first time in 2017.
FPT Global Automotive (FGA) – a strategic unit specializing on automotive technology solutions, has doubled the number of technology experts over the past two years. Some 2,000 employees have worked round the clock to make autonomous vehicles a reality. In October 2017, its first driver-less car hit the road, traveling at a speed of 20 km per hour and using various techniques such as artificial intelligence, radar, GPS, and computer vision to self-navigate, monitor their surroundings, automatically break, re-direct at the intersections and avoid obstacles. Japan's Vice Minister for Internal Affairs and Communications, Mr. Masahiko Tominaga, was one of the distinguished guests who experienced the vehicle on its early days.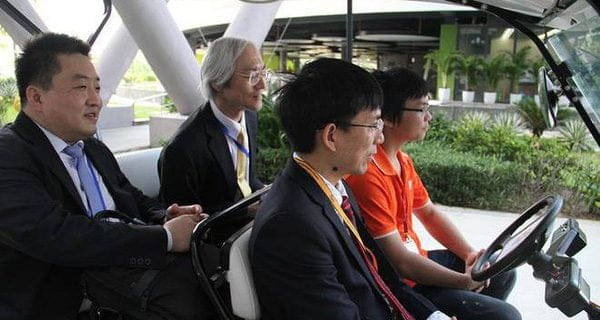 Japan Vice Minister for Internal Affairs and Communications, Mr. Masahiko Tominaga,
experienced FPT's self-driving car in 2017
With self-driving technologies tested successfully at high-tech zones and campuses, FPT has been invited to work on several automotive projects by demanding Singaporean and Japanese clients. To date, the company has managed to acquire level 3 out of five levels of driving automation and hopefully by the end of 2019 it would gain one more notch. That means, the vehicle would be able to travel with little or no human input under selected road conditions.
For nearly a decade, FPT has been offering numerous services and solutions to world's top automakers, OEMs, Tier-1 suppliers, and semiconductors in the industry. The global IT services provider leverages forefront innovations and provides engineering services to customers in multiple projects, ranging from In-Vehicle Infotainment, CAD/CAE, Connectivity to Middleware and Embedded Application. By utilizing extensive experience and accumulated know-how and employing a large pool of talents including 2,200 automotive experts and engineers, FPT implements solutions with processes and quality in accordance with AUTOSAR, Automotive SPICE Level 3, and other global standards. Discover more at https://www.fpt-software.com/industries/automotive/.