On October 17th, FPT Corporation and Petro Vietnam Exploration Production Corporation (PVEP) did sign a cooperation agreement in Digital Transformation Services with the aim to increase the proficiency of PVEP's exploration activities, diminish equipment's inactive time, save cost and reduce risk. This can be considered the first cooperation agreement in the Oil & Gas industry leveraging the technology achievement of the 4th Industrial Revolution in Vietnam.
According to this strategic agreement, the two corporations will cooperate in developing the high quality resources for a long term relationship, so as to develop and implement technology solutions related to Internet of Things (IoT), Big Data, Artificial Intelligence and Data Science.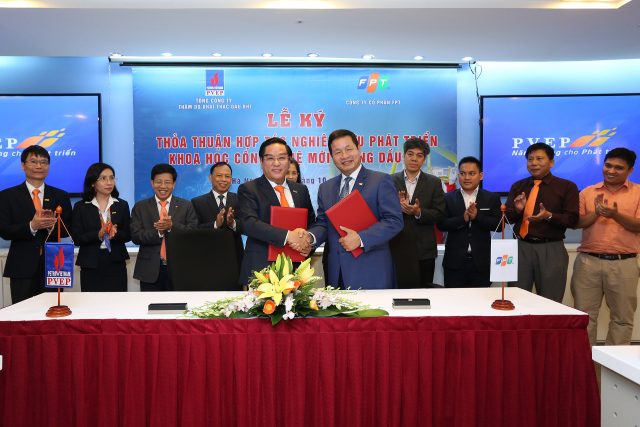 Currently, Oil & Gas companies including PVEP have to deal with the problem of low crude oil price; therefore, the application of advanced technology solutions which supports the process of exploring and analyzing data will help to increase efficiency and optimize cost in exploration and exploitation activities.
FPT's Chairman, Mr. Truong Gia Binh, emphasized: "Only under the scenario of the 4th Industrial Revolution that the issue of the Oil and Gas industry of how to optimize the exploitation while ensure the safety of oil fields can be solved. FPT can help PVEP approach and leverage the most advanced technologies in the 4th Industrial Revolution, yielding significant economic efficiency by cutting down the investment of equipment and shorten exploration time".
FPT's expertise enables PVEP to modernize and transform their exploration and exploitation process. Simultaneously, cooperating with PVEP will give FPT the opportunity to work and test in the real environment, hence enhancing FPT's capabilities, completing the company's services and solutions offerings for Vietnamese enterprises as well as global companies in Oil & Gas industry.
Mr. Ngo Huu Hai, General Director of PVEP, reaffirmed: "Oil & Gas is a high risk industry, especially in the context of low crude oil prices, PVEP has to apply new technology, reduce initial investment and operating expenses as well as increase the production time by 94-95%. Since FPT is well known for its strength in software in Vietnam and globally, I totally believe in FPT's capabilities and expect the project to be successful".
About PVEP:
PVEP is currently responsible for Vietnam Oil and Gas Group (Petro Vietnam) core business of exploration and exploitation. With more than 52 domestic as well as foreign projects, PVEP is the pioneer in Vietnam's Oil & Gas industry in international economic integration as well as in the application of modern and complex technologies and solutions in exploration, exploitation and management activities.