"Vietnam has capabilities and advantages to become the next big name in IT outsourcing in the time of COVID-19", said FPT Chairman Truong Gia Binh at the webinar co-hosted by FPT and the German Asia-Pacific Business Association (OAV) late May.
Coronavirus has swept across the world and left severe impacts on both society and economy. "IMF warned that the GDP growth of Europe would drop to -7.5% and that of Germany would drop to -7%. And maybe nearly half of the labor force are at risk of losing jobs. COVID-19 is likely to cost our economy 1 trillion USD in 2020", Binh said. This socio-economic crisis forces businesses around the world to transform their operations and search for the right partners to survive this volatile situation together.
According to FPT Chairman, geo-diversification can play a game-changing role in the new normal as the pandemic revealed the fragility of familiar IT outsourcing destinations. "If you look for outsourcing, only a few countries stand there: India, China and now Vietnam." Given the success against COVID-19, Vietnam has surged as a safe and promising location for investors to expand their network and set up offshore teams.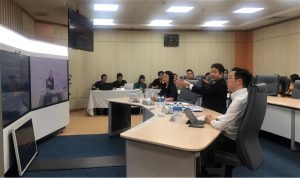 FPT Chairman Truong Gia Binh presented Vietnam as the agile outsourcing powerhouse
Suggesting Vietnam as the next destination to go for IT outsourcing, Binh reaffirmed the country's advantages, from a dynamic ICT workforce of 900,000 people to a favourable business environment. "Vietnam Government offers a lot of incentives for IT area", he said, noting that foreign investors in Vietnam could enjoy four years of tax exemption followed by nine years of 50% tax reduction.
"Vietnam has a clear policy for Industry 4.0. In the next few days, the Prime Minister of Vietnam will sign a digital transformation program for our country", he added.
"If in the past, digital transformation is 'nice-to-have', now it stands for 'must-have', and 'must-have' in the context of safety", said Binh about the significant role of digital transformation in the new normal.
Binh pledged FPT would be a trusted partner to companies in their digital transformation journey during this time of uncertainty. Having been active in the fight against Covid-19 early on, FPT has tailored several digital solutions to help businesses maintain business continuity, from enhancing IT infrastructure to automating back-office processes to support remote workers. The company looks to become a Top 50 global IT and digital transformation services provider by 2030.
"Digital transformation is the future. And Covid-19 is just a catalyst to the process", he noted.