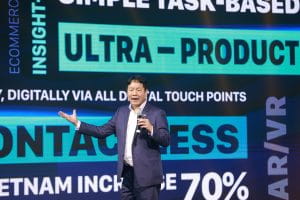 In his opening remarks at FPT Techday 2020 last Thursday in Ho Chi Minh City, FPT Chairman Truong Gia Binh pointed out top challenges for enterprises today and stressed the importance of digital transformation to their future.
"Enterprises are facing vital challenges", he addressed the audience of business representatives, tech experts and enthusiasts.
According to FPT Chairman, enterprises find it harder to earn customers' trust, and customers will switch brands without hesitation if they get a better offer. "Customers today are not patient. They don't want to wait. They want a car to pick them up right at the doorstep. They want a bowl of Pho on their table just by one click. They only click at the best and the cheapest product," said Binh.
Another challenge is linked to customer experience, as businesses have to switch from direct contact to "touchless, contactless" customer service in the time of COVID-19. Customers also grow interest in tailored products and services, which call for in-depth customer understanding. "Understanding customers has become more urgent than ever. If you give them bad experience once, they will never come back again, because the world out there is filled with options."
"It's not how good a product or service is that they care. Customers need a good experience, a seamless one", Binh noted.
To address those challenges, enterprises need to bring more products and services to the market as fast and economically as possible. "And digital transformation is the key", said Binh.
"Changes are happening more dramatically than ever. We need to transform and adapt. Enterprises either quickly integrate technologies to their business processes, or got swept away in the technology trends", he emphasized.
Binh said that FPT Techday connected three stakeholders: government, businesses and technology experts, who he regarded as "heroes of our time". However, those stakeholders only make up half of the transformation. The other half relies on the power of technologies and machines. "The collaboration between human and machine will unleash the new power to create a breakthrough in productivity," he noted.
"The time has come. New normal is now," Binh said. "You have to be more creative to thrive in this new normal."