The National Committee on e-Government was established by the Prime Minister of Vietnam on the basis of strengthening the National Committee of Information Technology with 17 members. FPT Chairman Truong Gia Binh is a member of the committee.
The Prime Minister Nguyen Xuan Phuc is the chairman of the Committee and other members include Chairman of the Office of the Government Mai Tien Dung and other Ministers. The leaders of IT companies selected for the Committee include FPT Chairman Truong Gia Binh; Viettel Group Chairman and CEO; Vietnam Post and Communication (VNPT) Group Chairman and VNPost Corporation Chairman.
The National Committee on e-Government has the tasks of researching, proposing guidelines, strategies and mechanisms, creating a legal environment to promote the e-Government system, digital economy and digital society in the 4.0 Industrial Revolution in Vietnam. At the same time, the Committee assists the Government and the Prime Ministers in directing the ministries, branches and localities to realize the objectives, tasks and solutions for building and developing the e-Government. The Committee also supports to coordinate and inspect the implementation of strategies, programs, policies, projects and solutions for building the e-Government and gives the opinion, review and evaluate the related projects.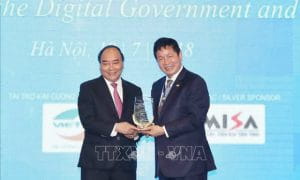 Besides, Mr. Truong Gia Binh also joined the Steering Committee on e-Government of the Ministry of Education and Training (MOET). With the expectation of bringing latest technology into the education sector to create breakthrough changes, the MOET invited the Chairman of FPT Corporation Truong Gia Binh to join the Steering Committee.
The Steering Committee has the tasks of studying and propose guidelines, strategies and policies to create a legal environment to promote the development and development of MOET e-government; advising and assisting the Minister in directing agencies and units to accomplise the Government's objectives, tasks and solutions for building and developing e-Government; assisting the Minister in co-ordinating, supervising and supervising the implementation of MOET e-government development.
For 20 years, FPT has implemented many e-Government projects in many localities nationwide. FPT's products and services are widely applied and updated, using latest technology trends. With more than 1,500 specialists in the public sector, with a deep understanding of administrative reform, FPT is committed to long-term co-operation and commitment to the success of the e-Government implementation in Vietnam.