From Jan 23 to 26, FPT Chairman Truong Gia Binh has attended the World Economic Forum (WEF) 2018 in Switzerland with Deputy Prime Minister Vuong Dinh Hue and had meetings with representatives of world's leading corporations.
On this occasion, FPT Chairman Truong Gia Binh did also conduct one-on-one meeting with top managers from more than 20 global leading firms in Technology, Utility, Insurance and Aircraft Manufacturing industry regarding the cooperation opportunities in Smart Factory as well as applying digital technologies in Healthcare and Insurance projects.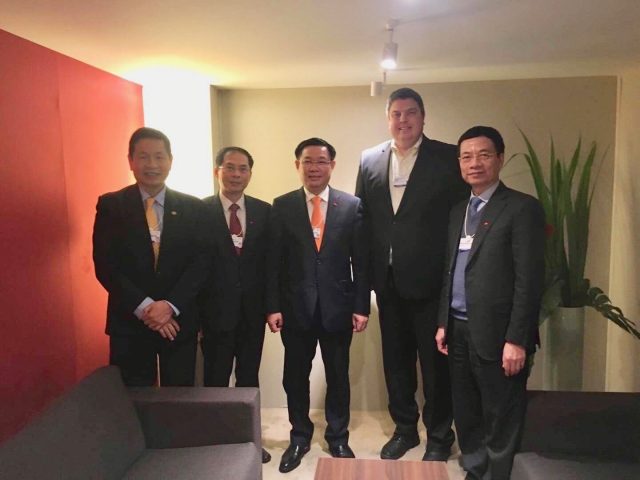 On January 23, Dr. Truong Gia Binh had meetings with top managers of HP, UPS, Allianz and SK Holdings. One of the most promising meeting was the dialogue about the cooperation in Cloud Technology with Ms. Ana Pinczuk, Senior Vice President and General Manager for HPE Pointnext. Ms. Ana Pinczuk has been known as one of the most successful Latina executives in Silicon Valley, currently managing 25,000 IT experts around the world.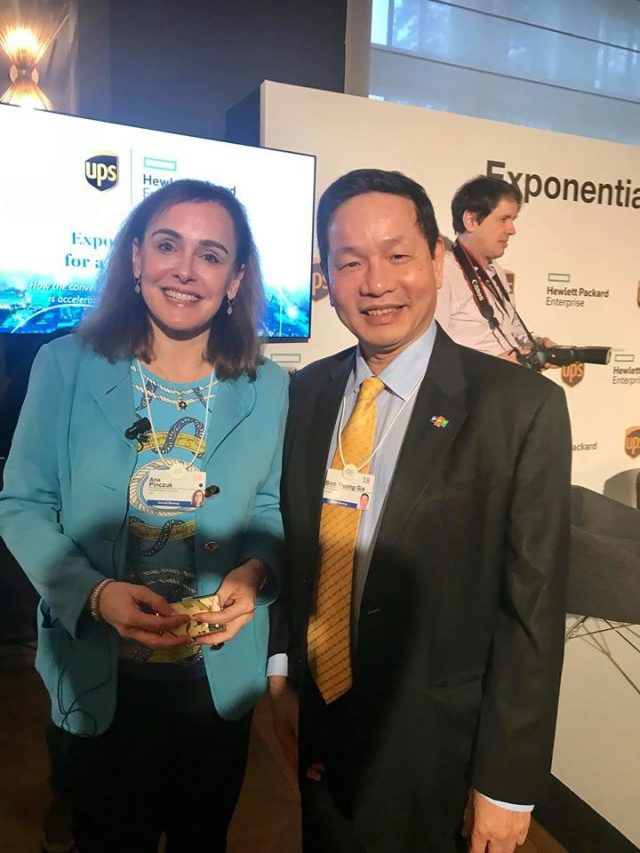 Dr. Truong Gia Binh also had a discussion with Mr. Jim Barber, President of UPS International, the leading company in Logistics with the 2016 revenue of 61 billion USD so as to expand the cooperation between the two sides in digital transformation. Prior to this, in May 2017, within the scope of PM Nguyen Xuan Phuc's visit to the United States, FPT and UPS did sign a strategic cooperation agreement to increase business efficiency in the digital economy through the e-commerce offer. In addition, FPT and SK Holding also discussed about the opportunity to cooperate in the field of Smart Factory based on GE Predix. Currently, FPT is GE's Global Partner with the most number of Predix certified engineers.
Dr. Truong Gia Binh, Chairman of FPT, who has participated in WEF for 7 consecutive years, shared: "WEF gathers leading corporations in the technology and business game across the globe. By cooperating with these companies, Vietnam and FPT will have chances to "break through". At Davos 2017, we already had the opportunity to meet and discuss the cooperation in Digital Transformation, Artificial Intelligence and IoT with 50 global enterprises in various business sectors such as Technology, Utilities, Aircraft Manufacturing, Banking and Finance etc."
FPT Corporation is currently one of the pioneers in the Fourth Industrial Revolution in Vietnam. The company has been firmly expanding its global presence with proven capability in delivering large-scale projects for clients in the United States, Japan, Europe and Asia Pacific.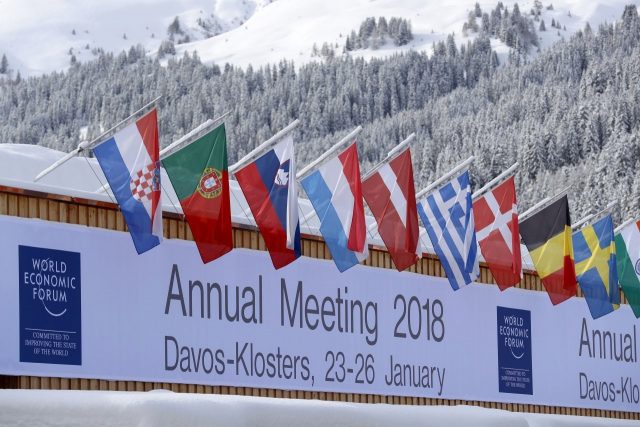 WEF 2018 took place with the theme "Building a shared future in the fractured world". The Executive Director of the World Economic Forum stressed that the world is being fractured by competition among nations and deep divisions in societies. Consequently, cooperation and benefit harmonization are becoming crucial.
With more than 400 sessions, World Economic Forum 2018 focuses on four key areas: promoting sustainable economic development, leadership in a multi-polar and multi-concept world, overcoming divisions in the society and establishing management method in accordance with technology development. WEF Davos is the biggest annual meeting of WEF with the participation of the world's leaders, global organizations and top companies worldwide. FPT participated in WEF for the first time in 2012 as one of the 1000 founders of WEF since November, 2011. This annual event has brought in the opportunities for FPT to meet up and cooperate with partners and major clients such as UPS, HP, Siemens, Mitsubishi and Deutsche Bank.