As the fourth wave of COVID-19 strikes, many businesses in Vietnam have been severely impacted. FPT Corporation is among the businesses that manage to turn the pandemic threats into opportunities. In a recent interview with VietnamFinance, FPT CEO Nguyen Van Khoa shared the story of Vietnam's leading ICT firm is adapting to the new normal.
Despite the stressful COVID-19 situation, FPT still maintained a double-digit growth on business results in July. What are the secrets behind FPT's sustainability?
We could not achieve those results without the collective efforts of more than 36,000 employees and the leadership's determination in changing mindsets for a better pandemic response.
Our number one priority is to proactively create scenarios along with a specific action plan to promptly respond and minimize the impacts of the pandemic.
To realize the target, we draw lessons from our own experience in nearly 20 months coping with COVID-19, our "wartime" business experience, and leverage our data system and technologies for more accurate and timely actions. For example, instead of going weeks or months to consolidate reports from nine subsidiaries across 26 countries and territories like before, now we can access real-time reports with the help of data lake. This allows us to make decisions, seize opportunities or halt ineffective activities in a timely manner.
Success doesn't happen overnight. We have to be creative in business activities and innovate solutions that are relevant in the new normal. We also invest heavily in internal digital transformation in all aspects from human resource management, finance, business to automation, process digitization, operations, customer interaction and so on.
Internal digital transformation projects have helped FPT and our subsidiaries save VND 250 billion in costs, reduce 98% of report consolidation time and enhance productivity. This makes a lot of sense as cost saving is also one of our top priorities during the pandemic.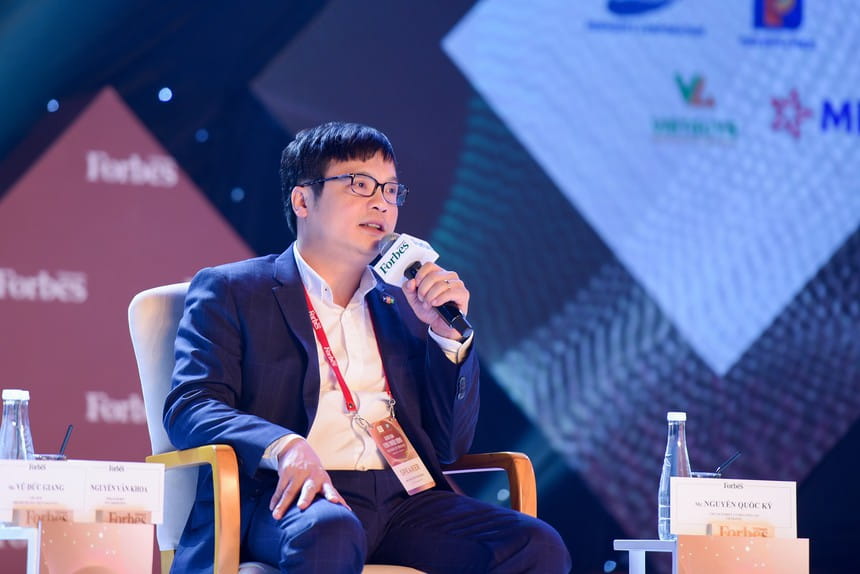 FPT CEO Nguyen Van Khoa spoke at a business forum on adapting to the new normal
Not many businesses can maintain a growth momentum like FPT during this time. Could you please share some difficulties that FPT has faced?
FPT is not an exception. Like many other businesses, we are under mandates to change the way of selling, approaching and taking care of customers, at the same time ensure productivity while shifting to remote working to avoid business interruption.
After all, business is still a matter of human-to-human connection, which becomes extremely difficult during social distancing.
With the telecommunications segment, we are also affected by increasing selling and service deployment expenses, not to mention the decrease in online advertising demand.
You mentioned cost saving as one of the company's top priorities. Yet recently, FPT still decided to invest in Intertec. Could you share more with us about this deal?
Not only do we try to "live with the floods", we must find proactive ways to adapt to the new normal while also executing plans to ensure business continuity and enable future transformation.
We decide to invest in Intertec International to improve our capability in providing solutions – services, ensure high-quality human resources in place, as well as expand our footprint in the US. This is the largest technology market in the world and is forecasted by Forrester to grow by 6 and 6.5 percent in 2021 and 2022 respectively. Both private and public sectors here are projected to spend more on technology products and services.
The investment in Intertec International allows us to bridge the time zone and cultural differences between our IT professionals and customers in the region. We also expect 30 percent cost savings by investing in such markets as Costa Rica and Colombia.
Three months ago, FPT also sealed a deal with Base.vn, which was considered to have great potential. What are the initial outcomes of that acquisition?
FPT has been looking to build a comprehensive digital transformation platform for small and medium enterprises (SMEs). The deal with Base.vn speeds up our process in expediting digital transformation for Vietnamese businesses.
Base.vn is a business management platform with more than 20 centralized applications to help businesses manage work and projects, develop human resources and information systems. The platform is serving 5,000 customers with good results.
One side embraces core technologies such as AI, Blockchain, Cloud, etc. and the other owns SME management platform. Our collaboration has resulted in digital solutions that support the business community in operating and working remotely. We offer those solutions in the form of software-as-a-service (SaaS), which allows companies to quickly implement anytime, anywhere, at a reasonable cost.
According to the statistics from the Ministry of Planning and Investment, from January to August, the monthly average number of businesses leaving the market was 11,700, most of which are SMEs. Understanding this "pain", FPT has brought Base to many provinces and cities to promote digital transformation and improve the capabilities of local SMEs.
We have been coordinating with the authorities to support the local business community in navigating through the pandemic. Placing the benefits and survival of the business top of mind, we create supporting packages for companies based on the survey results and different priority levels.
FPT has also launched the eCovax, the solution package aiming at providing "digital antibodies" to businesses, especially SMEs. We offer one-year free usage of four products in eCovax package for companies that register before December 31, 2021. I hope this support will help the business community emerge stronger from the crisis and contribute to the country's economic recovery.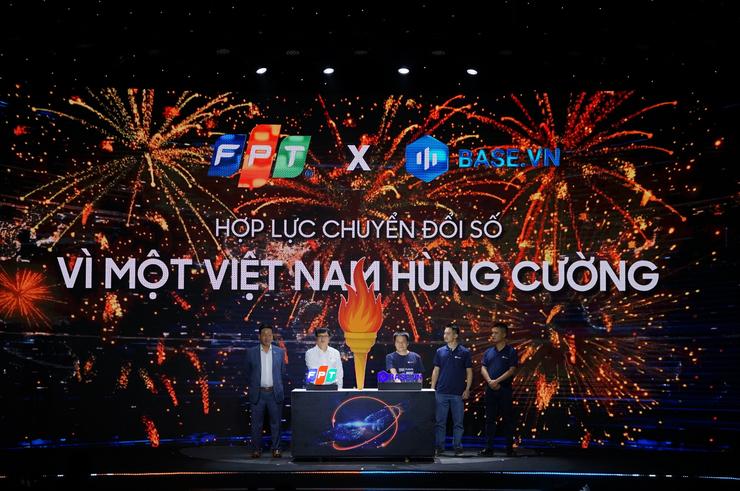 FPT & Base.vn merger announcement event in Ho Chi Minh City, Vietnam
The COVID-19 pandemic has outpaced every projection and is getting harder to predict. How does FPT prepare for the unprecedented business landscape?
The second half of 2021 will be a challenging time given the new pandemic outbreak that poses more difficulties to the macroeconomic situation.
At the start of the fourth COVID-19 wave, we quickly reactivated the "wartime" mode with the implementation of Ten transformation directives.
The key points include prioritizing the safety of employees, ensuring business continuity with remote working, managing finance for survival, cutting costs that do not generate revenue or effectiveness in the short term; focus on essential needs; enforcing stringent measures, putting organizational interests above personal interests, etc.
In particular, continuous cash flow and financial information management are among key focuses for FPT at this time.
As a global company operating in 26 countries and territories, FPT's main growth driver for the technology segment has come from foreign markets, which currently contribute about 40 percent of total revenue and 36 percent of pre-tax profit.
From January to July 2021, our revenue from IT services in foreign markets reached VND 7,871 billion, up 16 percent year over year. The US market revenue alone went up 47 percent year over year. With a number of new contracts and proactive measures, FPT is grasping more opportunities in the international market and moving closer toward achieving our business targets.
Thank you so much!