FPT and Carlsberg, one of the world's leading brewery groups have recently signed a global framework contract whereupon FPT has officially become Carlsberg's technology partner.
Accordingly, FPT will provide Information Technology (IT) as well as Digital Transformation (DT) services for the global brewer. The two sides also planned to explore additional areas in Digital Transformation including Smart Brewery, Cloud Migration to Azure, Open API platform, Data strategy and analytics.
The cooperation between FPT and Carlsberg was initiated since January 2018. After a few months of collaboration, FPT has played the role of DT partner for Carlsberg in many projects related to Manufacturing Execution System (MES); AI for Planning and Connected Bar. With MES, FPT has enhanced the company's experience in delivering projects related to digital monitoring and controlling system, helping Carlsberg to optimize the manufacturing process and maximize production output.
In addition to MES, FPT is going to leverage the company's expertise in Artificial Intelligence to help Carlsberg analyze consumers' behavior, predict demand and plan for production. The collaboration between FPT and Carlsberg in Digital Transformation was also expanded to Connected bar, which is considered as the "game changer" of Carlsberg. The connected bars, enabled by smart censors, not only allow the brewery giant to assure their product quality but also monitor the consumption at the same time, leading to an effective supply management system.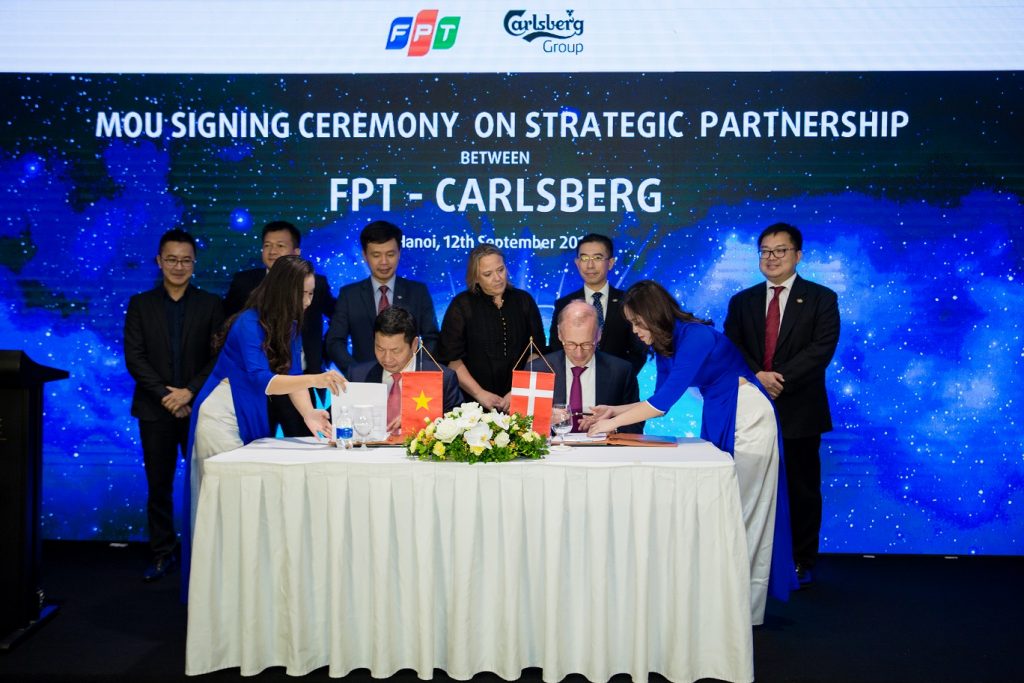 Mr. Cees 't Hart, CEO of Carlsberg Group, shared at the signing ceremony: "We are excited about entering into this partnership with FPT. Their support to help us digitize our breweries gets us closer to realizing our sustainability goals as well as improving productivity".
From FPT side, Mr. Truong Gia Binh, FPT's Chairman also emphasized: "At FPT, we always strive to enhance and enrich our technology capability so as to offer more value-added service to our clients. In the period between 2018 and 2020, we have set the target of growing our revenue from digital services by 70 percent each year, turning into the world-class DT service provider. By becoming the global IT service provider of Carlsberg, we do embark the ambition and responsibility to help our client in their business modernization and digitalization, leading to high business efficiency as well as extraordinary customer experience, thus reaffirming Carlsberg's position as the top leading beer and beverage producer".