Recently, FPT Chairman Truong Gia Binh joined a Vietnamese delegation on an official visit to Singapore led by Prime Minister Nguyen Xuan Phuc, affirming the leading position of FPT in Vietnam's ICT industry.
Mr. Truong Gia Binh, together with the leaders from FPT Asia Pacific, attended meetings and discussion panels with Singaporean enterprises, scientists and intellectuals. Within the scope of the visit, FPT held a roundtable with the attendance of Prime Minister and senior leaders from 20 multinational and transnational companies. During the speech on policies and incentives for foreign investment, the Prime Minister asserted: "A company can become multinational only if it does business and produces goods or services in Vietnam". Following that, as Chairman of Private Economic Development Research Board, Mr. Truong Gia Binh made a short speech to encourage business leaders to jointly initiate innovations and achieve co-operative development goals.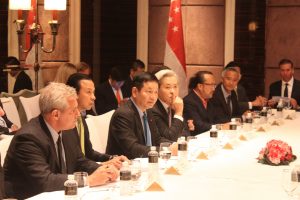 At the roundtable, FPT's intensive expertise and capabilities of Digital Transformation in various fields including Telecommunications, Logistics, Healthcare, Real Estate, Aviation, etc. were demonstrated. All international firms were strongly impressed by FPT's pioneering position of Digital Transformation and proven qualifications in emerging technologies through successful strategic cooperation with world tech leaders such as AT&T, Softbank, GeoPost, UPS, etc. In the dialogue session, Mr. Tan Tong Hai, CEO Starhub – the major teleco in Singapore, delightedly shared about the fruitful nine-year-cooperation with FPT and commended FPT's accomplishments in the Digital Transformation journey.
On the occasion of the visit, potential cooperation opportunities between FPT and big partners were established including cooperation in Digital Transformation with focus on Customer Experience Transformation, AI and Data Analytics with a world logistics leader; cooperation in Digitalization in Logistics, Retail and Aviation for a Singapore's large multi-national group and utilizing Digital Transformation in Real Estate, Retail and Property Management with a leading energy, water, marine and urban development group in Singapore.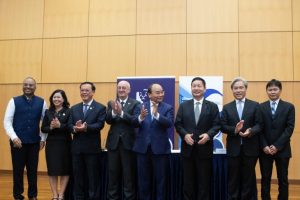 In order to promote innovation and entrepreneurship environment in Vietnam, Mr. Truong Gia Binh signed a Memorandum of Understanding among Singapore Management University, University of Economics Ho Chi Minh City and Private Economic Development Research Board.
Joining the high-level visit to Singapore, FPT has affirmed its contribution and position in representing Vietnam to attract foreign investments, especially in the field of ICT. The visit has also provided FPT with opportunities to promote strategic and large scale cooperation with major partners and customers, delivering promising development for the company in the future.