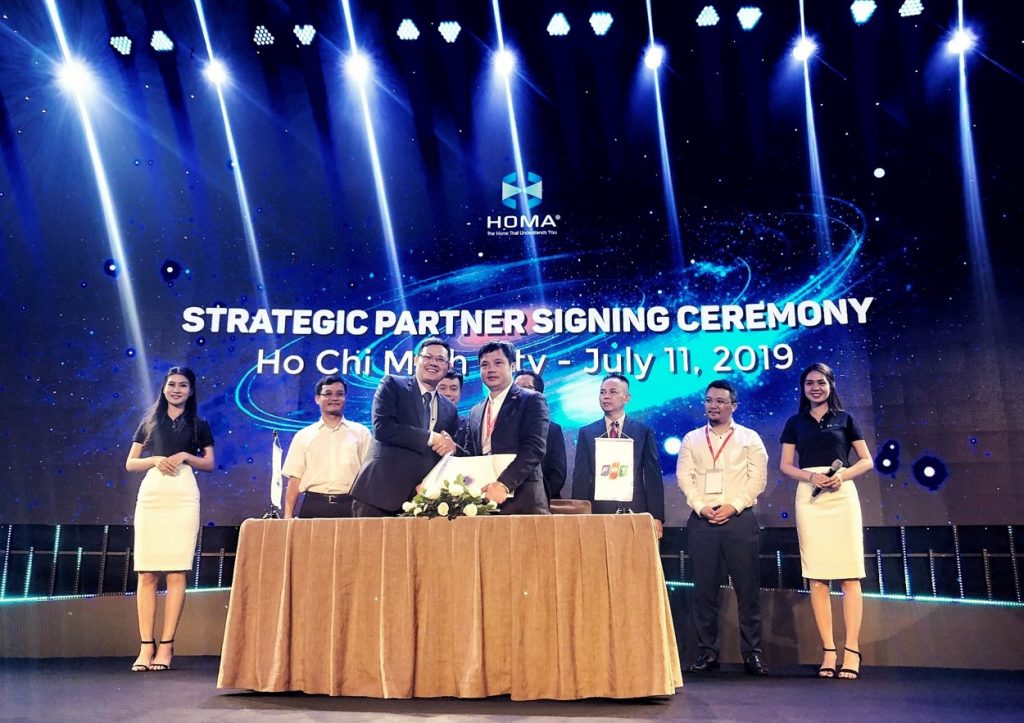 Ho Chi Minh City, 11 July 2019 – Vietnamese largest IT firm FPT Corporation (FPT) on Thursday entered into an agreement to become the strategic investor of Homa Techs Inc. (Homa), a provider of Internet of Things (IoT) networking and smart home/building devices.
The announcement was made at Homa's grand launching of Multi-Protocol
IoT Hubs which seamlessly and securely integrate all smart devices in the house into IoT applications. Up to 240 devices could be connected at the same time, including switches, smart plugs, light controllers, sensors, door bells, door locks with camera, mobile apps, home service software, etc.
The "One Hub – One App – One Brain" solution, according to Homa's Director of Embedded Systems Son Vu, aims to build a wellness, smart, and efficient living environment for those who desire a happy modern life without any technological limits.
"FPT sees great value in Homa's smart home technologies and solutions. With a network of partners and clients spanning 45 countries and territories, we are excited to work with Homa to bring this family of products to millions of residents and help to accelerate the development of smart buildings and smart cities in Asia", FPT's CEO Nguyen Van Khoa said.
"Apart from our commitment to research and develop digital solutions, FPT also looks for partnership opportunities to acquire new technological products and solutions which are in line with emerging market trends and our long-term strategies", he added.
"FPT is looking to conquer IoT segments. We've noticed that our clients in smart factories, start cities, healthcare and transportation, and so on are facing challenges that could be solved with Homa technologies", FPT Software COO Tran Dang Hoa noted. "The strategic investment would follow a three-year roadmap", he said. While not disclosing the amount, he noted that the amount is worth millions of dollars.
The investment reinforces FPT's commitment to become a provider of comprehensive digital transformation services during 2019-2021. With this move, the company hopes to diversify its portfolio of hardware products that target smart cities developers and better penetrate Southeast Asia market for IoT and smart home solutions. It is also likely that FPT could integrate Homa technologies into its IoT and AI products in the future.
About FPT Software
FPT is the global leading technology and IT services provider headquartered in Vietnam with nearly US$2 billion in revenue and 33,000 employees. As a pioneer in digital transformation, FPT delivers world-class services in Smart factory, Digital platforms, RPA, AI, IoT, Cloud, AR/VR, and more.  FPT has served over 600 customers worldwide, a hundred of which are Fortune Global 500 companies in the industries of Aerospace & Aviation, Automotive, Banking and Finance, Logistics & Transportation, Utilities and more. For more information, please visit www.fpt-software.com.
About Homa
Homa Tech Inc. is a global provider of Internet of Things (IoT) networking and smart some/building devices that are powered by Artificial Intelligence (AI) on-the-edge technologies for smart home and smart building applications. The company's products focus on ease of installation (including on legacy homes and buildings), high reliability, and user-friendly usage, aiming to build a wellness, smart and efficient living environment for customers who deserve to enjoy their life without any compromise imposed by technological limits. For more details, please visit www.homatechs.com.
For media inquiries, please contact [email protected] mobile +84866867745.