On August 22nd, Mr. Truong Gia Binh, Chairman of FPT Corporation and Ms. Tiffani Sassei, CIO of Coca-Cola Global, officially signed a strategic cooperation agreement on digital transformation in the period from 2017 to 2020. Accordingly, FPT will research and propose tailored digital solutions so as to enhance Coca-Cola's production activities.
Speaking at the signing ceremony, Ms. Tiffani Sassei emphasized: "Digitizing factory operations and business is one of Coca-Cola's priorities in building a smart factory, along with the focus on green energy, automation, developing the capabilities of our partners in the supply chain, who are small and medium enterprises as well as building a high quality work environment. This represents the company's commitment for long-term investment; complying with Vietnam's priorities in the 4th Industrial Revolution". Ms. Sassei also considered FPT as one of the Vietnam's leading companies in information technology, supporting many enterprises in digital transformation. She believed that the FPT's experience and technology expertise will make the digital transformation process of Coca-Cola Vietnam fast and efficient.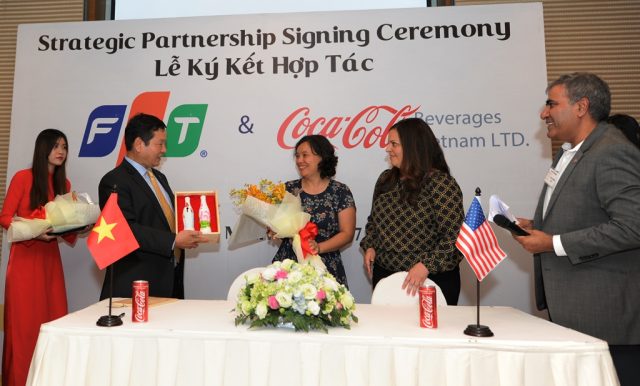 From FPT side, Mr. Truong Gia Binh, Chairman of FPT Corporation, also affirmed: "With the proven expertise and experience, FPT will research and provide the most appropriate digital solutions to help Coca-Cola Vietnam improve their capabilities in the 4th Industrial Revolution."
In Vietnam, FPT is the pioneer in digital transformation. The company has partnered with GE Predix, Amazon Web Services and Microsoft – the world's technology giants that own the core technologies of the Digital Revolution. These partnerships help FPT provide the most advanced IoT solutions, managed services, and global-scale services that help customers achieve the digital transformation goals in a quick and easy way, enhancing business efficiency and replicating new business models.
FPT in the Digital 4.0 Industry
The 4th Industrial Revolution opens doors to limitless opportunities for those who wish to rise above as well as who are adaptive and equipped enough. The accumulated experience since founded has given FPT the expertise to be ready on every single field to help our customers to stay on top of the revolution. Over the past 20 years, FPT has been catering for 450+ customers, including more than 50s Fortune 500 in various sectors such as Financial Service, Automotive, Media & Entertainment, Logistics & Transportation etc. We have been assisting our clients in making the best of technology and transform their conventional IT landscapes into digital models.  For more information about our Digitalization Services, please visit https://www.fpt-software.com/service/digital-transformation/