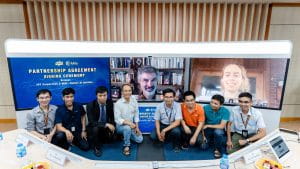 FPT partnered with Montreal-based research institute Mila in June 2020
In this interview, FPT Software's Chief Artificial Intelligence Officer Nguyen X.P. shared his thoughts on the company's strategic partnership with Montreal-based research institute Mila and his aspiration to put Vietnam on the international map of Artificial Intelligence (AI).
Congratulations Nguyen on the recent partnership with Mila. How do you feel about it?
It is an absolute proud moment when FPT partners with one of the largest research institutes in the world. Mila plays a key role in the global development of AI. The institute's founder, Professor Yoshua Bengio, won the Turing Award in 2018 and 2019 for his pioneering work in neural networks and continued efforts through the long "AI Winter" (*) to make AI a life-changing technology today. Besides, Mila has published influential articles that add up to the body of knowledge in AI development.
Would you mind sharing with us how the partnership was initiated?
In December 2019, when Mila's Director of Partnerships Frederic Laurin travelled to Vietnam. I had worked with Frederic before, and this time I took the chance to introduce to him Vietnamese culture and people as well as FPT's vision to develop AI capabilities and talents. I also told him how my country has risen from the wars and aspired to transform itself through technologies like AI. All these stories were later shared with Prof. Bengio, which helped to grow his impression of FPT.
It isn't easy to become a partner of Mila. You know, the criteria are very stringent. It was Prof. Bengio's faith in FPT's AI capabilities and potential that made this collaboration happen.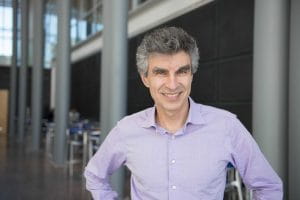 Professor Yoshua Bengio is considered one of the godfathers of AI (Photo: yoshuabengio.org)
Mila is known for turning Montreal, Canada's largest city, into a global AI hub. What is your hope for the Vietnam AI center which the institute will advise set-up?
Montreal has achieved a unique success that is unparalleled by no other AI centers in the world.
A reputable research institute like Mila surely plays an important role, but it also takes an accompanied ecosystem to make the city a global AI hub.
Big companies like Facebook, Google, Microsoft, etc. partner with Mila to form their own research groups right inside the institute. Startups moved to Montreal for opportunities of AI experiments, followed by venture capitalists. Realizing Montreal a magnet for R&D investment, the Canadian government announced several incentives from tax reduction for AI engineers and R&D projects to startup financing. Besides, Montreal's significantly lower cost of living in comparison with Silicon Valley makes it a promising destination for tech talents.
Montreal is indeed an inspiring story in which the key is a harmonized ecosystem revolving around a research institute. There is so much for FPT to learn. How could we attract businesses and the Government to engage in AI development? This is what I hope Mila could help us figure out through the partnership.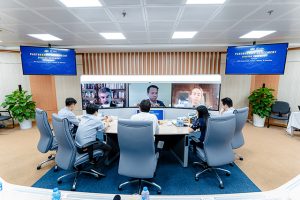 Partnership agreement signing ceremony between FPT and Mila on June 11 2020
Could you please share FPT/FPT Software's plan to further advance AI research and innovation in the next few years? If possible, please share some activities or projects that are on the pipeline as well.
FPT aspires to build a world-class AI center that is among the top in South East Asia. This comes with so many challenges in terms of talents, resources, and data.
Talent development is ultimately the first and foremost factor to consider. Through the collaboration with Mila, opportunities are wide open for our AI engineers to learn from the world-leading academic environment and gain access to the latest AI algorithms. Outstanding individuals will get to study at Mila and learn from top-notch professors here.
Further, FPT will focus on strategies for improving AI-related business, infrastructure, and research. We hope to identify niche markets and partner with big names such as Element AI – a global developer of AI software – to offer more comprehensive solutions. In the next few years, we plan to develop some more data centers. And for research, we will shortlist the most practical topics to help FPT enhance its AI capabilities and thereby compete on a global scale. Research will be the foundation for our business strategies, 20 percent of which emphasize on the fundamental problems of AI and the rest on real-world applications.
Sounds like a very clear plan! Best of luck and thanks for sparing your time for us!
In recent years, FPT Software has leveraged core advanced technologies such as AI, Big Data, Cloud Computing, and Robot Processing Automation (RPA) to help businesses accelerate their digital transformation journey. In 2019, the company stepped up its AI research and development ef forts with the appointment of a Chief Artificial Intelligence Officer (CAIO) as well as the launch of an AI education complex project in central Vietnam. Many of its AI solutions have been implemented in real world, including multi-language chatbots, OCR scanners in manufacturing, melasma diagnosis model and so on.
(*) AI Winter is a period of reduced funding and interest in AI research.