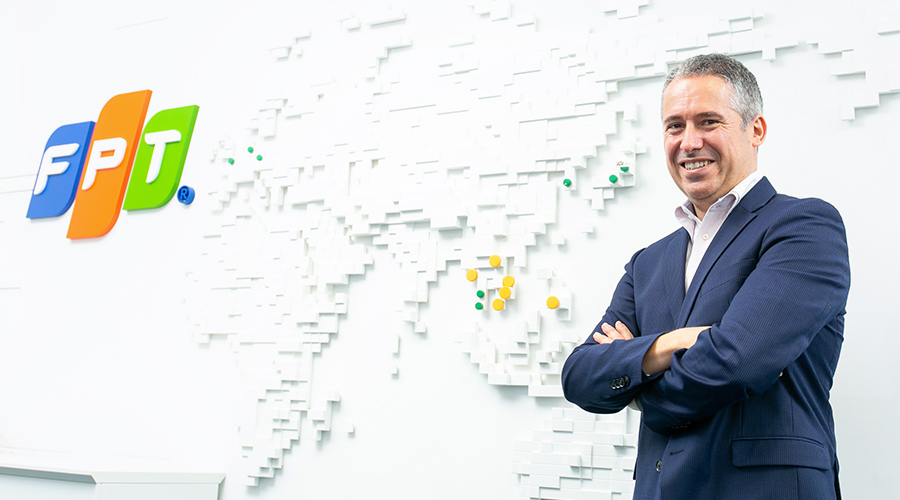 In an exclusive interview with Japan's largest business newspaper Nikkei, FPT Software's Global Director of Digital Transformation (DX) Division and FPT Japan's Chief Digital Transformation Officer (CDTO) Frank Bignone lays out three essential components of digital transformation and how they can help solve business challenges in the disruptive era. 
As the world grapples with the pandemic and digital interactions surge, it is time to further use technology and bring forward digitalization plans that may have been put on hold. According to a study by McKinsey in 2020, the pandemic has accelerated digitalization in many enterprises and businesses by at least seven years. Digital transformation is proven to be one of the key drivers to keep businesses growing.
What is digital transformation (DX) anyway? According to Frank, "Digital transformation (DX) today is not only about technology but should be addressing and solving business challenges. The definition may differ from person to person, but I think there are three key things that can be said about Digital Transformation: Business strategy formulation, data driven, and cloud utilization."
Strategy before Technology
Most companies may already have a good global strategy but lack of knowledge on how to develop and implement it to achieve the goals. Frank noted that the digital transformation process involved both the methodology to achieve your goals and the skills you use in that process. "FPT can support both methodological and skill aspects", Frank noted. Being the largest IT firm in Vietnam, FPT sets become a world-class top 50 IT services and digital transformation provider by 2030.
Frank shared the company's methodology for digital transformation success called FPT Digital Kaizen, inspired by the Japanese philosophy for 'continuous improvement'. Regarding skills, FPT has been working on new digital technologies such as Cloud, Analytics, and AI.
"To help the customers who are struggling to formulate the business strategy, we launched a service called DX Garage," Frank said. "With DX Garage model, we support the transformation of companies from the stage of idea to the delivery of MVP (Minimum Viable Product). DX Garage helps companies carry out such efforts systematically with a high success rate."
Data – the "D" in Digital Transformation
Data is a key pillar for digital transformation because every interaction in the digital world generates data. Frank pointed out that many companies already have a large amount of data in store. However, the data often exists in pieces and is not linked.
Data-driven in DX means linking all the data in a company, and the data platform is very important in that case. With the right data integration, it will have a complete picture of every process and operation, and the leaders will be able to make data-based decisions. FPT has a container platform called akaminds, which has functions such as analytics and AI running on the platform in addition to data integration.
"Since DX is about data, companies need to move and access to Cloud and Big Data to help to break the Silos among functions to liberate value of data. Data can be collected from multiple processes, put in the cloud, be analyzed, then it can support business strategy formulation for data-driven decision making", Frank explained.
Moving to the Cloud
The third key to DX is cloud utilization. Frank believed that moving to the cloud is an important step in DX for several reasons. Cloud migration can reduce operating costs and make it easier to scale up, which also "enables big data analytics".
"If you want to execute AI, machine learning, big data analytics, etc., you can't do it in Excel. I used to tell people who wanted to learn about DX that "DX starts when Excel crashes", Frank laughed.
Since it requires a large amount of processing power to handle AI and Big Data, it will be necessary to move to the cloud. FPT supports the migration of data to the cloud in the process of DX and various operations related to it.

DX: From a caterpillar to a butterfly
According to a study by IFS, 70 percent of organizations have increased or maintained digital transformation spend amid the pandemic. However, digital transformation is not only about technology. It is difficult alchemy of business challenges to solve, people and enablers, and digital technologies; all that are put in perspective and implemented through proven methodologies like FPT Digital Kaizen.
"DX is like transforming a caterpillar into a butterfly. If you make good use of old technology to speed up the process, you can move faster as a caterpillar, not a butterfly. To be a butterfly, you need to transform both business operations and the people. Develop the workforce, collaborate with trained talent, and leverage technology. It is very important to incorporate the three key points I introduced earlier", he said.
"If all of this is accomplished, your company will be transformed into an agile butterfly, capable of utilizing all the information available and reaping the advantages all digital initiatives that your company have implemented", Frank concluded.
Frank Bignone became the Global Director of Digital Transformation (DX) Division at FPT Software in January 2021. Before joining Vietnam's leading IT group, Frank spent eight years as Airbus's Vice President and Head of Digital Transformation for the Asia Pacific Region and China.