HANOI, Vietnam – FPT Software was recently named OutSystems Partner of the Year with the Most Foundation Team and Top Partner of Southeast Asia (SEA). These recognitions underscore FPT Software's partnership with the global leader and affirm its dominant role in the Asia Pacific low-code sector.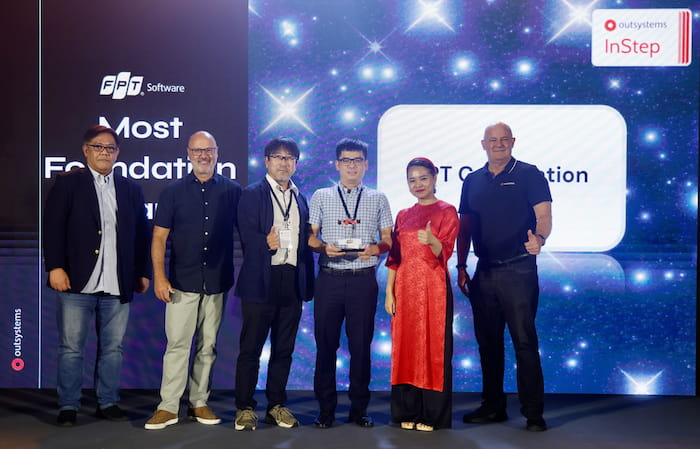 FPT Software representatives received the recognition of OutSystems' Partner of the Year with the Most Foundation Team at the OutSystems APAC Instep 2023 in Phuket, Thailand.
The awards were announced in the OutSystems APAC Partner Instep 2023, an annual event for OutSystems partners in the APAC region to disseminate the latest insights and honor those with remarkable results.
FPT Software's Japan subsidiary was one of the two Partners of the Year with Most Foundation Team, considering its outstanding number of OutSystems-certified developers and customer satisfaction. Its Malaysian subsidiary was also awarded the Top Partner of SEA for its notable contribution to OutSystems' annual recurring revenue in this market.
"FPT Software is a strategic partner, and we would like to recognize their dedication and commitment to successfully building a solid OutSystems Delivery practice with over 700 OutSystems-certified resources comprising developers, tech leads, and experts. This is an outstanding achievement, and we are excited to continue the success with FPT Software to help us in further expanding our customer footprint and delivering high-quality services to customers across the Asia Pacific," said S Saravanan Subramaniam, Outsystems Regional Vice President for Partner Alliances in Asia Pacific.
"I am delighted that our dedication and hard work have earned recognition from OutSystems, and I am confident that our ongoing collaboration will bring even greater value to the global business community," said Phung Viet Ha, Managing Director of FPT Software's Low-code Group. "I hope FPT Software and OutSystems can penetrate new markets and bring our solutions to helping more customers," Ha added.
The FPT Software-OutSystems partnership dates back to 2019 when FPT Software became OutSystems' Managed Services Partner. Since then, the IT firm has continuously expanded and developed low-code as one of its key competencies, providing a comprehensive range of services, from software applications development and operation to maintenance on the low-code platform. FPT Software is now one of OutSystems' partners with large-scale resources in Japan and the APAC market, covering three areas: sales, delivery, and managed service provider (MSP).
Statista forecasted the global low-code platform market revenue to reach approximately USD 32 billion in 2024. With this projection, FPT Software aims to become OutSystems' regional Premier Partner this year, seizing the potential growth from the partner channel.
OutSystems and the OutSystems logo are registered trademarks of OutSystems.
About FPT Software:
FPT Software, a subsidiary of FPT Corporation, is a global technology and IT services provider headquartered in Vietnam, with $803 million in revenue (2022) and over 27,000 employees in 28 countries.
The company champions complex business opportunities and challenges with its world-class services in Advanced Analytics, AI, Digital Platforms, Cloud, Hyperautomation, IoT, Low-code, and so on. It has partnered with over 1,000+ clients worldwide, 89 of which are Fortune Global 500 companies in Aviation, Automotive, Banking, Financial Services and Insurance, Healthcare, Logistics, Manufacturing, Utilities, and more. For more information, please visit https://fptsoftware.com/
Contact
Mai Duong (Ms.)
FPT Software
PR Manager
[email protected]