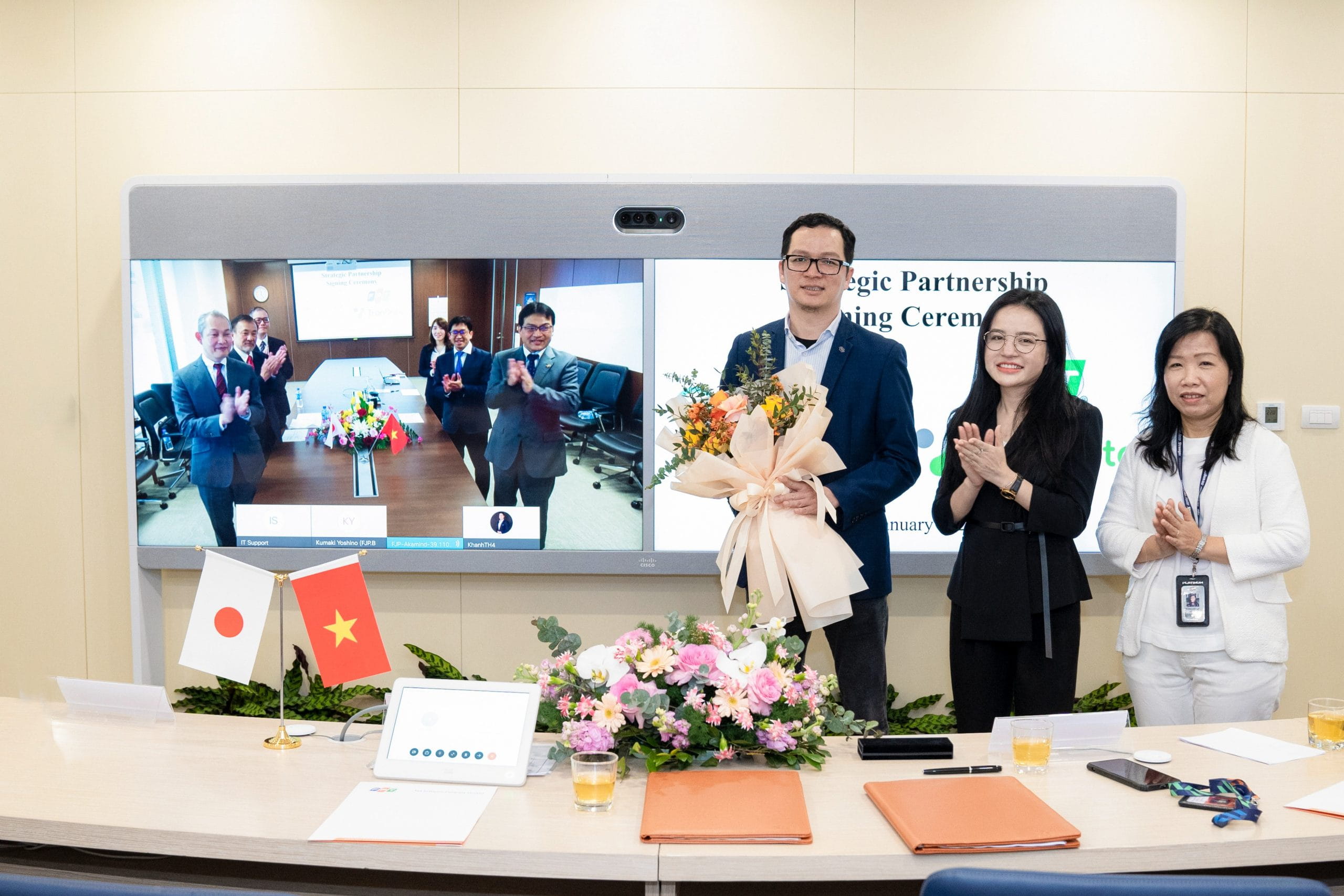 Hanoi, VIETNAM, 19 January 2022 – Vietnam's largest ICT company, FPT Software, together with its member company Trandata, announced a strategic alliance with True Data, one of Japan's largest consumer goods purchasing information platforms. This collaboration aims to promote the utilization of purchasing data in Vietnam. True Data will also make a strategic investment in Trandata to expand the data marketing and Big Data in Vietnam.
Vietnam was projected to be among the fastest-growing economies in the world. However, the usage and understanding of data marketing and consumer purchasing behavior in Vietnam are still in the developing stage. As Japanese retail companies and consumer goods companies enter the Vietnamese market to expand sales, obtaining purchasing data is always an issue for business development.
As one of Vietnam's leading data holders, Trandata will collaborate with local retailers to conduct research and analysis on consumer behavior in Vietnam, allowing True Data to gain deeper insights of the market and seamlessly connect all the disparate data into a single source of truth. The two companies will develop research on Vietnamese consumer behavior towards Japanese products and predict the future retail market in Vietnam.
Through this partnership and investment, both sides will leverage FPT Software's Artificial Intelligence engine and IT know-how to build a retail data platform and provide better data solutions for the industry. As a result, companies and investors will have access to comprehensive economic forecasts alongside datasets to power better decision-making.
Commenting on the incentive of the partnership, Hiroyuki Yonekura, President and CEO of True Data, stated, "The strategic alliance with FPT Software will connect the Vietnamese market, which is a growing market in Asia, with the Japanese market, which is one of the largest and most mature in the world, through data, and contribute to the utilization of big data for purchasing and the expansion of value, which is a challenge to create the future of both markets."
According to FPT Software Chief Operating Officer Tran Dang Hoa, the alliance with True Data reflects the company's latest growth strategy. "The partnership with True Data will add a new dimension to our data's precision and effectiveness, offering the industry much-needed assistance to capture lost revenue from the industry's ongoing disruption. With a more intuitive and accessible solution, our clients can leverage valuable data to better serve their customers," he said.
About FPT Software
FPT Software is a global technology and IT services provider headquartered in Vietnam, with more than USD 513 million in revenue and 22,000 employees in 26 countries. As a pioneer in digital transformation, the company delivers world-class services in Smart factory, Digital platforms, RPA, AI, IoT, Cloud, AR/VR, BPO, and more. It has served 700+ customers worldwide, a hundred of which are Fortune Global 500 companies in the industries of Automotive, Banking and Finance, Logistics & Transportation, Utilities, and more. For further information, please visit http://www.fpt-software.com.
About Trandata
Founded in June 2020 by FPT Software, Trandata focuses on providing comprehensive data solutions for businesses. By applying Big Data, AI and Blockchain to analyse data, Trandata hopes to bring our technology into implementation in various industries such as Banking and Finance, E-commerce, Education, Health, and more. For further information, please visit https://trandata.vn/en/
About True Data
True Data provides one-stop services for data, technology, and utilization know-how centered on shopping data of 60 million people nationwide, and supports data marketing for all companies and organizations. For further information, please visit https://www.truedata.co.jp/en/
Media contact
Mai Duong (Ms.)
FPT Software
PR Manager
Email: [email protected]
Website: https://www.fpt-software.com/newsroom/