Tokyo, Japan – October 13, 2022 – Vietnam's leading IT services provider, FPT, today announced its investment in Japanese business consulting services provider LTS Inc., becoming its strategic shareholder. The investment is expected to help FPT strengthen its capabilities in Japan's consulting industry and target more double-digit million-dollar deals.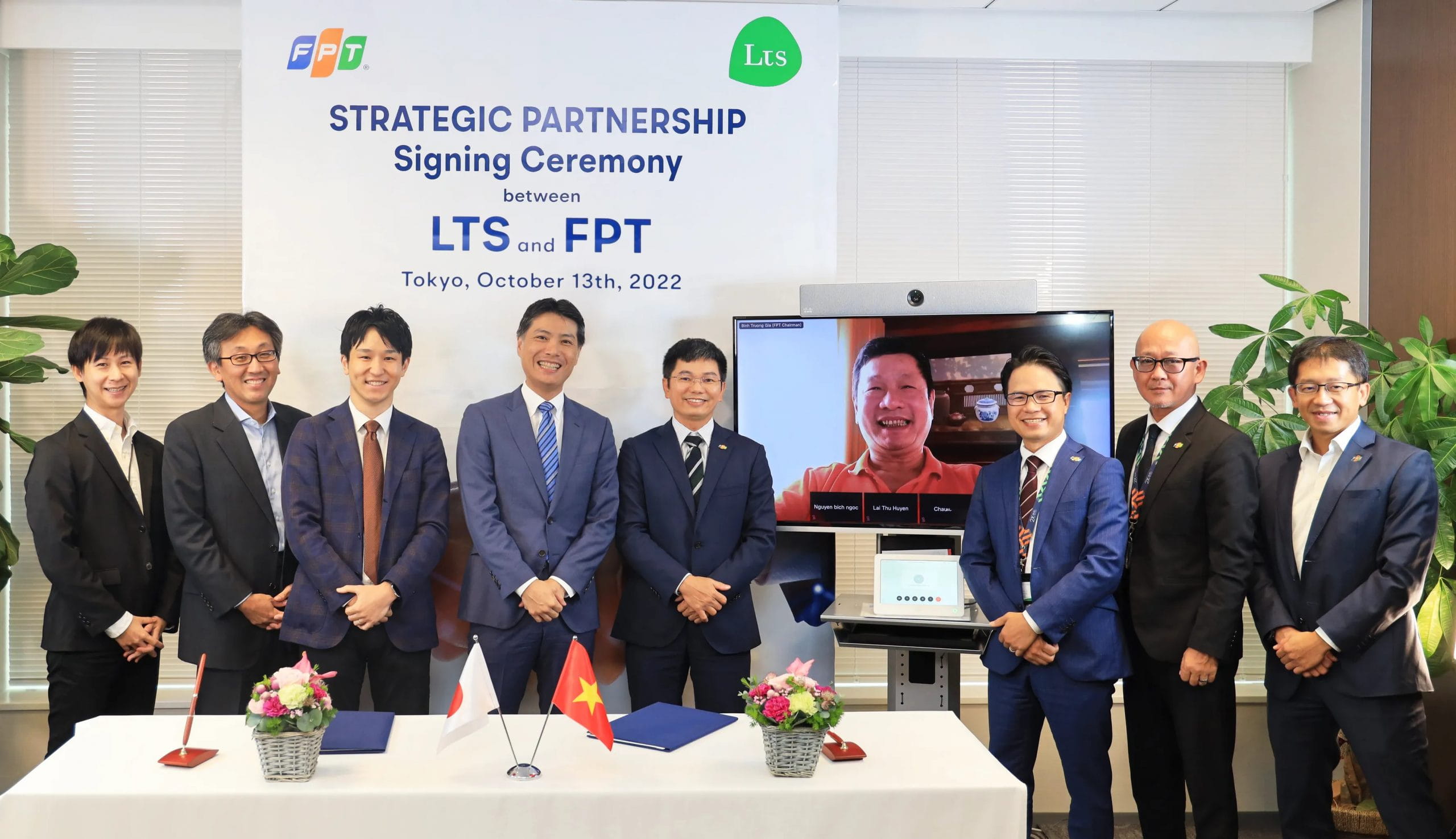 FPT Corporation Chairman Dr Truong Gia Binh (attended online), together with FPT Japan and LTS Inc. representatives at the signing ceremony (Tokyo, Japan)
 LTS Inc. is a Japan-based company specializing in delivering business process management, consulting services, and digital transformation solutions. ​​As a part of FPT's ecosystem, LTS Inc. will join hands with other subsidiaries to provide consulting services to existing and new customers. According to the agreement, the focused fields include ERP-related services, low-code development-related services, and business management-related services.
The customer-centric alliance will help FPT enhance its consulting knowledge across industries, and engineering resources, thereby improving customers' business result. Through this collaboration, Vietnam's leading IT services company provides LTS Inc.  with strengthened software services and strong expertise in new emerging technologies. Also, FPT helps LTS Inc. target current and new customers, especially in the manufacturing industry, by combining the power of operational and information technology to support accelerating their digital transformation movement.
LTS Inc.  contributes to building a high-quality workforce and a system for employee retention based on the company's know-how. This includes a strategy for human resource development, plans to provide necessary educational opportunities, and an engaging working environment for FPT's employees. Additionally, LTS Inc. can leverage FPT's global presence across 28 countries to compete worldwide.
Opening the ceremony, FPT Corporation Chairman Dr Truong Gia Binh shared his thoughts on the impacts of digital transformation as it shifted how global businesses select their alliances. He emphasized: "If we want to compete with global consulting giants, we must provide complete solutions from consulting, implementation to maintenance, and most importantly bring continuous innovation and co-create values with our customers. I believe that together with LTS Inc., we can provide that."
During the discussion, LTS Inc. CEO Mr Hiroaki Kabashima and COO Mr Ryosuke Ueno expressed excitement about this strategic partnership. "We would like to accelerate and grow through this capital tie up as one of FPT's group companies. LTS Inc. will support FPT to become a global number one IT company in the future, while we aim to become a global-level consulting firm." LTS Inc. CEO Mr Hiroaki Kabashima commented.
FPT Japan CEO Do Van Khac also shared: "Today, on behalf of FPT Corporation Chairman Dr Truong Gia Binh, it's my honour to sign on our strategic contract. We believe that with this new partnership with LTS Inc., FPT Consulting Japan & FPT Japan can contribute and achieve much more in the future."
"This marks the first chapter in our long-lasting relationship. I believe that together we can gain success as it is one of our missions to grow with LTS Inc. in Japan as well as on a global scale.", he added.
The two companies' relationship dates back to 2019 when FPT's subsidiary in Japan and LTS Inc.  formed FPT Consulting Japan Co., Ltd. The joint entity focuses on developing large-scale systems utilizing advanced digital and data analysis technologies from SAP, Salesforce, and so on, to provide comprehensive management and operating solutions for enterprises. By doing this, FPT Consulting Japan aims to help its clients achieve digital transformation success and maximize their future business propositions.
This investment is one of FPT Corporation's efforts to expand its global outreach and strengthen its position in a well-guarded market like Japan. Recently, FPT Japan welcomed its 2000th employees and celebrated the opening of its 13th office, FPT Japan Tokyo Innovation Center. The company expects to continue expanding its size to 4,000 employees by 2025. It also sets sights on being among Japan's top 20 largest IT Service companies by 2025 and reaching 1 billion USD in revenue by 2027.
About FPT Corporation
FPT Corporation is a globally leading technology and IT services & solutions provider headquartered in Vietnam, with nearly US$1.6 billion in revenue and 54,000 employees in 28 countries. As a pioneer in digital transformation, FPT delivers world-class services in Smart factories, Digital platforms, RPA, AI, IoT, Enterprise Mobility, Digital Product Development, Cloud, AR/VR, Business Applications, Application Services, Managed Services, and so on. The company has served over 1000+ customers worldwide, 85 of which are Fortune Global 500 companies in Aerospace & Aviation, Manufacturing & Automotive, Banking, Finance, Insurance, Logistics & Transportation, Healthcare & Life Sciences, Retail e-Commerce, Utilities & Energy, and more. For more information, please visit www.fpt-software.com/
Media contact
Mai Duong (Ms.)
FPT Software
PR Manager
Email: [email protected]
Website: https://www.fpt-software.com/newsroom/