HANOI, Vietnam, April 8, 2022 – In the Annual General Meeting 2022, FPT Corporation (FPT) has announced its goal to be among the Top 50 global end-to-end digital transformation service providers by 2030 and plans to continue working toward the long-term goal of becoming a standard-bearing digital enterprise.
Last year marked FPT's effort to "rebirth" as the number of projects worth over 5 million USD increased by 111%. The firm's global revenue in 2021 reached 1.6 billion USD, which grew nearly 20% year on. Foreign markets also recorded positive growth, including the Americas (+52%) and APAC (+27%).
FPT has pledged to become a strategic partner for businesses worldwide. In the 2022 – 2024 period, FPT shall continue to pursue this orientation, with the core mission of "Promoting rapid growth, developing new technology products, and providing digital transformation services on a large scale", as mentioned by FPT Chairman Truong Gia Binh in FPT's 2021 Annual Report.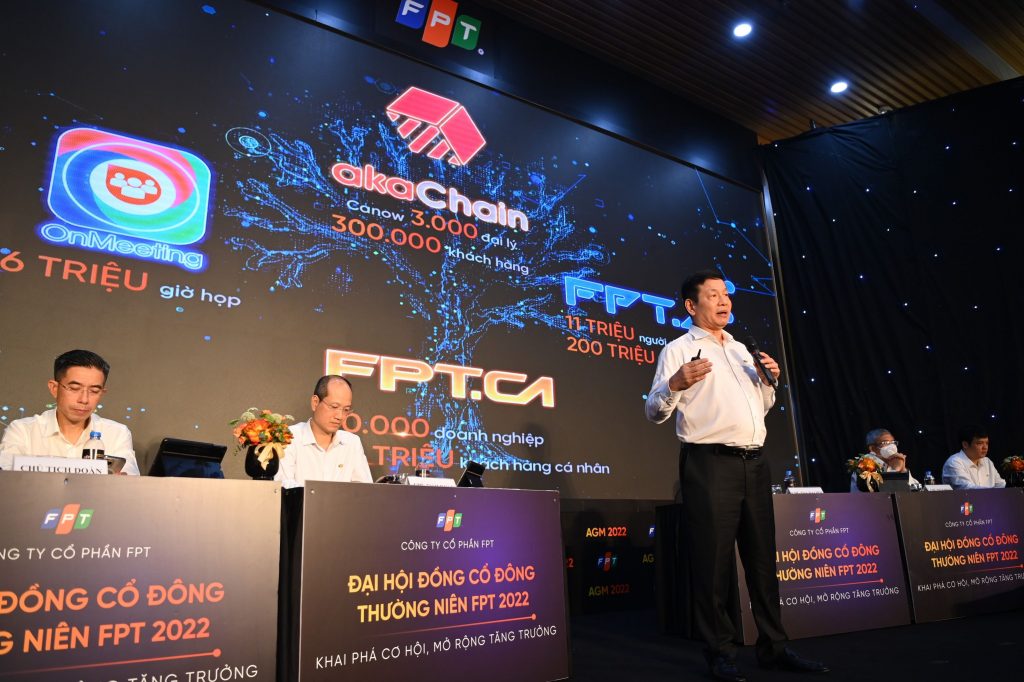 FPT Chairman Truong Gia Binh at the Annual General Meeting 2022.
To achieve this mission, Vietnam's largest IT services provider plans to continue projecting on a balanced basis in three core pillars: Business – Governance – Technology. As Dr. Binh emphasized during the meeting, it is the firm's strategy to provide comprehensive solutions to meet global businesses and each individual's most basic demands.
With customers varying from large private enterprises, SMEs to individuals, FPT thrives on accommodating each group with unique services, combining different technologies to enhance business management, administration, and most importantly, customer services at every touchpoint. This highlights the firm's growth strategy based on data-driven operations, a customer-centric motto, and breakthrough technology solutions.
According to FPT CEO Nguyen Van Khoa, technology-wise, the firm will leverage on-trend technologies to provide world-class digital transformation solutions and realize breakthrough opportunities for its shareholders.
As Vietnam's technology pioneer, FPT plans to invest heavily in core technologies such as AI, Cloud, Big Data, Blockchain, and Hyper Automation. The Made-by-FPT ecosystem is also targeted as FPT's key growth driver in the long term, with a revenue growth rate of 42.8% in 2021.
FPT sets its message for 2022 to be: "Determined to fight" and plans to innovate in business and sales activities, expand its customer base in all sizes and fields globally. Promoting a long-term sustainable growth strategy, the firm targets a 19% growth in revenue and 20.2% in profit before tax for the following year.
About FPT Corporation
FPT Corporation is a globally leading technology and IT services provider headquartered in Vietnam, with nearly US$1.6 billion in revenue and 37,000 employees. As a pioneer in digital transformation, FPT delivers world-class services in Smart factories, Digital platforms, RPA, AI, IoT, Enterprise Mobility, Cloud, AR/VR, Business Applications, Application Services, BPO, and so on. The company has served over 1000+ customers worldwide, 85 of which are Fortune Global 500 companies in Aerospace & Aviation, Automotive, Banking and Finance, Logistics & Transportation, Utilities, and more. For more information, please visit www.fpt-software.com/
Media contact
Mai Duong (Ms.)
FPT Software
PR Manager
Email: [email protected]
Website: https://www.fpt-software.com/newsroom/