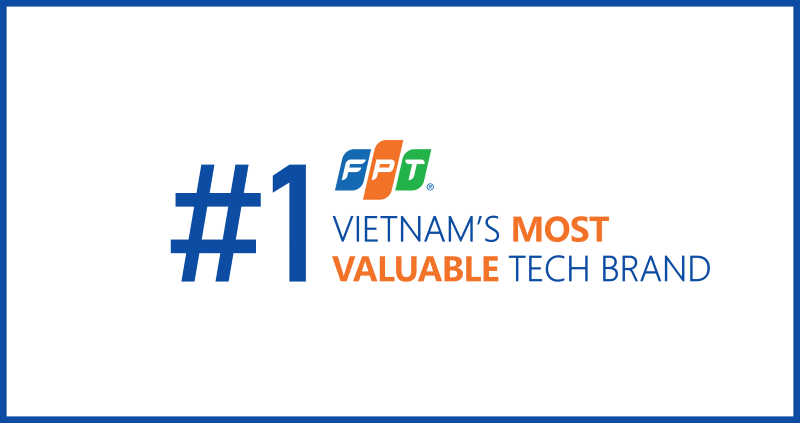 Forbes has announced the list of Vietnam's Top 50 most valuable brands in 2019, in which FPT ranks 10th overall and first in the technology sector. The brand is worth 215.2 million dollars this year, gaining 43 million dollars (27%) in value from 2018.
2019 marks the seven straight year that FPT is recognized by Forbes as one of the most 50 valuable brands in Vietnam.
Brands that secured the Top 10 spots in Forbes' list include Vinamilk, Viettel, Sabeco, Vinhomes, Masan Consumer, MobiFone, VinaPhone, Vietcombank, Vincom Retail, and FPT, valued at 6.9 billion dollars in total. In the technology sector, FPT is followed by digital content and online gaming firm VNG which is worth 59.6 million dollars.
According to Forbes Vietnam, the valuation of brands follows Forbes US standards, where the brand is calculated based on its contribution to the company's business performance. The most valuable brands are those posting the most significant revenue in sectors where the brand plays a key role. Forbes' list of valuable brands was also compiled by looking at brands' incomes before and after tax as well as loans reported in their financial reports and data on the stock market.
As of July 2019, FPT posted US$ 17.2 million in pre-tax profit and $96.98 million in revenue, a whooping year-on-year increase of 31.7 per cent and 19.6 per cent, respectively. After two decades leading Southeast Asia in IT services, FPT has recently decided to shift its focus onto digital transformation. The company sets to be named in the world's Top 50 digital transformation service provider within 10 years.
Interested in our Digital Transformation Consultancy services, click here.