Hanoi, Vietnam – FPT Corporation (FPT) organized its biggest annual event – FPT Techday 2022. The event introduced FPT's comprehensive digital ecosystem through a vivid and multi-sensory experience, reflecting its vision to accompany businesses and individuals in every stage of their lives.
Held for the first time in 2013, FPT Techday has become one of Vietnam's most renowned tech expos for business leaders, technology experts and enthusiasts. This year, it attracted 11,000 audiences attending offline and through live stream platforms.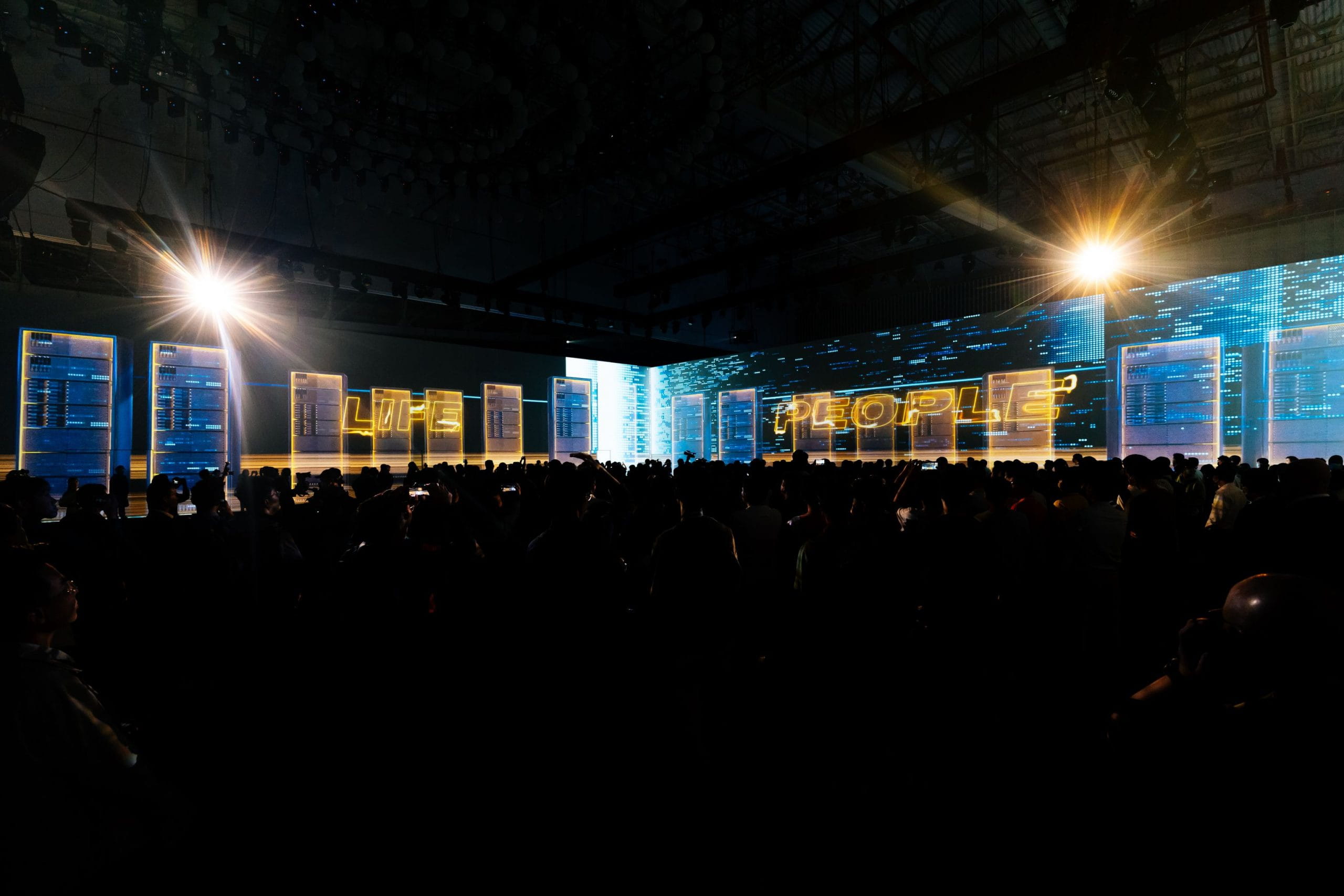 FPT is the first in Vietnam to include 3D-mapping technology to its exhibition
Technology becomes an inevitable part of life
Themed "Companion", FPT Techday 2022 emphasized the importance of technologies in accompanying people from childhood to adult life, in family and career building, as well as in constructing a modern and progressive society.
The event included a 3D-mapping show with lighting and sound systems equipped to an exhibiting area of 9,000-meter squares. The show created a three-dimensional interactive space and gave participants a vivid, multi-sensory experience. This makes FPT Techday the first and largest indoor exhibition in Vietnam to combine vision and sound to portray the power of technology.
FPT also showcased technologies such as AI, Metaverse, Robotics, Cloud, and their practical applications in education, healthcare, smart home, e-commerce, and business management. Many products from its member company, FPT Software, such as its immersive technology solution akaVerse, and akaBot – its hyperautomation solution, received much attention from the participants.
"With a technology-focused vision, we aim to meet every demand of our clients, including individual, corporate, and institutional customers. FPT hopes to create a "Happy Journey" ecosystem based on our core technologies towards the highest goal of satisfying and improving the lives of future D-citizens (Digital citizens).", said FPT's Chief Technology Officer Vu Anh Tu.
Co-creating a promising digital future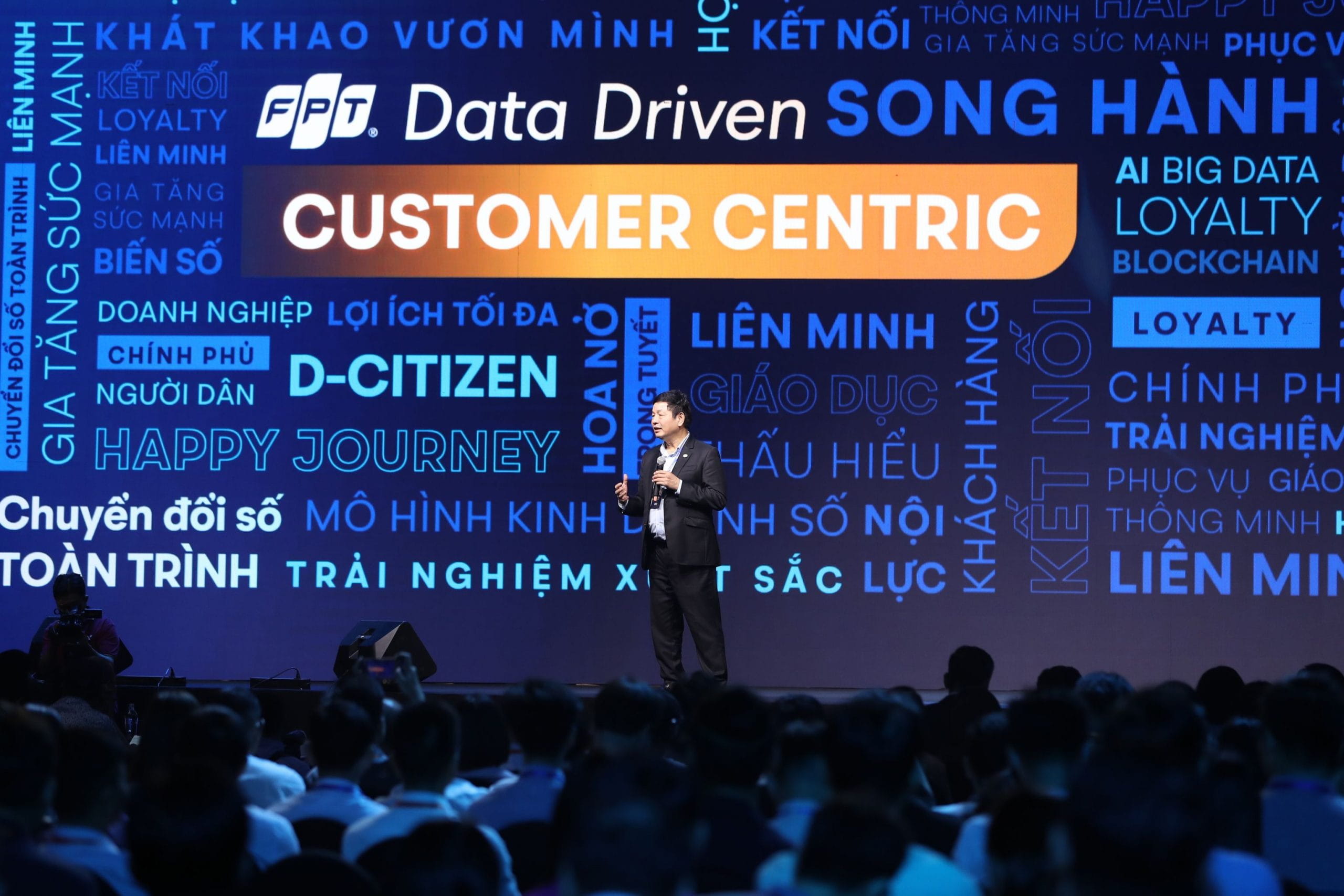 Dr. Truong Gia Binh, FPT Corporation Chairman spoke at FPT Techday 2022 on delivering happiness with technologies
The 2022 FPT Techday featured two intensive tech conferences, with the participation of leaders, tech experts, and consultants from enterprises across industries like Forrester, Schaeffler APAC, IHH Healthcare Berhad, Royale International Group, Prudential Vietnam, TP Bank, and so on.
Packed with keynote speeches, sharing sessions, and discussion panels, 2022 FPT Techday revealed the practical perspectives on resource change management in digital transformation, the promising future for business revolution, and discussing FPT's responsibilities in nurturing the next generation of highly skilled technology practitioners and continue accompanying international clients on their digital transformation journey.
"Our society faced uncertainties as the global pandemic greatly affected the economy. Our governments, businesses, and all people were going through great disruptions, but now is the best time for us to revive, come back stronger, and digital transformation is the way to help." Dr. Truong Gia Binh, FPT Chairman shared in his opening keynote.
"With innovative solution suites based on core technologies AI, Big Data, Blockchain, RPA, and so on, FPT is committed to bringing our worldwide clients world-class digital transformation services through the power of connectivity, accompanying businesses and organizations to recover and achieve success on their future digital journey. We will continue to provide our services based on three core values: intelligent services, deep understanding, and maximum benefits, and deliver happiness to everyone." he added.
About FPT Corporation
FPT Corporation is a globally leading technology and IT services provider headquartered in Vietnam, with nearly US$1.6 billion in revenue and 41,000 employees. As a pioneer in digital transformation, FPT delivers world-class services in Smart factories, Digital platforms, RPA, AI, IoT, Enterprise Mobility, Cloud, AR/VR, Business Applications, Application Services, BPO, and so on. The company has served over 1000+ customers worldwide, 85 of which are Fortune Global 500 companies in Aerospace & Aviation, Automotive, Banking and Finance, Logistics & Transportation, Utilities, and more. For more information, please visit www.fpt-software.com/
Media contact
Mai Duong (Ms.)
FPT Software
PR Manager
Email: [email protected]
Website: https://www.fpt-software.com/newsroom/