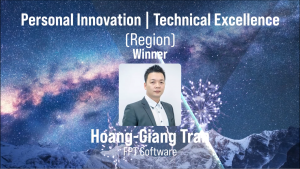 FPT Software's Vice President Tran Hoang Giang was named winner of Personal Innovation Awards in the Regional Technical Excellence category. The result was unveiled on January 21 at State of Innovation, an event organized by Channel Asia – Singapore-based technology news channel under IDG, the world's leading tech media, data and marketing services company.
Tran Hoang Giang has surpassed other outstanding nominees from Cisco, Sophos and Aspire NXT to win first place in Regional Technical Excellence. According to IDG' Editorial Director, Asia Pacific, James Henderson, Giang was recognized for "rising through the ranks at FPT Software in Vietnam, joining the business as a second-year student before advancing to lead the strategic planning and execution of enterprise blockchain platform akaChain."
In 2020, Giang was accepted to Forbes Technology Council, an invitation-only community of world-class technology executives based on his strong expertise and notable achievement with his brainchild akaChain. As Director of akaChain, Giang currently manages more than 100 employees across seven countries to provide ready-made blockchain-backed solutions and make distributed ledger technology a reality for businesses. Through akaChain, he has shown that blockchain applications could go far beyond cryptocurrencies to address complex business problems such as customer loyalty rewards, credit scoring and traceability.
Besides Giang, FPT Software was also honored in other award categories for its innovative products and outstanding individual. FPT Software's akaBot Director Bui Dinh Giap was highly commended in Country Technical Excellence for outlining the vision and strategy for the award-winning RPA platform. The company made finalist shortlist of Partner Value – Enterprise Partner and Emerging Tech – Smart Technology. All the nominees joined Channel Asia Innovation Awards for the first time this year.
Held annually by Channel Asia, Innovation Awards honor exceptional work through customer value and innovation in the Asia-Pacific region. This year, Innovation Awards received a record-breaking number of 332 nominations from over 90 organizations from Singapore, Malaysia, Indonesia, Thailand, Philippines, Vietnam and Myanmar. They were evaluated in seven categories – Partner Value; Emerging Tech; Vendor Value; Distributor Value; Personal Innovation; Channel Choice and Hall of Fame. All awards were judged through the lens of value and unveiled during State of Innovation, a virtual event watched by over 700 technology executives across ASEAN featuring the award ceremony and the launch of State of the Channel research.