FPT Software's products, FPT CloudSuite, akaAT and Usee, were named winners in Business Technology Solution categories of the 19th Annual International Business Awards® today.
The International Business Awards are the world's premier business awards program recognizing excellence in the workplace, from customer services to digital solutions that help transform enterprises. This year, more than 3,700 entries from 67 nations and territories competed in a wide range of categories, including Company of the Year, Best New Product or Service of the Year, Executive of the Year, among many others. Stevie Award winners were determined by the average scores of more than 300 executives worldwide who participated in the judging process in June and July.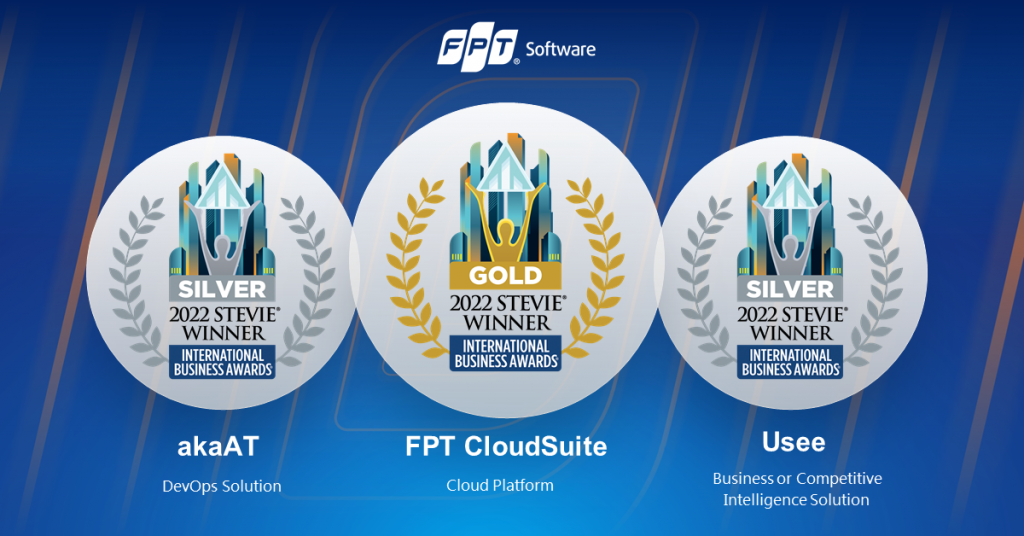 FPT Software's akaAT, FPT CloudSuite and Usee won the 19th Annual International Business Awards®
Winning Gold Stevie® for Cloud Platform, FPT CloudSuite provides solutions for operating and optimizing multi-cloud environments, enabling agility, reducing pitfalls, improving service quality, thereby accelerating the move to the cloud.
Named Silver Stevie® Winner, akaAT is an all-in-one automation testing solution that helps increase productivity and minimize time to market while ensuring the accuracy of the outcomes. akaAT sets sight on developing into an ecosystem of testing solutions, allowing testers, projects and companies to orchestrate and control the testing process better.
Receiving Silver Stevie® for Business or Competitive Intelligence Solution, Usee is a data-driven, Software-as-a-Service-based solution that turns data into demand forecasting with high accuracy. Usee enables businesses to make informed decisions and minimize unexpected incidents that lead to revenue loss or unnecessary increase in operating costs.
These winning nominations are part of FPT Software's digital solutions for optimizing operations across different business processes, thereby accelerating digital transformation process. Earlier this May, these products were also recognized at the 2022 IT World Awards® with Gold, Silver and Bronze Awards.
"This year's class of honorees are as innovative, adventuresome, persistent, and successful as we've ever had", said Stevie Awards president Maggie Miller. "We're thrilled that we're able to return to celebrating Stevie winners in person this year".
Winners will be celebrated during a gala banquet at the InterContinental London Park Lane Hotel, in London, England, on Saturday, 15 October – the first live IBA awards ceremony since 2019.