FPT Software reaffirmed its leading technology capabilities by bagging two titles at the ceremony of Vietnam's Top 10 ICT Companies 2021 Awards on October 9, 2021.
Vietnam's Top 10 ICT Companies is the annual award program organized by Vietnam Software and IT Services Association (VINASA) to honor the best-performing technology and IT services companies in the country. 76 winning companies were selected from 167 participating organizations and sorted in 18 categories by a judging committee comprising 40 industry experts and representatives from ministries and press agencies.
FPT Software has been a frequent winner of this prestigious award program. This year, the company appeared in two top-10 lists for Blockchain Solution Companies and Digital Platform & Information Security Companies. These categories were newly added to this year's award program to honor the leading companies in terms of technological capabilities, proven by their practical solutions and services that address complex business challenges, especially during the COVID-19 pandemic.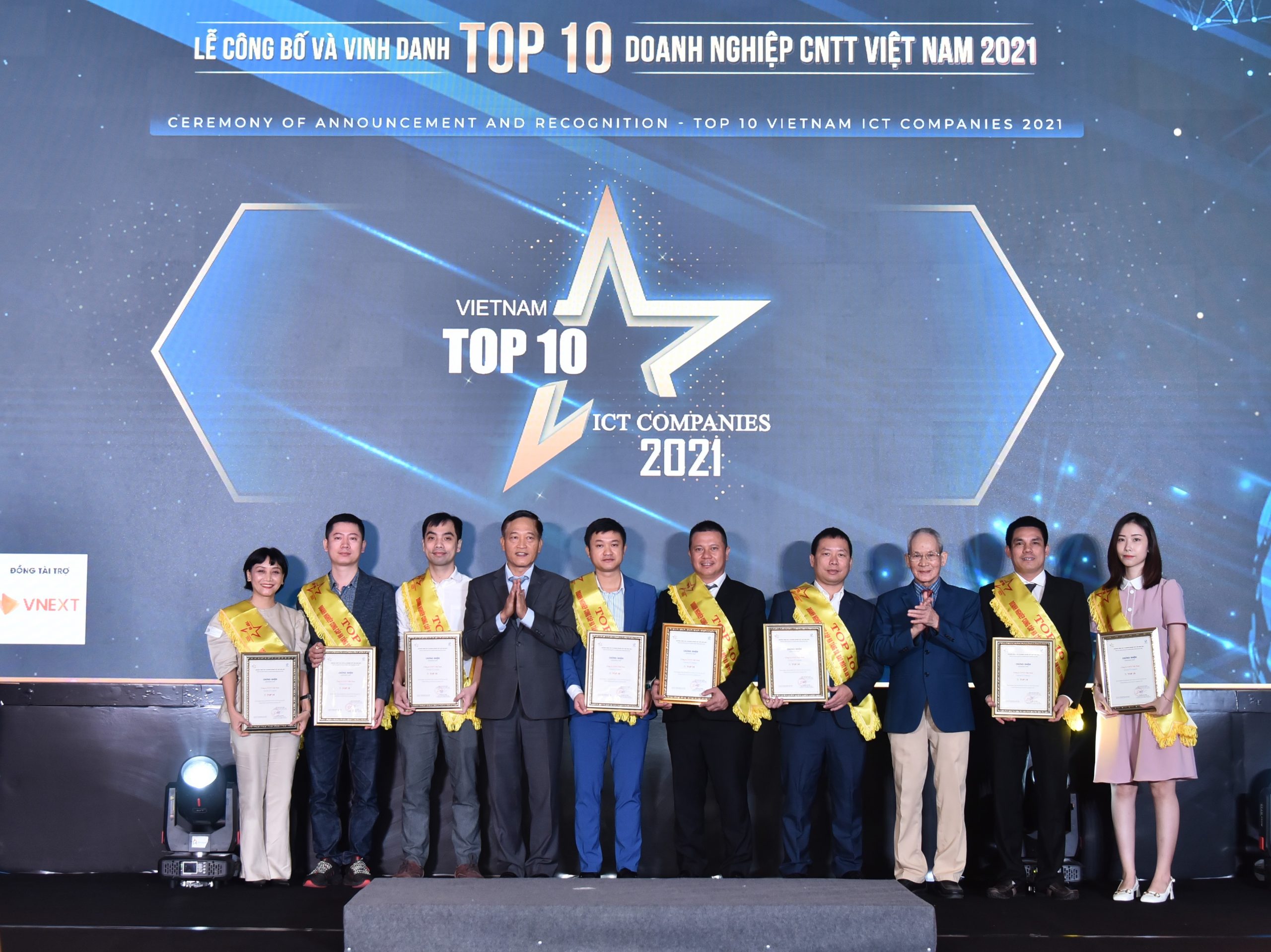 Top 10 ICT Companies 2021 Award Ceremony took place on October 9, 2021 in Hanoi
As Vietnam's largest software company, FPT Software was praised for its outstanding digital solutions under akaChain and FPT CloudSuite. akaChain is the company's blockchain-backed enterprise platform that enables businesses to transform their loyalty and reward network, enhance transparency, traceability and data security. Meanwhile, FPT CloudSuite is a set of solutions for operating and optimizing organizations' multi-Cloud environment, from 24/7 monitoring, ensuring compliance to managing costs and so on. akaChain and FPT CloudSuite are among FPT Software's cutting-edge solutions developed to accelerate the digital transformation journey for businesses worldwide.
Also joining the award program this year, FPT Corporation and other sister companies of FPT Software were named in five other categories including Digital Transformation Platform Providers, Digital Transformation Service/Solution Providers, IT Service/ Solution Providers, Digital Government Solution Providers, and Smart City Solution Providers.
Speaking at the award ceremony, Chairman of VINASA Founders' Council Dr. Truong Gia Binh emphasized the role of Vietnam's leading ICT companies in contributing to a flourishing digital nation. "With the innovative spirit and high aspiration in mind, ICT companies must seize every opportunity and take the lead in the digital transformation process to realize the goal of building a prosperous country. Today's Top-10 companies must take on such critical mission", he noted.