MANILA, Philippines, April 8, 2021 – Vietnam's leading ICT firm FPT Software has announced that it would launch a new office in Philippines' capital Manila on April 13, 2021. The company sets to position itself as a major IT player in the country and build this office into its second-largest delivery center globally.
Despite the ongoing Covid-19 epidemic, Manila has recently been predicted by UK market research firm Oxford Economics to become the second fastest-growing city in Southeast Asia between 2021 and 2035 with an average GDP growth rate of 5.8 percent, just behind Vietnam's Ho Chi Minh City (7.2 percent). The city is home to many technology companies including IBM, Oracle, DXC Technology, and so on.
"As a convergence of both economic resources and talents, Manila is expected to be a major engine for FPT Philippines to grow its business significantly", said FPT Philippines' Managing Director Ralf Mosqueda.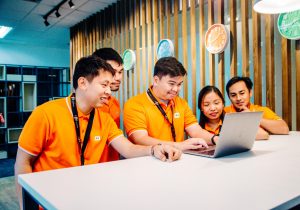 FPT Software's employees in the Philippines
In 2015, FPT Software established its first Philippine office in the country's oldest city Cebu. The company expanded its presence with a second office at IT Park Cebu City four years later. In this market, FPT Software focuses on providing Business Process Outsourcing (BPO) services, Software Services and Managed Services for AMS and IMS targeting English-speaking markets.
Last year in the Philippines, the company achieved growth of up to 30 percent in the number of employees and 65 percent in revenue despite the challenges posed by COVID-19. With the establishment of a new office in Makati, Metro Manila , FPT Software expects to increase its number of employees here by 25 percent to 221 by the end of 2021.
About FPT Software
FPT Software is a global technology and IT services provider headquartered in Vietnam, with more than USD 500 million in revenue and 16,000 employees in 25 countries. As a pioneer in digital transformation, the company delivers world-class services in Smart factory, Digital platforms, RPA, AI, IoT, Cloud, AR/VR, BPO, and more. It has served 700+ customers worldwide, a hundred of which are Fortune Global 500 companies in the industries of Automotive, Banking and Finance, Logistics & Transportation, Utilities, and more. For more information, please visit www.fpt-software.com/
For Business Partnership
Ralf Jay Mosqueda (Mr)
Managing Director, FPT Philippines
For Job Opportunities
[email protected]
+63 917 580 0474 | +63 32 410 6857