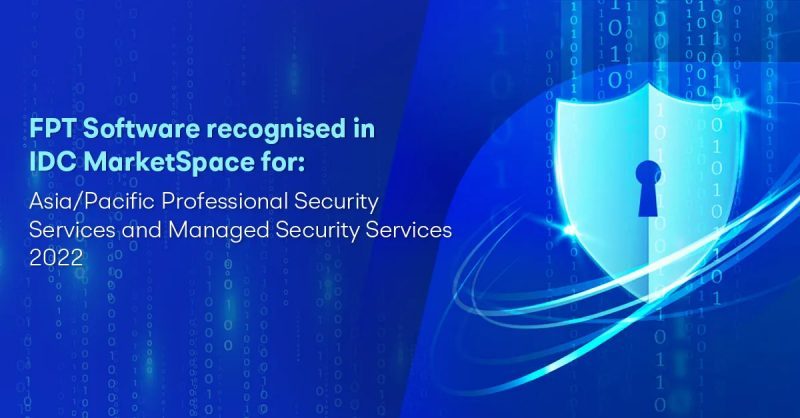 Hanoi, Vietnam – Vietnam's leading ICT firm, FPT Software, was recently named a Major Player in the IDC MarketScape: Asia/Pacific Managed Security Services 2022 Vendor Assessment (doc #AP49101222 , November 2022) and IDC MarketScape: Asia/Pacific Professional Security Services 2022 Vendor Assessment (doc ##AP49101123 , October 2022). This recognition makes FPT Software the first-time ever Vietnamese security service provider has been included in the IDC MarketScape reports for Asia Pacific MSS and PSS.
The IDC MarketScape reports evaluated Security Services Vendors based on various criteria: service portfolios, threat management capabilities, cloud security expertise, go-to-market activities, and thought leadership to help enterprises acquire a deep understanding of each vendors' services and align with their requirements.
According to FPT Software Chief Information Security Officer, Head of Cybersecurity Practice, Pham Tung Duong: "We are thrilled to be the first Vietnamese vendor to be included in these two IDC MarketScape reports. This achievement is a testament to the dedication of our team and the quality of our cybersecurity products and services".
"With the evolving economic and political uncertainties, FPT Software is devoted to accompanying several clients in their digital transformation journeys by continuing to serve as a trusted and reliable partner for their security needs." Duong pledged.
Prior to this recognition, FPT Software has joined the Microsoft Intelligent Security Association (MISA) as the first member in Vietnam. FPT Software is also a member of CREST, emphasizing the company's high-quality cybersecurity knowledge.
About IDC MarketScape:
IDC MarketScape vendor assessment model is designed to provide an overview of the competitive fitness of ICT (information and communications technology) suppliers in a given market. The research methodology utilizes a rigorous scoring methodology based on both qualitative and quantitative criteria that results in a single graphical illustration of each vendor's position within a given market. IDC MarketScape provides a clear framework in which the product and service offerings, capabilities and strategies, and current and future market success factors of IT and telecommunications vendors can be meaningfully compared. The framework also provides technology buyers with a 360-degree assessment of the strengths and weaknesses of current and prospective vendors.
About FPT Software
FPT Software is a global technology and IT services provider headquartered in Vietnam, with more than $632.5 million in revenue and 25,500 employees in 28 countries. As a pioneer in digital transformation, the company delivers world-class services in Smart factories, Digital platforms, RPA, AI, IoT, Cloud, AR/VR, BPO, and more. It has served 1000+ customers worldwide, a hundred of which are Fortune Global 500 companies in Automotive, Banking and Finance, Logistics & Transportation, Utilities, and more. For further information, please visit http://www.fpt-software.com
Media contact
Mai Duong (Ms.)
FPT Software
PR Manager
Email: [email protected]