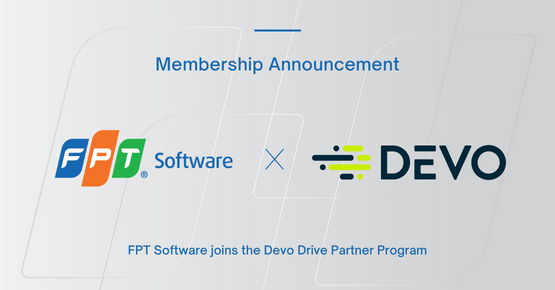 HANOI, Vietnam, 18 November 2022 – FPT Software, one of Southeast Asia's leading ICT companies, announced today it has joined the Devo Drive Partner Program by Devo Technology, providing their customers the ability to transform their SOC with the speed and scale of a true next-gen, cloud-native SIEM.
FPT Software's customers can now benefit from the Devo Platform's fast, scalable data collection, powerful analytics, automation, and on-demand access to expertly curated security content that enables the enterprise to easily onboard more SOC analysts and ingest more data to get the insights they need easily and in real time.
"The Devo solution is the perfect complement to FPT Software's growing portfolio. With the continuously evolving threat landscape and the challenges organizations face protecting intellectual property and data, we will play a significant role in expanding the Devo presence with our global reach in nearly 30 countries and territories. We're excited to get started," shared Pham Tung Duong, Chief of Information Security, FPT Software.
With the Silver Partner badge, Devo commits to building ready-to-deploy technical integrations that offer additional values to FPT Software's customers. Aligning business goals and resources will unlock innovation that delights customers, increases brand awareness for both parties, and creates new monetization opportunities.
"We are excited to have FPT Software join Devo Drive and support them as they empower their customers to realize the full potential of all their data," said Gary Pelczar, Vice President ofGlobal Alliances and Channel at Devo. "As the global threat landscape continues to expand at an unprecedented pace, it's critical that companies like Devo and FPT Software partner to bring the best security innovations to organizations, giving them the necessary technology to combat threats."
About FPT Software
FPT Software is a global technology and IT services provider headquartered in Vietnam, with more than USD 632.5 million in revenue and 25,500 employees in 27 countries. As a pioneer in digital transformation, the company delivers world-class services in Smart factory, Digital platforms, RPA, AI, IoT, Cloud, AR/VR, BPO, and more. It has served 1,000+ customers worldwide, a hundred of which are Fortune Global 500 companies in the industries of Automotive, Banking and Finance, Logistics & Transportation, Utilities, and more. For further information, please visit http://www.fpt-software.com.
About Devo
Devo is the only cloud-native logging and security analytics platform that releases the full potential of your data to empower bold, confident action. With unrivaled scale to collect all of your data without compromise, speed to give you immediate access and answers, and clarity to focus on the signals that matter most, Devo is your ally in protecting your organization today and tomorrow. Headquartered in Cambridge, Massachusetts, with operations in North America, Europe and Asia-Pacific, Devo is backed by Insight Partners, Georgian, TCV, General Atlantic, Bessemer Venture Partners, Kibo Ventures and Eurazeo. Learn more at www.devo.com
Media contact
Mai Duong (Ms.)
FPT Software
PR Manager
Email: [email protected]
Website: https://www.fpt-software.com/newsroom/