FPT Software celebrated its 15th anniversary since entering the French market on May 11th 2023, honouring memorable milestones and important partnerships. On this occasion, the global technology services provider also announced its ambition to become one of France's 50 best IT companies in the next five years.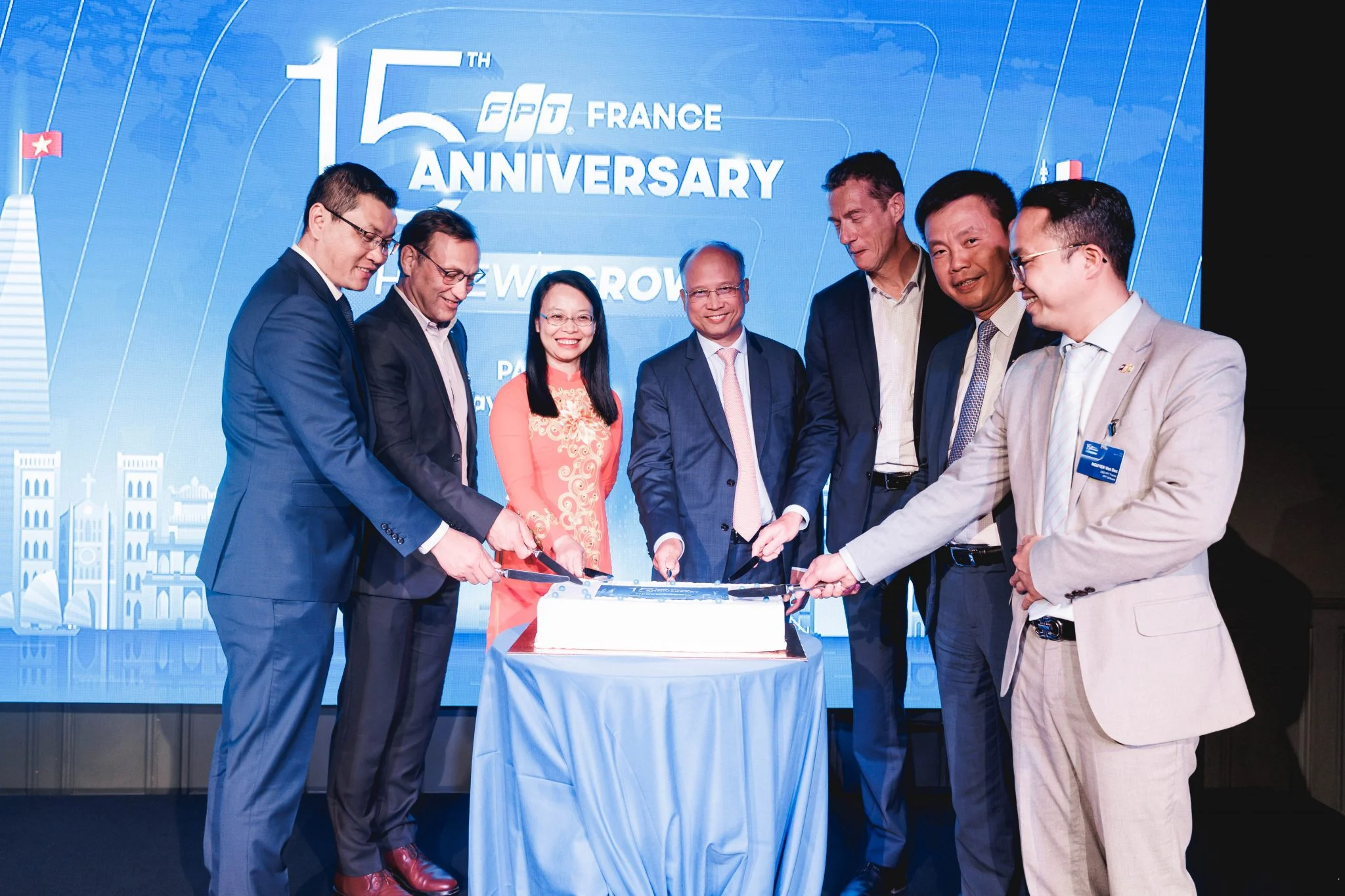 The event welcomed Mr. Dinh Toan Thang – Vietnamese Ambassador in France (middle), Ms. Chu Thi Thanh Ha – FPT Software Chairwoman (red ao dai) and Mr. Pham Minh Tuan – FPT Software CEO (second from right), together with representatives from strategic partners.
Themed "Here We Grow", the anniversary celebration revisited FPT Software's growth journey in the French market and highlighted the company's ambitious plan for the future. According to FPT Software Chairwoman Chu Thi Thanh Ha, France is among FPT Software's largest and most important markets in Europe. As a trusted IT partner of many French clients, FPT Software has actively strengthened the bilateral cooperation between Vietnam and France, especially in the business and IT sectors. Its contribution was applauded by Ambassador Dinh Toan Thang, who attended the event and congratulated FPT Software on this important milestone.
"The journey ahead will see FPT Software expanding our presence to all major cities in France and growing our workforce to over 500 experts to enhance support for French clients.", FPT Software Chairwoman Chu Thi Thanh Ha said. "In accompanying our clients to the future of technology, FPT Software also sets our goal to be the nation's top 50 IT companies, and we look forward to more support and collaboration from you", she pledged.
CEO Pham Minh Tuan also acknowledged the importance of France for FPT Software, being "one of our very first ventures to the world." The journey did and will continue to see the subsidiary's dedication and commitment to the highest level of services to its French clients, existing and new. Paying tribute to some of the company's longest-standing partners in France, the CEO presented representatives from Quadient, Airbus and Geopost with a memorial trophy, symbolising FPT Software's devotion and promise.
First established in 2008, FPT Software's French subsidiary has grown from a small team of 5 to 400 experts working at 2 offices in Paris and Toulouse, serving various clients across industries with focuses on Big Data, AUTOSAR, SAP and Cloud services. In 2023, the subsidiary plans to expand its presence to Nice and Sophia Antipolis, with other offices planned in Bordeaux, Lyon, Strasbourg and more. FPT Software also aims to establish an FPT campus where hundreds of FPT employees can have the best working environment possible and create positive impacts on the local technology community.