Munich, Germany – May 4th, 2023 – FPT Software and IONITY recently extended their strategic partnership: FPT will support the leading pan-European high-power charging network for electric vehicles in upgrading its customer services. As such, IONITY will leverage FPT's best-shore delivery model to maximise its operational efficiency.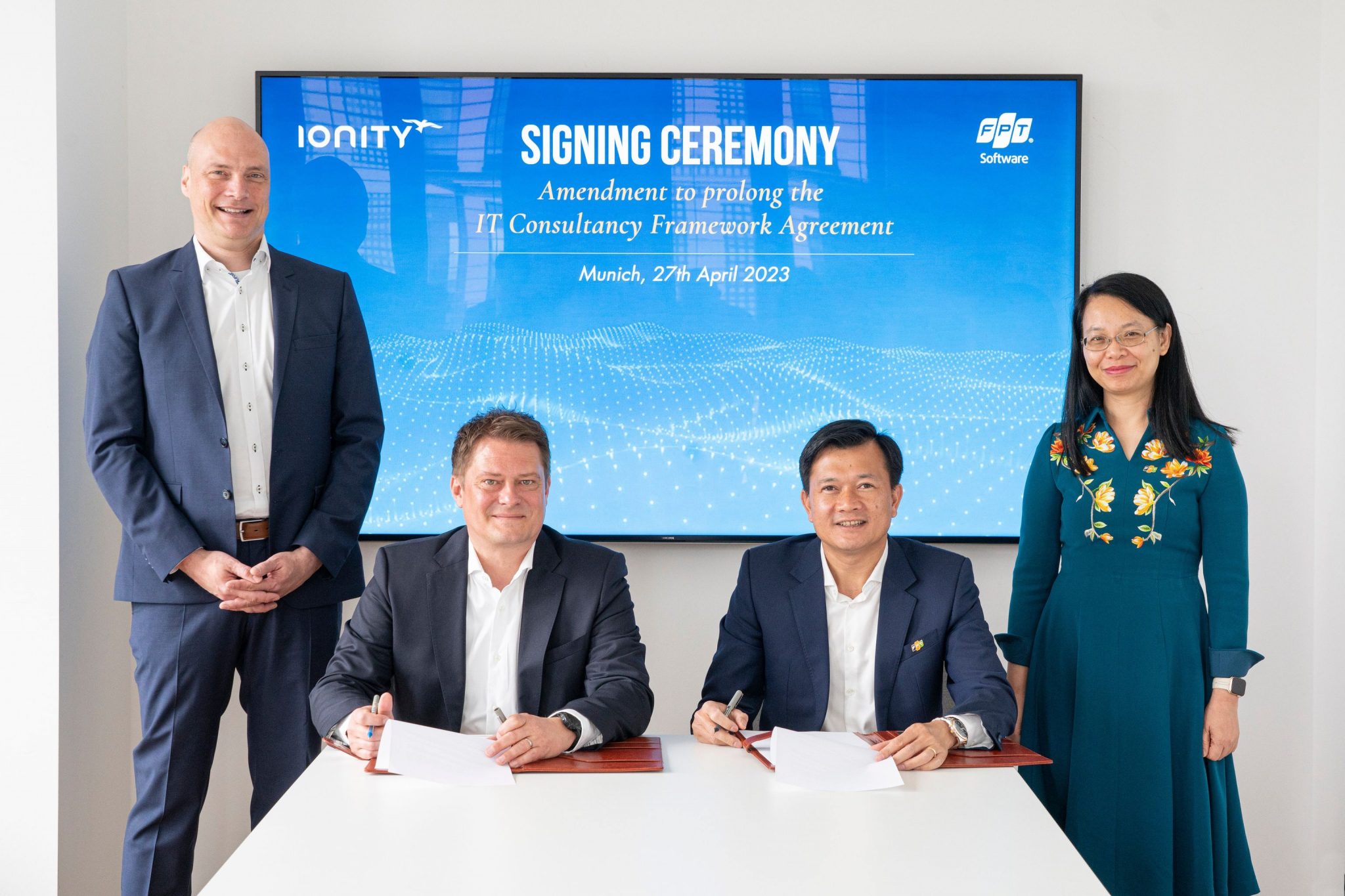 From left to right: Holger Riemenschneider, Head of IT at IONITY, Michael Hajesch, CEO of IONITY, Le Hai, CEO of FPT Software Europe, Chu Thi Thanh Ha, Chairwoman of FPT Software
FPT Software's best-shore delivery model for the European market involves a dense network of five local offices in Europe, including Germany, Belgium, Netherlands, and Scandinavia; three nearshore offices in Slovakia, the Czech Republic and Romania; three offshore locations in Vietnam, India and the Philippines. It allows local tech experts to proactively work with offshore teams to allocate resources, manage projects and ensure the delivery timeline and quality.
IONITY aims to further digitize its network management, including remote maintenance, to offer best-in-class services and enhanced customer experience. In this context, FPT Software will provide a comprehensive suite of SAP implementation and IT Services ranging from consultancy to development to end-to-end testing. The team will be staffed from FPT's European and offshore offices.
"The key to best-shore is to support our clients anywhere, anytime, especially in case of a resource bottleneck. By leveraging the foundation of this partnership, taking best-shore as a new delivery model, FPT Software aims to expand our outreach and possibilities in the competitive tech industry", Hai Le, FPT Software Europe CEO.
"IONITY has been one of FPT Software's strategic alliances for many years. We aim to continue strengthening this relationship with professionalism and provide our customers with market and technology know-how to accelerate the digitalization of their business processes," he added.
"Digital, connected services will allow us to enhance the customer experience continuously", said Michael Hajesch, CEO and Managing Director at IONITY. "We have been successfully collaborating with FPT Software on SAP services and solutions since 2021 and look forward to extending our partnership."
About FPT Software
FPT Software is a global technology and IT services provider headquartered in Vietnam, with $803 million in revenue and over 27,000 employees in 27 countries. As a pioneer in digital transformation, the company delivers world-class services in Smart factories, Digital platforms, RPA, AI, IoT, Cloud, AR/VR, BPO, and more. It has served 1000+ customers worldwide, nearly a hundred of which are Fortune Global 500 companies in Automotive, Banking and Finance, Logistics & Transportation, Utilities, and more. For further information, please visit http://www.fpt-software.com
About IONITY
IONITY is building and operating the largest open brand high-power charging (HPC) network along European highways. The HPC charging capacity of up to 350 kW allows maximum charging speeds. As a commitment to sustainability, IONITY sources renewable energy only for both emission-free and carbon neutral driving. At the end of 2022, the IONITY HPC network counted more than 450 charging stations and more than 2.000 charging points in 24 European countries.
Founded in 2017, IONITY is a joint venture of the car manufacturers BMW Group, Ford Motor Company, Hyundai Motor Group, Mercedes Benz AG and Volkswagen Group with Audi and Porsche, along with BlackRock's Global Renewable Power platform as financial investor. The company is headquartered in Munich, Germany, with additional offices in Dortmund and outside Norway's capital Oslo. IONITY is an internationally registered trademark. For more information, please visit www.ionity.eu
Contact
Mai Duong (Ms.)
FPT Software
PR Manager