HANOI, Vietnam – FPT Software, a global IT and technology services provider headquartered in Vietnam, recently announced a partnership with Frends, a leading Nordic Integration Platform as a Service (iPaaS) provider. Leveraging both sides' strengths and technological capabilities, the strategic alliance will empower enterprises to accelerate their digital transformation journeys through innovative integration solutions.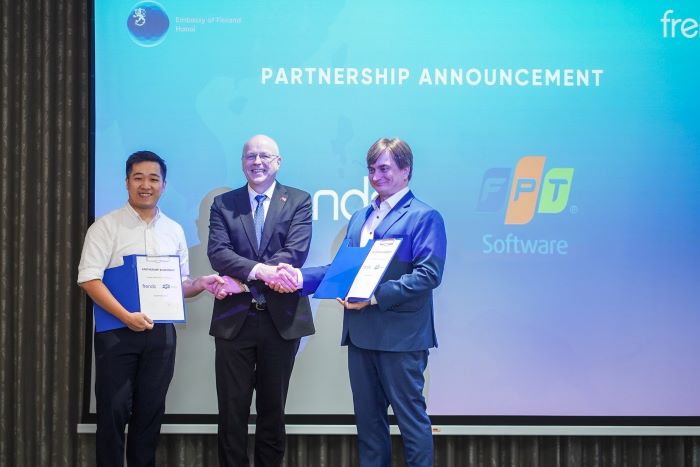 The partnership signing ceremony was held on September 11th, 2023, in Hanoi, with the participation of H.E Keijo Norvanto, the Ambassador of Finland to Vietnam.
Frends' Integration Platform as a Service (iPaaS) complements FPT Software's expertise by providing a comprehensive and intuitive low-code platform. Combining Frends iPaaS' extensive library of plug-and-play connectors, automated data integration capabilities, and straightforward installation in hybrid multi-cloud environments with FPT Software's global presence and
"Our strategic shift towards iPaaS underscores our commitment to addressing the evolving needs of the business landscape," shared Nguyen Luu Bach, Global Head of Digital Commerce & Experience at FPT Software. "We have seen strong customer demand for digital transformation solutions, especially to streamline integrations and enhance existing technological capabilities. This partnership will drive more innovative solutions and support a wider range of global customers."
As an initial phase, this partnership will focus on serving customers in Vietnam and Finland. Subsequently, the expansion will be approached case-by-case, targeting markets where Frends maintains a strong presence or an existing customer base in Southeast Asia, such as Malaysia and Singapore.
"We are thrilled to join forces with FPT Software, a recognized leader in the global technology landscape. Together, we will help more businesses thrive in the digital era by simplifying integration challenges and enabling rapid digital transformation. I am personally very pleased with how the collaboration has started, and I look forward to driving smooth integrations together with FPT Software," says Jari Myllylä, VP of Pre-Sales at Frends.
About FPT Software:
FPT Software, a subsidiary of FPT Corporation, is a global technology and IT services provider headquartered in Vietnam, with $803 million in revenue (2022) and 27,000 employees in 28 countries.
The company champions complex business opportunities and challenges with its world-class services in Advanced Analytics, AI, Digital Platforms, Cloud, Hyperautomation, IoT, Low-code, and so on. It has partnered with 1,000+ clients worldwide, 89 of which are Fortune Global 500 companies in Aviation, Automotive, Banking, Financial Services and Insurance, Healthcare, Logistics, Manufacturing, Utilities, and more. For more information, please visit http://www.fptsoftware.com.
About Frends:
Frends iPaaS is a lean, low-code, and hybrid Integration Platform as a Service that seamlessly connects systems, automates processes, and enhances operational efficiency.
Frends is represented in the leadership quadrant of G2 in the API Management and iPaaS Europe Categories. Moreover, Frends is recognized in the 2023 Gartner® Magic Quadrant™ for Integration Platform as a Service, worldwide.
Contact
Mai Duong (Ms.)
FPT Software
PR Manager
[email protected]