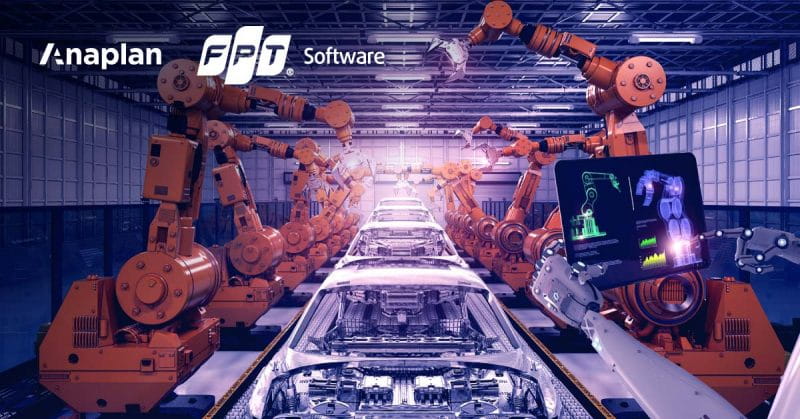 Hanoi, Vietnam – FPT Software, Vietnam's leading technology and IT services provider recently entered a strategic partnership with business planning and decision-making platform Anaplan Asia Pacific. As Anaplan Asia Pacific's regional integration partner, FPT Software sets to deliver cloud-based Enterprises Performance Management to businesses across Southeast Asia.
The alliance expands Anaplan's reach to new customer segments in FPT Software's world-leading digital transformation portfolio throughout the Southeast Asia region. Businesses customers will be able to boost their performance with enterprise-wide planning, data collection and data analysis. Furthermore, through leveraging both sides' capabilities, the partnership also focuses on promoting continuous collaboration among finance and operations departments.
As the fourth largest trading and consuming region in the world, with one of the largest digitally savvy segments, businesses in Southeast Asia are investing in building new digital capabilities and technologies to maintain competitiveness. Research by Altimeter reveals that most leaders in Southeast Asia (72%) not only sponsor digital transformation in spirit they also consider digital transformation as one of their top three business priorities in the year ahead.
Led by FPT Software's Digital Transformation Group, the partnership combines FPT Software's expertise in leveraging digital technologies with Anaplan's connected planning platform. FPT Software's customers in several industries: automotive, manufacturing, logistics & transportation, and utilities will be able to harness the unique power of Anaplan's planning, forecasting, and decision-making capabilities. Hence, to elevate their finance, supply chain, sales, marketing, and workforce performances. With planning solutions that connect data and illuminate blind spots across departments, enterprises can build a single source of truth, eliminate the need for estimations and access the intelligence necessary to prepare confidently for an uncertain future.
"The partnership with Anaplan will enable FPT Software to extend its outreach in the Digital Transformation services portfolio. We're glad that Anaplan shares the same vision in cloud infrastructure while bringing in valuable offerings in business planning. Through this partnership with Anaplan, we're rolling up our sleeves to strengthen our capabilities in Cloud Financial Planning to better assist our clients, especially those from the Fortune 500, as these enterprises have an established view regarding business strategy." Frank Bignone, Vice President and Head of Global Digital Transformation at FPT Software pledged.
Mark Micallef, Asia-Pacific Senior Vice President and Managing Director, Anaplan said: "Enterprises across Southeast Asia from many industries have embraced Anaplan to accelerate decision-making, drive efficiencies and stay resilient. Our collaboration with FPT Software will enable customers to create a digital backbone for their organisations, and confidently build agile, forward-looking plans that fuel innovation and growth across finance, supply chain, workforce, and sales."
About Anaplan
Anaplan is a transformative way to see, plan, and run your business. Using our proprietary HyperblockTM technology, Anaplan lets you contextualize real-time performance, and forecast future outcomes for faster, confident decisions. Anaplan enables connected strategy and planning across your enterprise to move your business forward. Based in San Francisco, Anaplan has over 200 partners and more than 2,000 customers worldwide.
To learn more, visit www.anaplan.com.
Media contact: Kate Hegarty – [email protected]
About FPT Software
FPT Software is a global technology and IT services provider headquartered in Vietnam, with more than $632.5 million in revenue and 25,500 employees in 28 countries. As a pioneer in digital transformation, the company delivers world-class services in Smart factories, Digital platforms, RPA, AI, IoT, Cloud, AR/VR, BPO, and more. It has served 1000+ customers worldwide, a hundred of which are Fortune Global 500 companies in Automotive, Banking and Finance, Logistics & Transportation, Utilities, and more. For further information, please visit  http://www.fpt-software.com
Media contact
Mai Duong (Ms.)
FPT Software
PR Manager
Email: [email protected]
Website: https://www.fpt-software.com/newsroom/