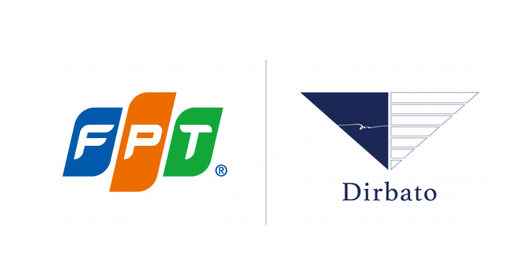 HANOI, Vietnam, 21 September 2021 – On September 1, 2021, Vietnam's largest tech firm FPT and Japan-based IT-consulting company Dirbato have signed a Memorandum of Understanding (MoU) for cooperation in Digital Transformation (DX), system development and outsourcing areas. This strategic partnership seeks to improve DX services for Japanese and Southeast Asian customers.
By virtue of this MoU, both companies will explore the "Collaborative Innovation" project. FPT will maximize Dirbato's technical consulting capabilities to provide domestic and Southeast Asian customers with more advanced and value-added services through digital transformation services, leveraging both parties' talents and resources.
Meanwhile, Dirbato will provide faster, higher value-added digital transformation services by utilizing FPT's DX methodology and digital technologies in addition to its conventional strengths of IT consulting. Dirbato will also collaborate with FPT's delivery centers in Vietnam to expand business area such as outsourcing (BPO/AMS/ITSO) for system development, application, infrastructure maintenance and operation at a competitive price. The provision of services will be promoted to clients in both Japan and Southeast Asia.
"We are extremely pleased to collaborate with FPT, Vietnam's largest IT company, and join its efforts to drive digital transformation in the region. FPT owns world-class DX methodologies and technology, as well as system development and outsourcing delivery centers in Vietnam," said Shin Aoki, partner at Dirbato.
Aoki also highlighted that this collaboration would allow Dirbato to uphold its mission of "Bringing pleasure to the world with technology" to customers in Japan and Southeast Asia.
"Through this partnership, FPT is willing to extend and develop even further its support for customers looking for digital solutions that make a difference. Together with Dirbato, we will solve all companies' most stringent challenges to their business in Japan and Southeast Asia," affirmed Frank Bignone, Chief Digital Technology Officer of FPT Japan.
"We believe that by allying FPT's digital delivery excellence with expert consultancy engagement from Dirbato in domains like legacy migration, cloud and data transformation, design thinking, business process and customer engagement transformation, Japanese businesses will find competitive solutions for their important daily challenges", he added.
About FPT Corporation
FPT Corporation is a global leading technology and IT services provider headquartered in Vietnam, with nearly US$1.3 billion in revenue and 36,000 employees in 26 countries and territories. As a pioneer in digital transformation, FPT delivers world-class services in Smart factory, Digital platforms, RPA, AI, IoT, Enterprise Mobility, Cloud, AR/VR, Business Applications, Application Services, BPO, and so on. The company has served over 700+ customers worldwide, a hundred of which are Fortune Global 500 companies in the industries of Aerospace & Aviation, Automotive, Banking and Finance, Logistics & Transportation, Utilities and more.
About Dirbato Co., Ltd
Dirbato is a group of specialists utilizing digital technology to solve the problems of companies and the world. Focusing on global trends from the perspectives of both business and technology, Dirbato continues to create new value. The support Dirbato provides is multi-faceted, from AI, big data and other leading-edge technologies through to mission-critical systems and other core systems that help support companies. The company is also expanding its field of services by establishing business links with companies involved in projects that are achieving results on a global scale.