HANOI, Vietnam – April 14, 2023 – FPT Corporation (FPT) announced its business directions for 2023 onwards at the 2023 Annual General Meeting. The company highlighted a strategy to build a happier future through technological innovations.
The strategy, titled Digital Conglomerate 5.0, aims at creating a happier future for people, success for organizations and prosperity for the nation. To achieve this ambition, FPT plans to have a workforce of one million by 2035, dedicated to accelerating its domestic and global digital transformation efforts and utilizing in-depth knowledge and insights across different industries and geographical markets. The best, most true-to-life products, services and experiences will be delivered through a digital conglomerate backed by AI-enabled solutions and integrated, interconnected data across the FPT ecosystem and network of partners. These allow any end-user to be fully identified, served at any touchpoint, and conveniently communicated through various channels.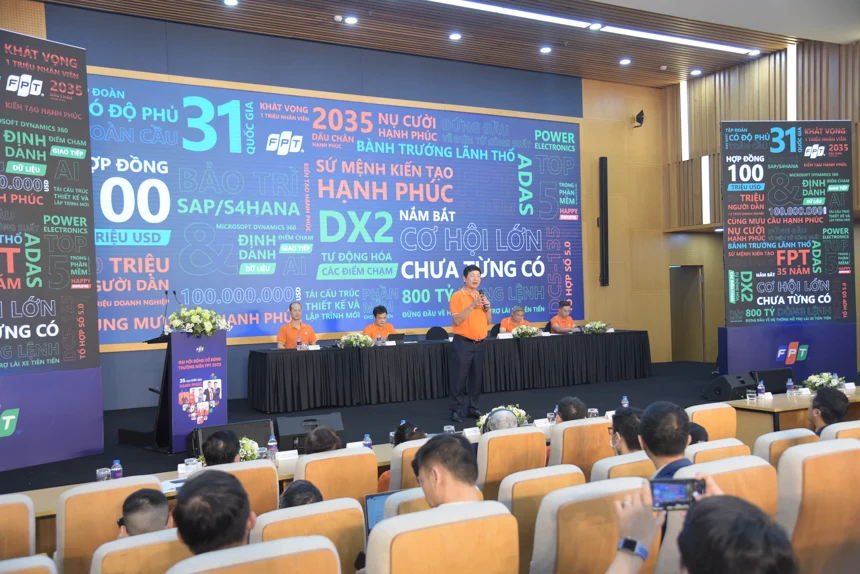 FPT's 2023 Annual General Meeting was held in Hanoi, Vietnam
"At the 35th year of development, FPT will seize the unprecedented opportunity to be the pioneer in the global scene of digital transformation," said FPT Chairman Truong Gia Binh.
"Digital transformation used to focus on automating enterprise operations. Now, we are taking it to the next level by optimizing the entire ecosystem and automating touchpoints between citizens, authorities, and businesses. FPT will lead the way in building a happier future for millions of end customers," he added.
Despite the anticipated slowing growth of the global economy, FPT also announced its prospect increase of 18.8 percent in revenue and 18.2 percent in profit before tax in 2023 as it supports a larger and more diverse client base worldwide. FPT's subsidiary, FPT Software – a globally leading technology and IT services provider – contributes greatly to this sustainable growth.
With strengths in speed and scalability, FPT Software is accelerating its growth as one of the world's contenders in digital transformation, as well as creating more values for customers and partners worldwide. Following this direction, the company has been investing in developing new products, platforms, and solutions based on core technologies such as AI, Blockchain, Cloud, Big Data, Hyperautomation, IoT and more, while expanding its global presence. FPT Software recently completed an M&A deal with Intertec to further strengthen its delivery capabilities in the Americas.
About FPT Corporation
FPT Corporation (FPT) is a globally leading technology and IT services provider headquartered in Vietnam. FPT operates in three core sectors: Technology, Telecommunications, and Education. During over three decades of development, FPT has constantly provided practical and effective products to millions of people and tens of thousands of business and non-business organizations worldwide, establishing Vietnam's position on the global tech map. Keeping up with the latest market trends and emerging technologies, FPT has developed the Made-by-FPT ecosystem of services, products, solutions and platforms, which enables sustainable growth for organizations and businesses and offers distinctive experiences to customers. In 2022, FPT recorded total revenue of US$1.87 billion and 40,000+ employees. For more information, please visit FPT Corporation
About FPT Software
FPT Software, a subsidiary of FPT Corporation, is a global technology and IT services provider headquartered in Vietnam, with $803 million in revenue and over 27,000 employees in 27 countries. As a pioneer in digital transformation, FPT Software delivers world-class services in Smart factories, Digital platforms, RPA, AI, IoT, Enterprise Mobility, Cloud, AR/VR, Business Applications, Application Services, BPO, and so on. The company has served over 1,000+ customers worldwide, 89 of which are Fortune Global 500 companies in Aerospace & Aviation, Automotive, Banking and Finance, Logistics & Transportation, Utilities, and more. For more information, please visit FPT Software
Media Contact
Mai Duong (Ms.)
FPT Software
PR Manager
Email: [email protected]