Hosted by FPT Software and VnExpress, the recent talk show "Women in Tech: Break Through The Barriers" featured women leaders from E.ON, IBM Vietnam, FPT Software, and FPT Slovakia, an overseas branch of FPT Software, attracting over 200 participants attending in-person and 4,000 on the livestream. Throughout the session, the speakers highlighted women's role in technology while discussing existing barriers, calling tech businesses to provide a gender-balanced working environment, more training, and women-focused supporting policies.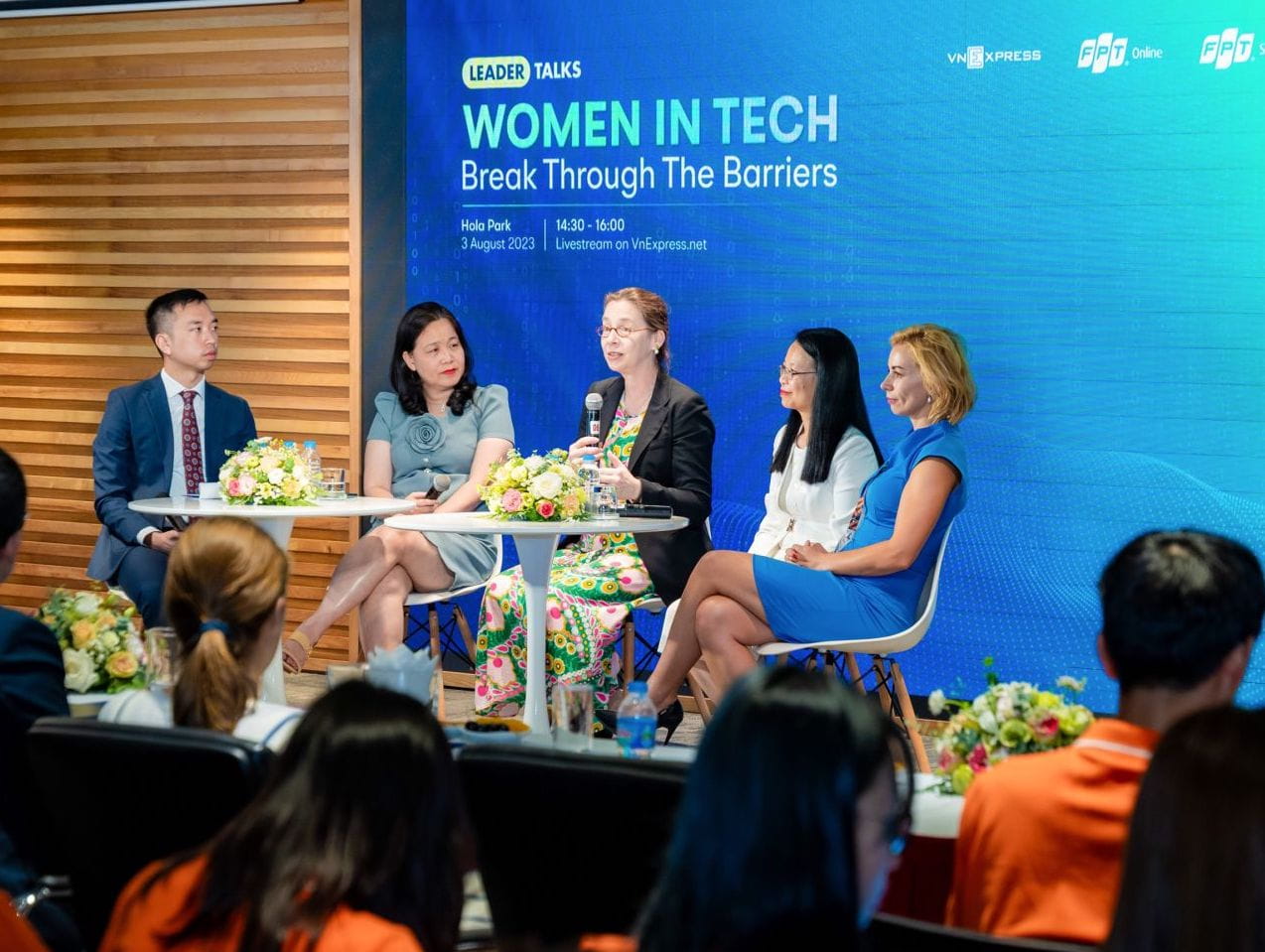 L to R: Host Hao Tran, Ms. Pham Thi Thu Diep, Country General Manager and Technology Leader of IBM Vietnam; Ms. Victoria Ossadnik, COO and Board Member of E.ON; Ms. Chu Thi Thanh Ha, Chairwoman of FPT Software and Ms. Lenka Prevuznakova, Unit and SDM Manager of FPT Slovakia.
Women are instrumental in technology
As more companies shift their human resources focus on diversity, equity, and inclusion, women's role is increasingly becoming vital in business. The technology industry also requires women's presence as they are sophisticated and understanding — "A business without women may lose customers," Ms. Victoria Ossadnik, COO and Board Member of E.ON, stated.

Elaborating this sentiment, Ms. Chu Thi Thanh Ha, Chairwoman of FPT Software, said: "At FPT Software, we have the concept of 'People Pyramid' of which the three bottom edges — One Team, Learning, and Happy Environment — form the foundation of a company. Interestingly, these factors seem to be women's strengths as we are tenacious, diligent, and never give up. For that, women play a remarkable part in strengthening the foundation of the company in the long term."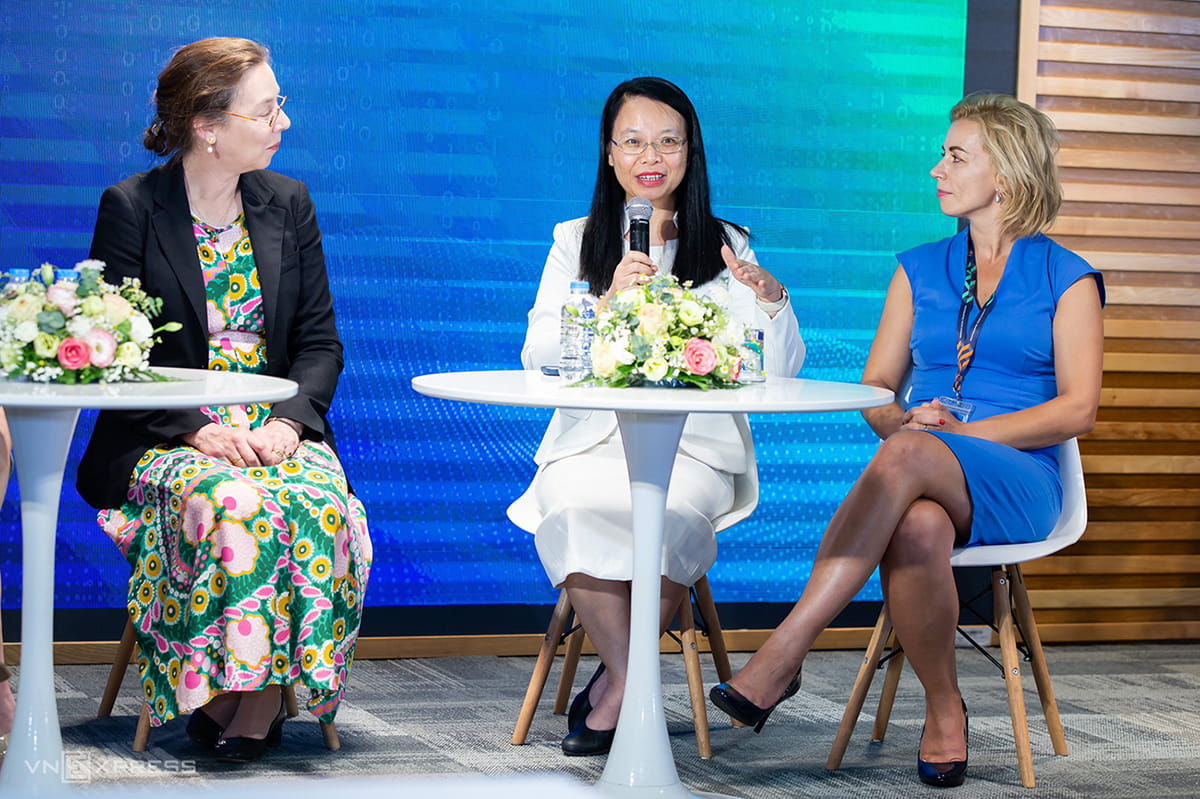 From 2019 to 2022, the number of women in this male-dominated industry grew by 6%, with technical positions witnessing a growth of 11,7% and 20% for leadership. At FPT Software, female employees account for 30% of the workforce and 33% of all managerial roles. Especially in Europe, women make up 32% of the company's delivery workforce – Ms. Ha added.
Nevertheless, this figure is still humble on an industrial scale as not many companies in Asia have women representing over 30% of their workforce.
Overcome the barriers – How can companies help?
From long-term experience, all speakers understand the social and family difficulties for women pursuing careers in technology. Notably, the pressure of balancing their career and family care responsibilities has left them with limited time and resources for work and career advancement opportunities.
To ease the burden, companies need to provide more women-focused policies. For instance, Ms. Ha shared that FPT Software had carried out many solutions such as the mentor-mentee program, annual leader rotation program, or recognition system to help female employees to diversify their experiences, develop their skills and abilities, better engage in technology, and find what is most suitable for them. Additionally, many projects in FPT Software and other subsidiaries of FPT Corporation require a certain percentage of female members before operation. Following the same path, according to Ms. Diep, IBM has created several programs to help women advance in their careers, supporting them to change their positions to develop new skills and better match their situation.
Gender bias is just a thought
Aside from the challenges and barriers, "to stay successful in the always-changing technology industry and fast-paced globalization, we need to be updated, innovative, and constantly move forward," Ms. Ha said.
Another mutual takeaway is confidence. Ms. Diep claimed that, as IBM's first female leader in 25 years of operations in the Vietnamese market, pressure is unavoidable. "However, when you are confident, you can do it," she emphasized.
As for Ms. Lenka Prevuznakova, women are brilliant and can do so much if they have confidence — "Nowadays, men and women are equal; and gender bias is just a thought. Let's find our strengths and be confident; we will contribute great value."
Similarly, Ms. Victoria Ossadnik highlighted that women must be confident in any role while understanding what needs to be done instead of blindly exerting all their efforts — "Ladies, conquer all obstacles and believe in yourselves," she urged.