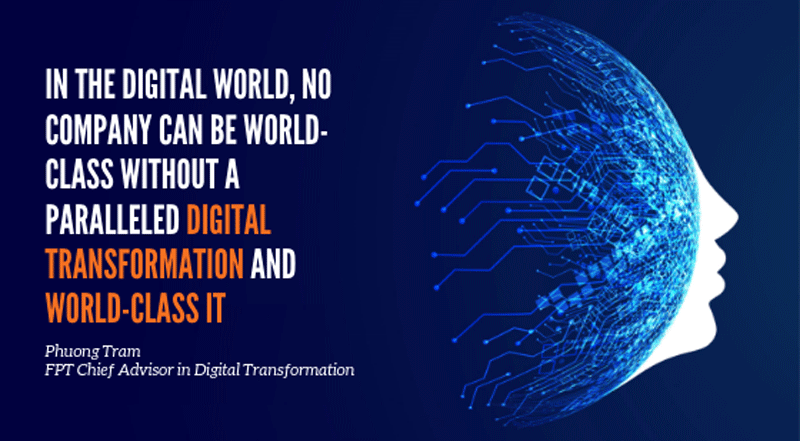 The Hackett Group once defined world-class IT organizations as those that managed to cut costs and enhance productivity better than others. But FPT's Chief Advisor in Digital Transformation Phuong Tram had another view.
"In the digital world, no company can be world-class without a paralleled digital transformation and world-class IT", he said.
Tram was once former Chief Information Officer at DuPont and currently serves as a board member of the Washington-based Technology Business Management Council, AT&T's Executive Customers Advisory Board, Dell-EMC CIO Advisory Board, and Salesforce's CIO Advisory Board and Research Board. In a keynote speech at the Global DX Summit last month, he proudly shared with us his own learnings after decades of leading and advising world-class companies on digital transformation.
"About six years ago at DuPont, we set ourselves a world-class company in IT. The first thing I did was to build data", he said.
"In a fast world, the secret is not really about system integration. That comes later. But it really has to start with data harmonization, or harmonizing data from different sources, whether it is from machine, ERP, CRM or desktop. The ability to harmonize data in near real-time is exactly the first thing you have to go through".
The second thing, according to Tram, is Enterprise Resource planning (ERP) harmonization, or bringing value to the business while harmonizing the ERP landscape. "You focus on the things that are furthermost away from the customers, surprisingly. But that is where you get efficiency".
"And then you do very fast heritage clean-up", Tram added. "You can take any legacy and turn them into component micro services. You modernize the legacy systems and eliminate the costs. That is how you fund your IT. You take 4 million and turn it into 400 million dollars."
Back in the 1990s, Tram led DuPont to be the avant-garde and the first company in the world to adopt Window 365, replacing Lotus Notes, hundreds of Lotus applications, collaborations environment and repository. His clear and seamless digitalization strategy helped the company save half of billions of IT costs and reduce legacy systems from 6,000 applications to 1,100 within three years.
"Every year I returned 60% from the IT capital that my CEO gave to me", he proudly said.
Tram also emphasized on the role of CIO in an aspiring world-class digital company. "There are two types of CIOs. There are CIOs that run operational excellence, cost reduction, efficiency, response time, excellent supply chain. Also there are also CIOs would drive transformation, drive revenue growth, and actually create new business models. The new world require the CIOs to be both".