On Jan 32 (Jan 24 Vietnam time), the world's powerful business and political leaders descend on Davos, Switzerland, as the annual gathering of the World Economic Forum began. FPT Group and leaders from top 24 global companies such as Airbus, Allianz, Facebook, Siemens, Paypal and more assembled in the Business Breakfast with Vietnam Prime Minister Nguyen Xuan Phuc in the framework of Davos World Economic Forum 2019.
 The Business Breakfast were co-hosted by FPT Group and the Ministry of Information & Communication. Joining the Prime Minister were Vietnamese ministerial officials including the Ministers; Chairman of the office of the Government and Vietnamese ambassador of Switzerland. The Business Breakfast was joined by leading Vietnamese firms FPT Group, VinaCapital, Vingroup and Viettel to discuss about the global economic situations and opportunities of Vietnamese market.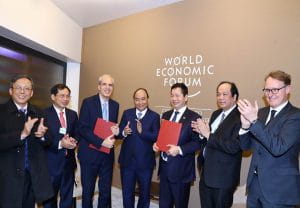 In the discussion, the Prime Minister emphasised the importance of the 4.0 Industrial Revolution, as it was not only about technology but also a policy revolution. Vietnam has launched the "Make in Vietnam 4.0" program, which aims to promote industries on the base of new policies, management framework and novel technologies. Vietnam is ready to develop a policy framework to accept and allow new technologies, and apply a strong partnership model to create extraordinary, environmentally friendly services and products, in the 4.0 Industrial Revolution. According to Voice of Vietnam, the government aims to build a digital ecosystem with made-in-Vietnam products and services. Since 2017, Vietnam has made progress in various campaigns to build an effective e-government, aiming for Vietnam to become one of the top Digital Nations.
"Vietnam is ready to accompany you to facilitate and implement new strategies, programs, plans for promoting development in the Digital Transformation journey, thus building a successful 4.0 industry." The Prime Minister stressed.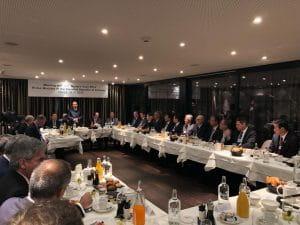 FPT, as one of 6 representatives from Vietnam, attend the Davos World Economic Forum to meet and discuss with global giants from different industries. As the co-host of the Business Breakfast, FPT showed its pioneer position in accompanying major corporations in the Digital Transformation journey. With 20 years of experiences, the company is pleased to assist both global and domestic firms in the 4.0 Industrial Revolution. On the side-lines of the event, under the witness of the Prime Minister, FPT & Allianz, the global Insurance and Financial group, had signed the MoU of establishing a joint venture in General Insurance.
World Economic Forum 2019 is taking place in Davos, Switzerland with the theme of Globalization 4.0: Shaping a Global Architecture in the Age of the Fourth Industrial Revolution. More than 3,000 participants from business, government, civil society, arts, culture and media reunite in the Swiss mountain town of Davos for five days on some of the most pressing global challenges.