Recently, Minister of Health Nguyen Thi Kim Tien visited FPT Software, on which the Minister recognized and placed confidence in FPT's capabilities in developing the national healthcare.
The Minister, along with senior leaders from government departments, authorities and agencies, were taken on a tour around FPT Software campus – F-Ville – known as the largest software centre of Vietnam and discussed with FPT Chairman Truong Gia Binh, hence taking a broad view of FPT Software's achievements in Healthcare. Two projects namely Medical History Management System and Health Monitoring Application built on Cloud and IoT platform were introduced as some of FPT Software's success stories at a global scale. Both projects have developed useful services and devices that monitor and take care of physical health for people, bringing tremendous practical benefits to community.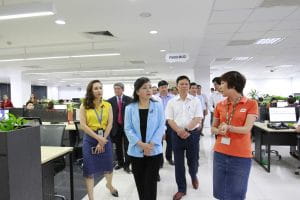 Esteemed guests had a chance to observe demonstrations of the most advanced IT solutions. Among latest technologies, Virtual Reality, which has been applied to build virtual hospitals and tools, drew special attention of the delegation. Besides, FPT.eHospital, the first comprehensive hospital management software system in Vietnam, was also presented as one of the most notable accomplishments of FPT. The system is built on 4.0 technologies as Artificial Intelligence, Big Data, Cloud, Mobility and IoT, with major features as integrated electric medical record, remote health monitoring, virtual assistant, etc. Having been launched and used at over 200 hospitals and medical centres nationwide, the system has contributed to reducing the burden for hospitals and optimizing resources to improve patient care quality.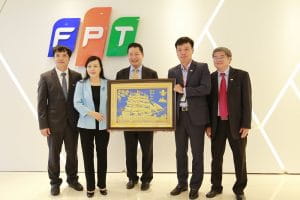 "I am really glad to see that FPT has brought unique values for healthcare industry and society". The Minister had words of praise for FPT's endeavours and accomplishments. "FPT has gained my appreciation for not only their serious investment and commitment but also their intensive expertise and brilliant solutions. I do expect FPT to increasingly develop healthcare applications and systems to respond to the Healthcare industry's urgent need and take Vietnam's Healthcare to the next level".
The visit of the government task force led by Minister of Health has greatly encouraged and accelerated FPT's adoption of technology into medical monitoring and management, aiming to Smart Hospital under the scenario of Industrial Revolution 4.0. In the future, FPT desires to work more closely with Ministry of Health to further discuss and cooperate about innovative collaboration.