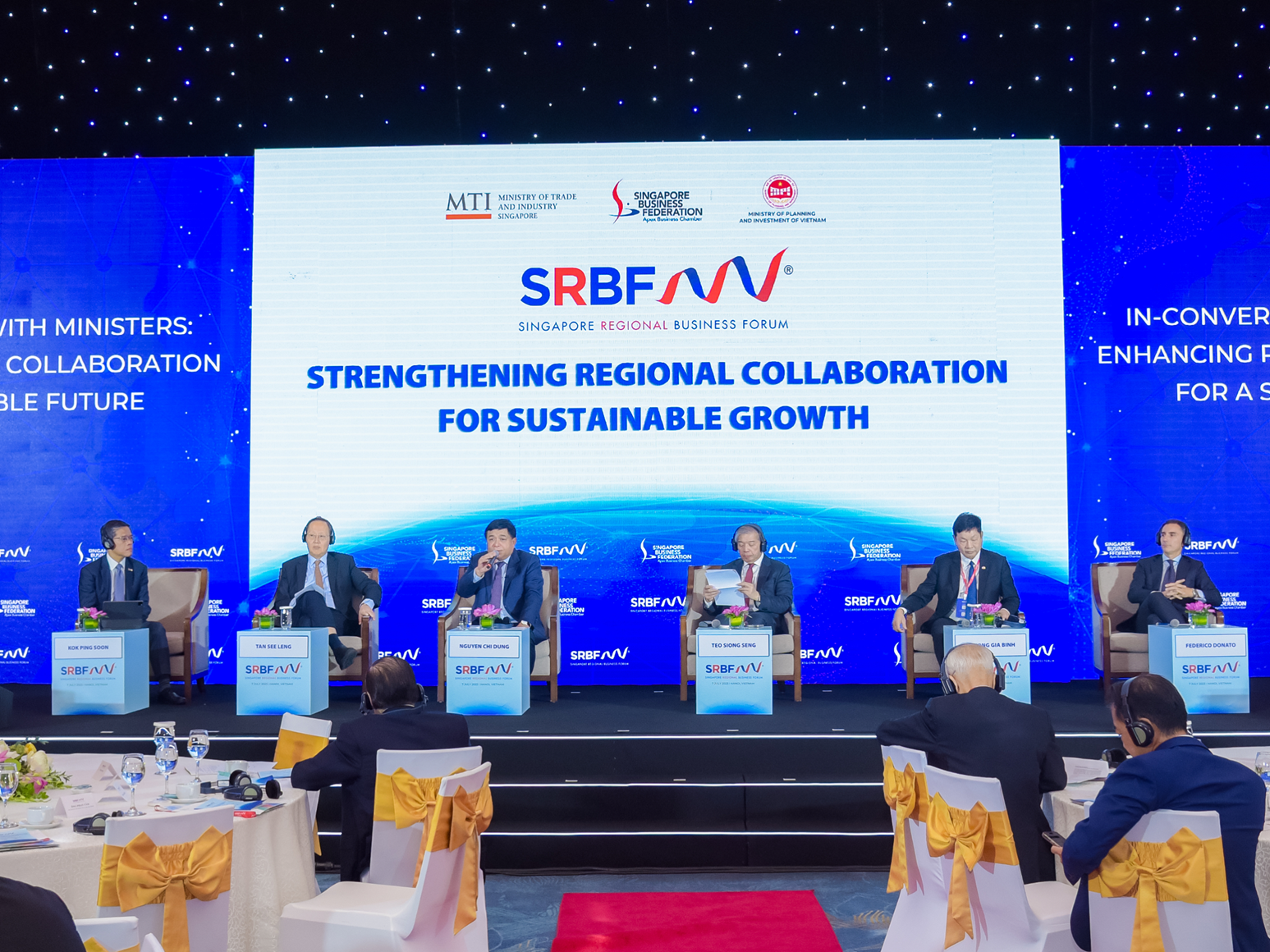 "In-conversation with Ministers" session at the Singapore Regional Business Forum in Hanoi, July 2023
Digital transformation and green transformation must go hand in hand, but the initial and most important step to achieve those transformations is a change in mindset, said FPT Chairman Dr Truong Gia Binh at the recent Singapore Regional Business Forum in Hanoi, Vietnam.

The point was highlighted during a panel discussion featuring executives from Singapore's Ministry for Manpower, Ministry for Trade and Industry, Vietnam's Ministry of Planning and Investment, Pacific International Lines, EuroCham Singapore, and Singapore Business Federation.

Themed "Enhancing Regional Collaboration for a Sustainable Future", the discussion spotlighted the areas and opportunities for Singapore, Vietnam, and international economies to collaborate amidst unprecedented volatility and the inevitable green transition in a global context.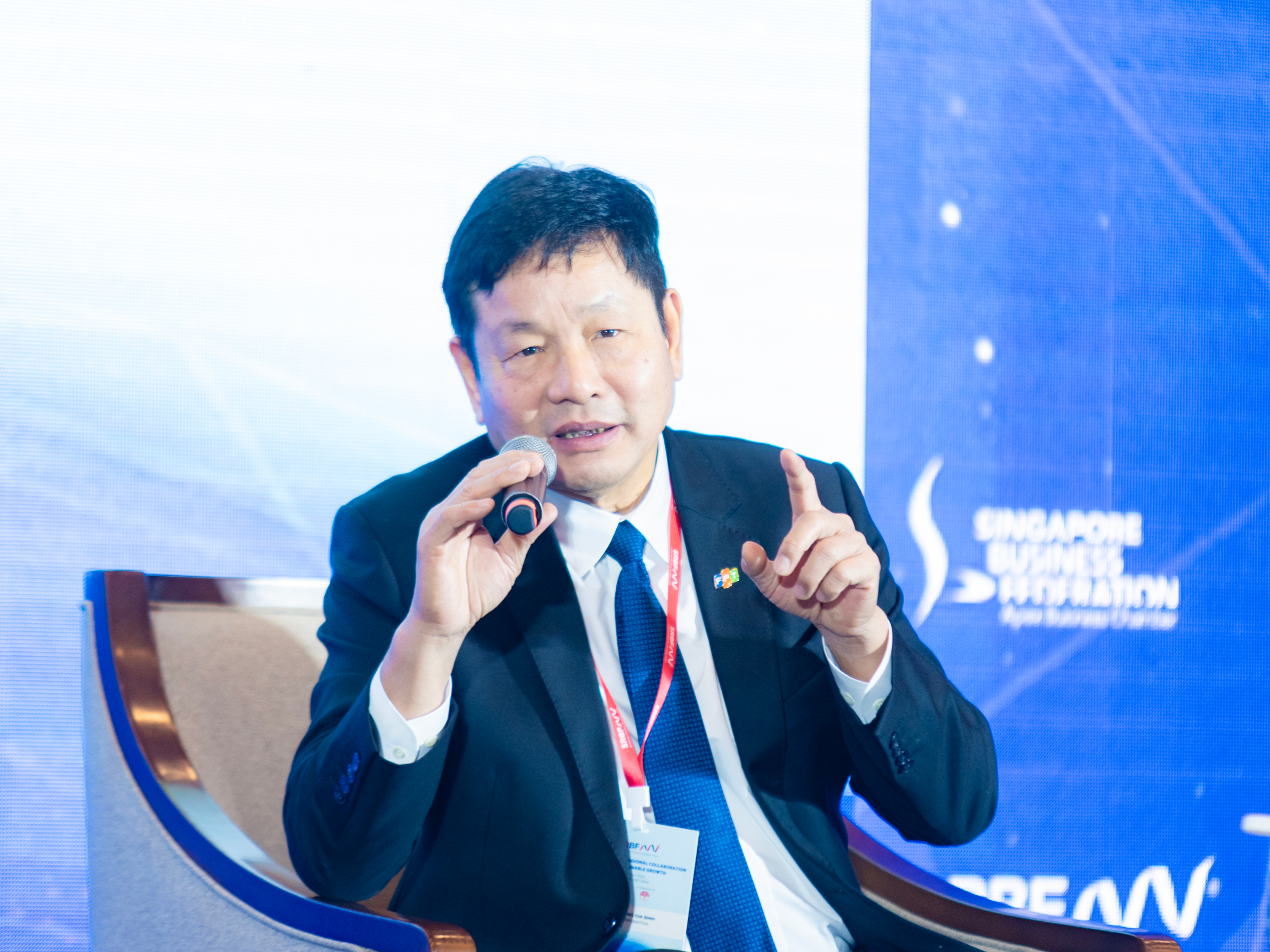 FPT Chairman Dr Truong Gia Binh attends Singapore Regional Business Forum 2023 as a panelist
FPT Chairman affirmed the important role of digital technology in creating a more sustainable future. "Digital technology accounts for only about 2% of greenhouse gas emissions, but it can reduce 20% [of emissions] for the world," said Dr Binh. He cited the examples of "green apps" – the applications for paperless, automation, customer experience, digitized operations – such as iChangi (an all-in-one platform for travel, lifestyle and e-commerce), Parkway MyHealth360 (a comprehensive platform for managing global citizens' healthcare journey), Singapore Airlines Kris+ (a solution for lifestyle rewards and customer loyalty), Standard Chartered digital banking (solutions for digital consumer and supply chain management in banking and finance), CapitaLand CapitaStar (a lifestyle and shopping rewards across extensive malls, workspaces, and islandwide retailers), ComfortDelgro Zig platform (an one-stop platform for everything mobility and lifestyle)and MyStarHub (an end-to-end mobile service management). Developed by FPT and its partners, those applications are widely used in Singapore, demonstrating cross-border for digitalization and sustainability.
Also commenting on this topic, Vietnam's Minister of Planning and Investment, H.E. Mr. Nguyen Chi Dzung, also suggested promising areas of collaboration between Vietnam and Singapore, including innovation, sustainable digital transformation, renewable energy, green finance, science, and technology. As stated by Singapore's Second Minister for Trade and Industry Dr Tan See Leng in his opening speech, the two countries share the same vision towards achieving net-zero emissions by 2050. In October 2022, Vietnam and Singapore also inked an agreement on energy cooperation, paving the way for collaboration on liquefied natural gas and electricity markets, as well as low-carbon energy technologies and solutions.

Singapore Regional Business Forum 2023 is the first overseas edition of this annual event, marking the 50th anniversary of diplomatic relations and the 10th anniversary of the strategic partnership between Singapore and Vietnam. The event brought together more than 800 business leaders and government officials from 420 organizations and 32 countries.

As Vietnam's foremost IT company, FPT has established its presence in Singapore since 2007 with the inauguration of FPT Asia Pacific. According to the Gartner Market Share Report 2022, FPT Asia Pacific is now one of the Top 40 largest IT services and solution providers, out of a total of 3,800 providers in Singapore. The company has become a reliable partner in digital transformation for more than 120 clients of private and public sectors in the region.