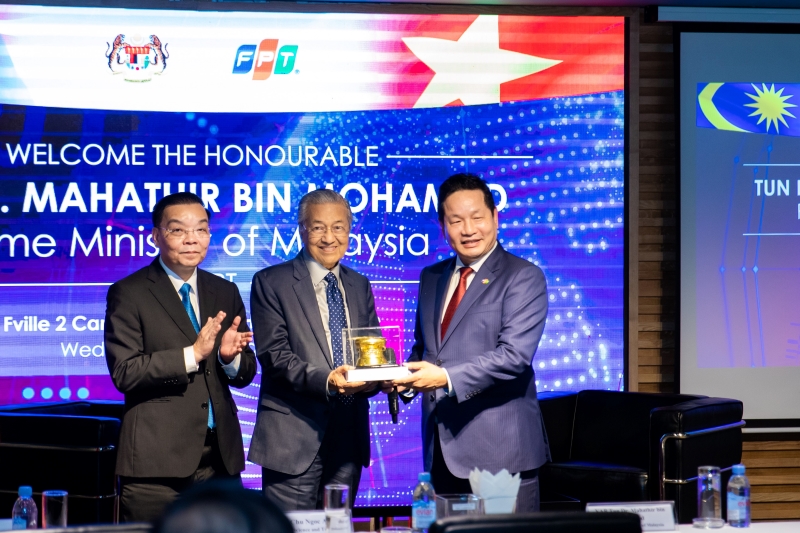 HANOI, 28 August, 2019 – On his first Vietnam's official visit since the re-appointment, Prime Minister of Malaysia Mahathir Mohamad took a tour of FPT Software campus F-Ville 2 and shared insightful stories about Malaysia's journey towards digital transformation.
He was welcomed by a high-level delegation from Vietnam's Ministry of Foreign Affairs, Ministry of Science and Technology, Ministry of Education and Training, more than 100 university students, as well as executives and employees of Vietnam's largest IT firm FPT.
At F-Ville 2, located 25 km to the west of central Hanoi, Prime Minister Mohamad was introduced to FPT's digital solutions and services which have been deployed for hundreds of businesses worldwide. He also addressed university students and FPT employees about Malaysia's digital transformation experiences, 4.0 workforce development, as well as the significance of artificial intelligence (AI) technologies in digital transformation.
On a 15-minute speech, Prime Minister Mohamad noted that the Malaysian Government is actively pushing for the country's digital transformation with four key pillars: 4.0 industry, smart tourism, smart education, and safe city. These are considered the key driving forces for Malaysia to grow and move towards the vision of becoming a top 20 nation by 2050.
He also applauded Vietnam's commitment to become a digital country as well as the role of FPT, to accelerate the adoption of digital transformation for local businesses and the Government.
Vietnamese Government has drafted a national plan for digital transformation that envisions the country to become a Top 4 ASEAN country in terms of digital transformation by 2025. As the country's largest tech firm, FPT has committed to be a pioneer in this area, helping to digitally transform public services and local businesses "for a prosperous Vietnam".
"FPT is honored to welcome Prime Minister of Malaysia Mahathir Mohamad, the man who brought Malaysia to the Top 20 most ready countries for Industrial Revolution 4.0. As Vietnam is working on a national digital transformation plan, his insights and Malaysia's DX success stories are indeed valuable for our country", said FPT Chairman Truong Gia Binh.
"FPT has learned so much over the past 15 years developing tech projects in Malaysia. We will study from its Cyberjaya smart city case study to build FPT's Education-Artificial Intelligence Complex in Binh Dinh, which will enable us to develop the AI workforce for Vietnam", he added.
Malaysia is one of FPT's strategic markets in the Asia-Pacific region. Entering this market since 2002, the company has deployed several IT projects that are significant to Malaysia's socio-economic sector.
By leveraging core technologies of industrial revolution 4.0 such as AI, cloud computing, artificial intelligence, blockchain, Robotic Process Automation (RPA), etc., and shifting towards high-end IT services, recently in Malaysia, FPT has sealed   million-dollar contracts in various fields, from energy, transportation to insurance and health care. The company has more than 30 Malaysian customers include POS Malaysia, Plus Berhad, Pantai Parkway, Astro, etc. Since 2006, FPT has been the general contractor of significant projects with Petronas, Malaysia's oil and gas company. FPT is also a digital transformation partner helping Petronas to pursue new business opportunities related to technology. After more than a decade, Vietnam's leading IT firm now has the capacity to compete against big firms such as Accenture, TCS, Cognizant as bidding for tech projects in Malaysia.
Along with Singapore, FPT's strong presence and commitments in Malaysia are set to pave the way for the company to become a leading IT service provider in Southeast Asia, especially digital transformation services.
About FPT
FPT is a global leading technology and IT services group headquartered in Vietnam with nearly US$2 billion in revenue and 36,000 employees.  FPT is a pioneer in digital transformation and delivers world-class services in Smart factory, Digital platforms, RPA, AI, IoT, Enterprise Mobility, Cloud, AR/VR, Embedded Systems, Managed services, Testing, Platform modernization, Business Applications, Application Services, BPO, and more.  FPT has served over 600 customers worldwide, 100 of which are Fortune 500 companies in the industries of Aerospace & Aviation, Automotive, Banking and Finance, Communications, Media and Services, Logistics & Transportation, Utilities, Consumer Packaged Goods, Healthcare, Manufacturing, Public sector, Technology and more. For more information, please visit www.fpt-software.com.