At Smart Industry World 2017, FPT has brought to the exhibition the latest digital-based technology solutions including Artificial Intelligence(AI), Internet of Things (IoT) and Big Data. The solutions introduced at this event did provide participants a better and more practical understanding of technologies which have been changing businesses under the Fourth Industrial Revolution as well as how FPT has been catching up with this wave.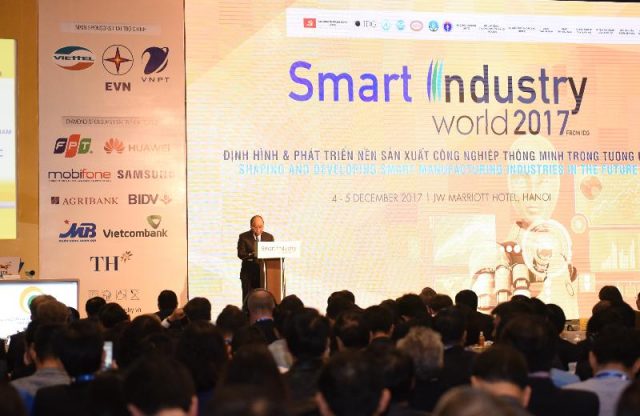 The Smart Industry World Conference and Exposition 2017 was jointly held by Central Economic Committee and International Data Group ASEAN for the first time in Vietnam with the theme "Discovering the smart industries – Defining the future economy", aiming to help Vietnam's enterprises catch up with the movement of the Industrial Revolution (IR) 4.0. The event was opened to the public with the presence of Prime Minister Nguyen Xuan Phuc.
The event consisted of four international conferences and one 4.0 Technology Exhibition at which 50 leading technology corporations introduced their state-of-the-art solutions in Automation, Robotics, Smart Technology, Agriculture, Healthcare, Education and Software. Booths were categorized in three different areas: Fintech, Software Solutions, and Information and Hardware Infrastructure Solutions.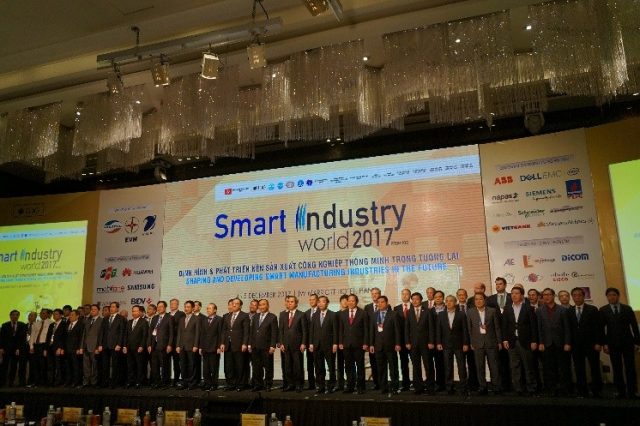 FPT's Digital Platform introduced at this event has three layers:
Core Technology Layer: FPT has developed and controlled technologies including AI (Speech, personal assistant, NLU, NLG, computer vision), IoT (NFC, VR/AR, Robotic), Big Data( in-memory analytics, recommendation, security). These technologies will also be the main focus of the company in the period from 2017 to 2019.
Domain Layer: Based on the Core Technology layer, FPT has been researching and advancing diversified services for the Government such as Digital Government, Digital Healthcare etc.
Product Layer: consisting of Final products such as FPT.Play, FPT.AI, Knowlead, Cyradar (CyRadar Advanced Threat Detection, CyRadar Internet Shield) etc. with the aim to assist businesses and enhance customer experience.
Not only suppliers but also leading companies in the smart industry had the opportunity to connect and discuss with potential clients/users attending the exhibition in more than 500 booths by top enterprises in technology, industry and manufacture from Vietnam, German, Switzerland, USA, Korea, Japan, France, Israel, China, India, etc.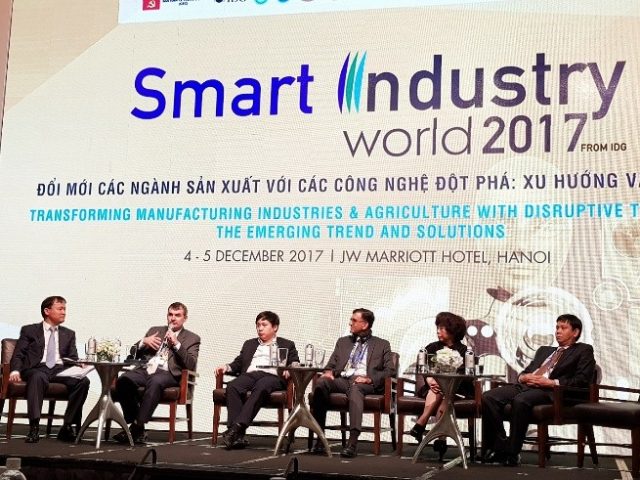 Moreover, the conference attendees had the chance to discuss main topics of "Discovering the smart industries – Defining the future economy", including Digital Economy and challenges for Vietnam to implement; opportunities and challenges for Vietnam's manufacture and finance companies in the 4.0 Industrial Revolution; panel discussion about executing programs for technology development and application to fulfill IR 4.0's requirements.