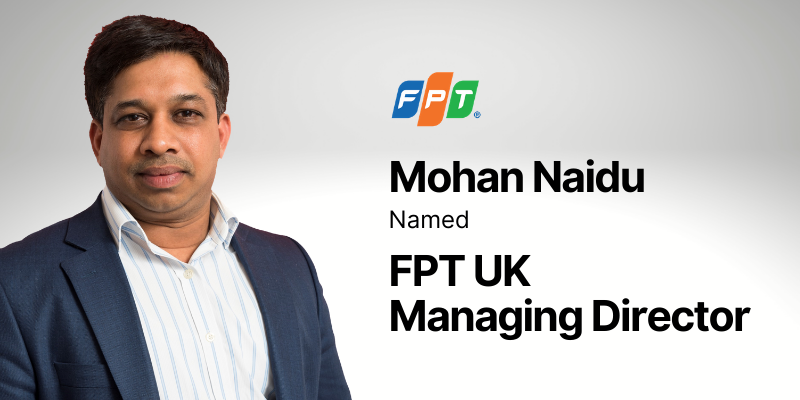 FPT, the global leading technology and IT services group headquartered in Vietnam, has announced new appointment of Mohan Naidu as Managing Director of its UK office.
Mohan has more than 25 years of experience across sales, delivery, strategy and consulting expertise. Most recently he was Global Lead, looking after Cloud-based solutions for API & Integration as well as Growth & Strategy for Europe Banking business at Avanade, a joint venture between Accenture and Microsoft. Before that, he spent nearly two decades at Indian IT company Tata Consultancy Services, holding various positions from sales, client partner to consultant in the UK, Europe, and Asia. Mohan brings to FPT a wealth of experiences in working with leading system integrators in business development, alliance management, delivery, and technology consulting.
Explaining the reason for choosing FPT as the next destination of his career, Mohan said that he was inspired by FPT's innovations and investment in new technologies. "FPT is at the forefront of having next-generation IT services to provide best-in-class technology and business solutions with best-in-class people", he noted. "I am honored to join the FPT team and help to build on the solid foundation developed over the two decades. FPT is well-positioned to help its clients digitally transform their business for better customer experience. I am really thrilled to be joining the team that is pioneering digital transformation leading through innovation. In particular, I am looking forward to growing the operation in the UK as more companies see the benefits of working with FPT", said Mohan.
 FPT Europe CEO Le Hai commented: "Mohan brings a deep blend of technology and business experience and what it takes to deliver client success. As FPT continues its rapid growth and focuses across Asia, the United States and Europe, Mohan's sales leadership and his strong background in delivering results will accelerate the development of FPT UK. Mohan is new DNA for the team and will create an engine for growth."
The appointment is a part of FPT's efforts in expanding its footprint to the big and potential UK market. FPT expects to have a tremendous opportunity to bring the most innovative thinking and capabilities to its clients. The company looks to position itself as the leading digital transformation company in the UK.