FPT is the only representative of Vietnam in the field of technology participating in the 2018 China International Import Expo (CIIE 2018). At the event, FPT's IT services and solutions for various industries including Automotive, Finance, Manufacturing, etc. has been introduced and demonstrated.
Organized for the first time by The Ministry of Commerce of the People's Republic of China, CIIE 2018 took place in Shanghai from 5th to 10th November. The event brought together businesses from 130 countries with nearly 150,000 visitors. Addressing at the opening ceremony, Vietnamese Prime Minister Nguyen Xuan Phuc showed support for the Expo which helps strengthen both regional and global economic cooperation. At the CIIE 2018, FPT has displayed self-driving car technology; virtual-reality technology; image recognition, analysis and processing; automatic control of electrical equipment according to human circadian rhythms to Chinese enterprises and global clients based in China.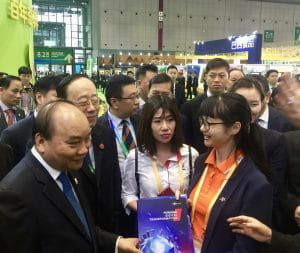 "Vietnam's export products to China are mainly agricultural commodities, foodstuffs and garments. As a leading IT service provider, FPT wants to promote its advanced IT services and solutions as well as Vietnam's technological capabilities to business communities in China. " FPT Director in China, Ms. Tran Viet Linh said.
In the first morning, FPT's booth received nearly 200 visitors, including many customers who expressed their wish to cooperate in deploying ERP; developing hotel management systems; deploying blockchain systems or exploring cluster design in the automotive sector. With the motto "We are where our customers are", FPT wishes to provide new technology solutions as well as digital transformation services for all global customers in China.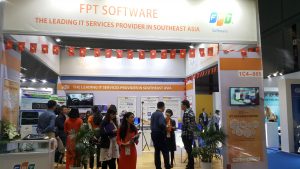 Vietnam-China trade relations have been growing steadily. China is the largest trading partner, the largest import market and the second largest export market of Vietnam. In the first nine months of 2018, Vietnam – China bilateral trade turnover reached 76.07 billion USD. FPT established its first office business in Shanghai in 2017. During the first year of operation, FPT Shanghai acquired many important long-term projects, especially in the automotive sector.
China has become the world's largest transport market since 2016 with the average annual growth rate of 9%. In addition, Chinese government set a target of selling 30 million cars by 2020. Therefore, automotive has become one of the ten key sectors to transform China's manufacturing industry. Currently, FPT is cooperating with Tier 1 Original Equipment Manufacturers (OEMs) in China to provide programming services for car audio and smart lock systems (PEPS – Passive Entry Passive Start, ESCL – Electric Steering Column Lock), develop mobile applications using image recognition and image processing technology in printing as well as other fields.