On November 22, in Berlin, FPT joined Digital Transformation Summit 2018 as a Content Sponsor, the most valued sponsorship package, to introduce the latest expertise and innovation, concerning next-gen innovation with proven digital success stories.
FPT was presented as one of the Summit's Content Sponsor, along with Huawei and IBM. The demos about high innovation concerning RPA, Big data, Image recognition, robotics, automated driving were introduced to the participants. With Pepper, a robot receptionist, and a Hololens, FPT's booth was able to attract various top firm's representatives, ranging from decision makers to C-level leaders. The booth also welcomed a special guest: Vietnamese Ambassador, Mr. Doan Xuan Hung, to experience the latest technologies.
Joining the Summit, Mr. Olaf Baumann, Executive Vice President of FPT Deutschland delivered a speech concerning "Best practices for Digital Transformation". The 20-min inspiring speech discussed about the need of C-level Leaders in the Digital Transformation journey, the difficulties and challenges they need to tackle, the guide to Digital Transformation implementation strategy and practical case studies of FPT's global clients. Olaf showcased FPT's capabilities through the success stories with Airbus and Dupont.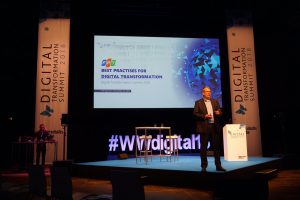 The summit is a valuable opportunity for FPT to showcase technology capabilities and network with firms interested in digital transformation in Germany, stating the corporation's strategy is to become the Digital Transformation partner of choice for firms in Germany. Through the event, various participants directly came to PFT's booth to understand more about RPA technology, Blockchain, Digital Platform for real estate companies, Smart Factory and how FPT can help to assist firms in the Digital Transformation journey.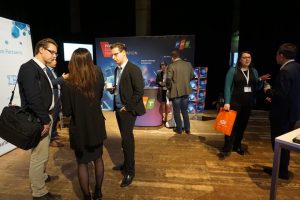 Digital Transformation Summit 2018 is a top exclusive event for Digital Transformation with 300+ high-level participants. The summit attracted the presence of VVIP from Government such as Minister of State for Digital Affairs, Federal Minister for Special Tasks and Chief of the Federal Chancellery, Head of Corporate Digital Transformation Office at BSH Hausgeräte. The event was held by WirtschaftsWoche of Handelsblatt Media Group, which is the top media group in Germany; and FPT is proud to be the Content Sponsor of the event.