FPT TechDay 2017 will take place on June 6th, 2017 at Grand Plaza, Hanoi with the main topic of "Artificial Intelligence – Unlimited experience, unlimited future". This annual event has been held by FPT Corporation since 2013 with the purpose of showing FPT technology capabilities, creating an opportunity for Vietnamese as well as foreign IT talents to connect and share experience on developing and applying the world's latest technologies. This year, FPT TechDay is expected to attract the participation of 1000 C-level managers, IT experts and especially speakers from DuPont, AT&T, IBM Watson, Amazon Web Services and Cyradar. The current trend of using AI and how this technology has been used in reality will be presented by keynote speakers at the event. Besides, speakers and participants also have chances to discuss about how AI can be applied in Vietnam.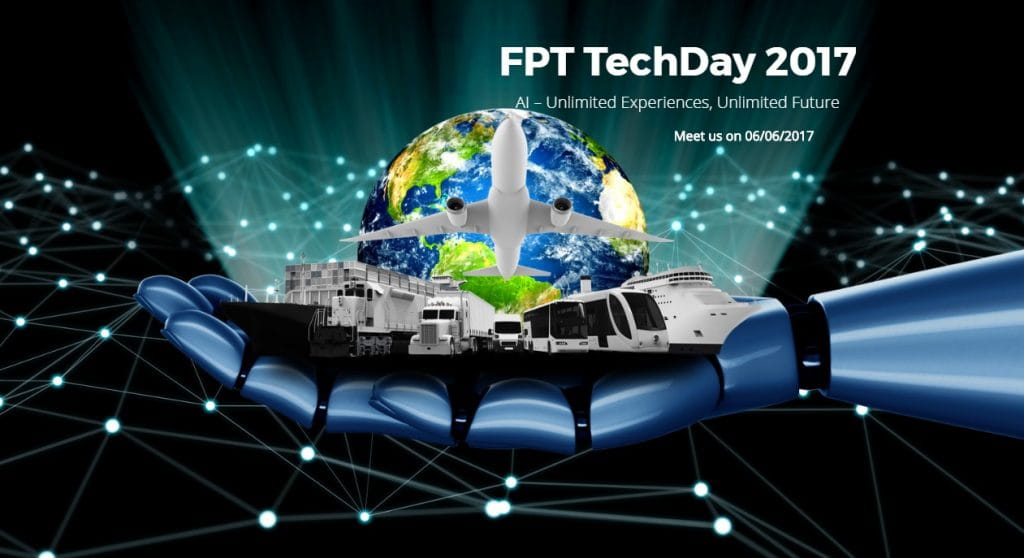 Regarding this event, Mr. Le Hong Viet, FPT Corporation's CTO emphasized: "Technologies such as IoT, AI and AR have been the main factors forming the Digital Transformation. FPT is now focusing on developing products and services which apply those technologies, not only for the internal transformation process but also for our clients. In addition, our company aims to contribute to the development of Vietnam's Tech Community and Ecosystem. Therefore, apart from holding the event, FPT also share data and other research result on the field of AI for the tech community to use and develop applications".
FPT TechDay 2017 is featured by 15 technology demo areas of FPT, Amazon, MOG, NextTech, Elsa, Saltlux, Five9, ALT, Cinnamon AI Lab, Sero.AI, Vietnam's IoT Community and Hanoi Maker at which participants of the event can experience chatbot, smart-house space and autonomous driving technology.
Within the scope of FPT TechDay 2017, the final round of Vietnam AI Hackathon – a competition on developing applications using AI Technology and the signing ceremony of the cooperation to develop high quality human resources between FPT Corporation and Vietnam University of Engineering and Technology will also be organized.