(Hanoi, Vietnam) On November 2nd 2018, under the witness of the Prime Minister of France Republic Édouard Philippe and Prime Minister of Vietnam Nguyen Xuan Phuc, FPT Corporation and Schneider Electric signed a Memorandum of Understanding (MoU) to develop and implement IoT (Internet of Things) technology platform – Schneider Electric's EcoStruxure, helping to accelerate the Digital Transformation journey in the Industry 4.0. FPT is one of the first crucial strategic partners of Schneider Electric in Asia to implement and develop EcoStruxure platform, an open and interactive IoT platform, helping organizations and enterprises optimize the use and management process of energy in buildings, data centers and manufacturing plants.
Under this agreement, FPT – A pioneering well-known technology group with the experience of cooperating and implementing IoT technology platform will join force with Schneider Electric, a leading company in digital energy management and automation, to develop applications and solutions based on the EcoStruxure technology platform. Specifically, EcoStruxure platform's maintenance software, APIs, cloud solutions which integrate advanced operation technologies will be enhanced, enabling organizations and businesses to optimize energy management and automation processes in the Smart City development. The solution is applicable in Residential; Buildings; Hospitals; Hotels; Food and Beverage; Data centers; Telecom; Oil & Gas and Utilities etc. This strategic cooperation strongly promotes and satisfies the demand for digital transformation of organizations as well as individuals in the Industry 4.0.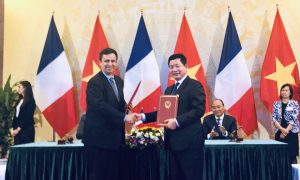 Along with the cooperation and development, FPT will assist Schneider Electric Vietnam to train and develop the EcoStruxure resources with target 200 Consultants certificated until 2020.
Additionally, according to this newly signed MoU, both sides will jointly decided to build up a first Smart Building Project in Vietnam named "Ftown 3" using EcoStruxure platform to manage and monitor the whole electricity system of the buildingF-Town 3 has a construction scale of over 52,000 m2, which is the largest software center in High-Tech Park in District 9 Ho Chi Minh City, providing work spaces for 7,500 employees.
"The agreement is one of the evolution steps of FPT in the journey of partnering with the world leading corporations in IoT technology platform, and to become one of the world leading corporations in Digital Transformation services in the next 5 years. FPT is ready with Schneider Electric to implement EcoStruxure technology platform, helping Vietnamese organizations and businesses efficiently manage energy." Chairman of FPT Corporation Mr. Truong Gia Binh said.
FPT has been working on developing IoT technology platforms with leading corporations in the field of Aerospace & Aviation, Industrial Manufacturing and Energy, etc. For example, with Airbus, FPT provides about 500 programmers with the expertise to develop solutions improving aviation industry performance based on Skywise platform. Both sides will invest in providing third-party application programming interfaces (APIs) to develop applications on Skywise; digital transforming and maintain applications on Skywise platform. As a strategic partner, FPT is also working with Siemens to provide Siemens' MindSphere Digital Transformation services to organizations in the Asia Pacific region and Europe.
Executive Vice President of Schneider Electric Group Mr. Luc Remont said: "Selecting FPT Corporation to become one of the first strategic partners in Asia lays in the strategic direction of Schneider Electric Group and also meets the need of Vietnamese market's fast-growing Industry 4.0. EcoStruxure has brought about benefits not only for Schneider Electric but also for its partners around the world, including FPT in Vietnam. We believe the solution will provide a tremendous growth in technology and economy for Vietnamese enterprises in the 4.0 Industrial Revolution."
About FPT
FPT Corporation is the global leading technology and IT services group headquartered in Vietnam with nearly US$2 billion in revenue and 33,000 employees. FPT is a pioneer in digital transformation and delivers world-class services in Smart factory, Digital platforms, RPA, AI, IoT, Enterprise Mobility, Cloud, AR/VR, Embedded Systems, Managed services, Testing, Platform modernization, Business Applications, Application Services, BPO, and more. Through its management consulting and technology services subsidiary, Intellinet, FPT provides Business and IT Strategy, Organizational Change and Human Capital Leadership, Program Execution, Customer Experience & Human-Centric Design, as well as other leading digital and technology solutions. FPT has served over 500 customers worldwide, 100 of which are Fortune 500 companies in the industries of Aerospace & Aviation, Automotive, Banking and Finance, Communications, Media and Services, Logistics & Transportation, Utilities, Consumer Packaged Goods, Healthcare, Manufacturing, Public sector, Technology and more. For more information, please visit www.fpt-software.com or www.intellinet.com
About Schneider Electric
Schneider Electric is leading the Digital Transformation of Energy Management and Automation in Homes, Buildings, Data Centers, Infrastructure and Industries.
With global presence in over 100 countries, Schneider is the undisputable leader in Power Management – Medium Voltage, Low Voltage and Secure Power, and in Automation Systems. We provide integrated efficiency solutions, combining energy, automation and software.
In our global Ecosystem, we collaborate with the largest Partner, Integrator and Developer Community on our Open Platform to deliver real-time control and operational efficiency.
We believe that great people and partners make Schneider a great company and that our commitment to Innovation, Diversity and Sustainability ensures that Life Is On everywhere, for everyone and at every moment.