FPT and the Ministry of Health signed the cooperation agreement with FPT Corporation to develop and implement information technology (IT) solutions for medical sector for the period of 2018 to 2028, ready for the success of the healthcare industry in the 4.0 Industrial Revolution.
The agreement involves multiple aspects including building an electronic medical structure, contributing expertise documents guiding IT usage in the industry; implementing e-health regulations for various units; training and researching about e-health development; training on data center operation; developing IT health standard regulations; building smart health care system, smart hospital and smart health administration.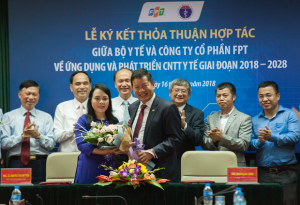 Speaking at the signing ceremony, the Minister of Health Nguyen Thi Kim Tien highly evaluated FPT with over 20 years of experience in developing software solutions for more than 200 hospitals; at the same time, trusted FPT to support the Ministry of Health to solve the IT problems in the health industry through the agreement. FPT was given responsibility to develop smart medical structure as soon as possible by the Minister.
FPT has several previous achievements such as Medical History Management System and Health Monitoring Application built on Cloud and IoT platform. Another notable achievement to be named is FPT.eHospital, which is a smart hospital administration system developed by FPT and used by more than 200 hospitals, improving the efficiency of examination and treatment, reducing the burden for hospitals and optimizing resources to improve healthcare quality.