A Memorandum of Understanding (MoU) on digital banking has been signed between FPT and Shinhan, the largest commercial bank in South Korea, aiming to leverage each other's assets and capabilities to contribute to digitally transforming the Banking & Finance industry.
According to the MoU, both sides will join force to develop and deliver information technology (IT) solutions such as digital banking, Fin-tech, etc. With proven intensive experience in financial sector, Shinhan Bank will equip FPT with a wide range of in-depth knowledge and data regarding advanced digital banking system and competitive financial services in Korea. FPT, as the leading technology corporation with 30 years' experience, will provide Shinhan Bank with comprehensive Digital Transformation solutions and a large pool of competent IT experts to improve the banking system and develop the technology foundation for new services.
"FPT has proven their outstanding technology capability and experience by strategic cooperation with both domestic and foreign enterprises in various sectors including e-commerce, banking & finance, digital payment, etc". Said Lee Tae Kyung, Shinhan Bank Global Business Development Director.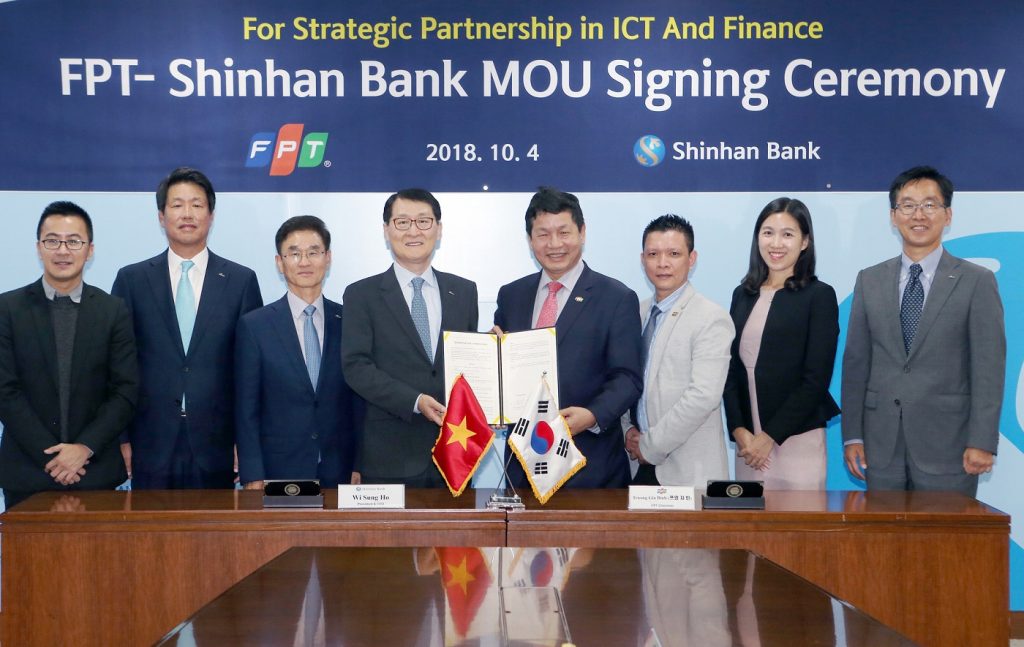 FPT Chairman Truong Gia Binh expressed: "This agreement is among the most critical steps in the journey of becoming a leading Digital Transformation corporation in the world. With the experience of providing Digital Transformation services to world's top corporations, FPT is more than ready to utilize our technology capability and resources to accompany Shinhan Bank on the journey of becoming a global leading digital bank."
Joining force with one another, FPT and Shinhan Bank expect to leverage the banking system in the Fourth Industrial Revolution with Digital Transformation solutions, thus benefiting not only the two companies, but also their service customers worldwide.
FPT currently provides Digital Transformation solutions based on technology platforms such as Artificial Intelligence, Corporate Intelligence, Blockchain, etc. for 200 companies in finance, automotive, logistic, e-commerce, aerospace & aviation such as Airbus, Siemens, UPS, RWE, ORT, NXP, NTT Dara, DIR, etc. With the resources of more than 20 years of experience in financial and banking services, FPT is able to provide support and implementation in various core banking systems as payment, eBanking, Loan, Risk Management.
In 2016, FPT established their Korea office to explore, develop and expand the opportunities to approach large Korean firms in technology strategy sectors concerning smart factory, automotive, consumer electronics and multimedia entertainment. With the growth rate of 300 per cent per year, Korea is becoming FPT's strategic market. In a meeting earlier this year, leading Korean corporations such as SK Holding, LG, Samsung, Lotte showed interested and proposed cooperation on Digital Transformation with FPT.