Mr. Tran Hoang Giang, founder of FPT Software's flagship product akaChain, has been accepted into Forbes Technology Council, an invitation-only community for world-class CIOs, CTOs, and technology executives.
Giang was evaluated and selected by a review committee based on the depth and diversity of his experience as well as professional achievements and honors, in which akaChain's success and FPT Software's influence play a crucial role. In Vietnam, FPT Software has proved its outstanding capabilities in terms of technology and the values it brings to the community. The company's dynamic and professional working environment contributes greatly to Giang's experiences in the development of akaChain.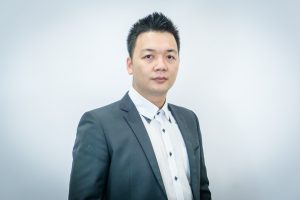 Tran Hoang Giang – product owner of FPT Software's akaChain was accepted to Forbes Technology Council
As an accepted member of the Council, Giang will be invited to work with a professional editorial team to share his expert insights in original business articles on Forbes.com, and to contribute to published Q&A panels alongside other experts. This opens an opportunity for him to share practical knowledge about enterprise blockchain – the new buzzword in tech trends – with reference to FPT Software's product akaChain. For the past twelve months, akaChain's revenue has reached over 3 million USD. The enterprise blockchain platform built on HyperLedger Fabric provides a wide range of solutions for reinventing customer loyalty programs, insurance claims, e-KYC, credit scoring and so on. With the benefits it brings, akaChain is powering the digital transformation in several industries including Retail, Insurance, Healthcare, Banking, Education, etc. Giang's insights will target C-level executives and blockchain enthusiasts. Forbes Technology Council believes that Giang's intensive knowledge will provide Forbes readers with substantial values.
"We are honored to welcome Giang Tran into the community," said Scott Gerber, founder of Forbes Councils, the collective that includes Forbes Technology Council. "Our mission with Forbes Councils is to bring together proven leaders from every industry, creating a curated, social capital-driven network that helps every member grow professionally and make an even greater impact on the business world."
Giang will also benefit from exclusive access to vetted business service partners, membership-branded marketing collateral, and the high-touch support of the member concierge team. Giang expects to gain more visibility for akaChain and FPT Software through the extensive and elite network of Forbes Councils. "It is a pleasure and an honor for me to be a member of Forbes Technology Council. I take this as a chance to connect, communicate and discuss with more executives across different sectors and economies. akaChain team and I are looking forward to sharing our knowledge and experiences from years of working at FPT Software to the business community", said Giang.